2023 NFL MVP Odds Tracker: Allen Favored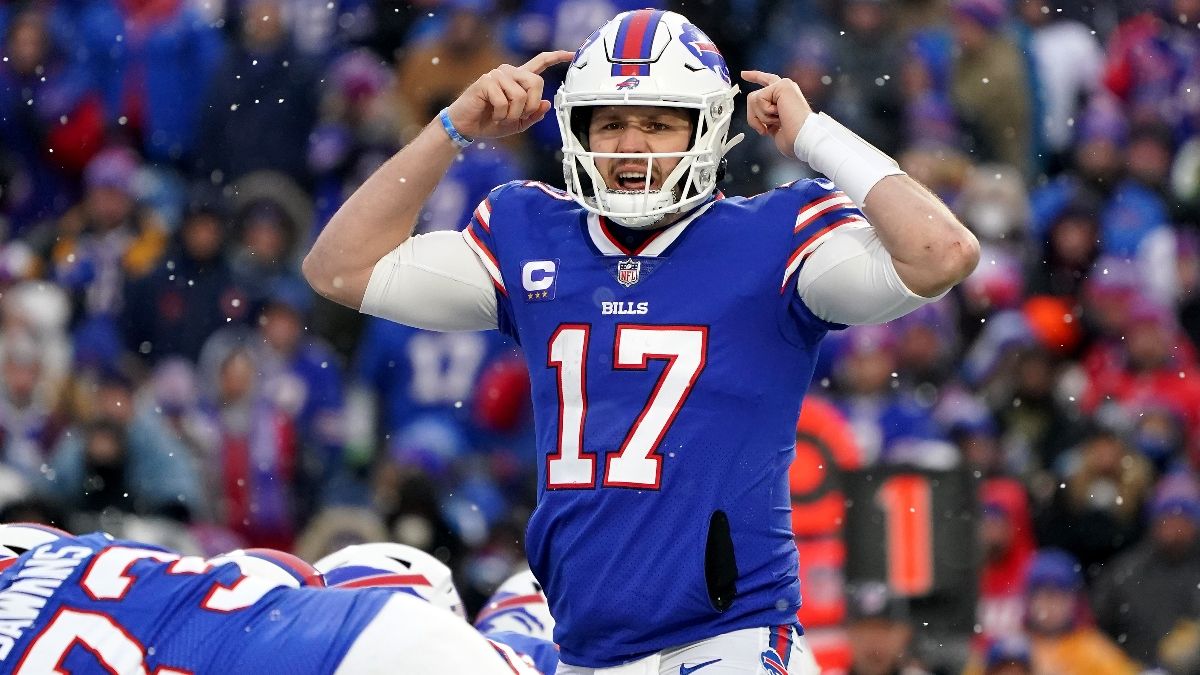 | Player | Odds |
| --- | --- |
| Patrick Mahomes - Kansas City Chiefs | -1800 |
| Joe Burrow - Cincinnati Bengals | +1000 |
| Jalen Hurts - Philadelphia Eagles | +1500 |
| Josh Allen - Buffalo Bills | +1700 |
| Justin Jefferson - Minnesota Vikings | +15000 |
| Kirk Cousins - Minnesota Vikings | +15000 |
| Lamar Jackson - Baltimore Ravens | +15000 |
| Jimmy Garoppolo - San Francisco 49ers | +15000 |
| Sam Darnold - Carolina Panthers | +20000 |
| Justin Herbert - Los Angeles Chargers | +30000 |
| Dak Prescott - Dallas Cowboys | +30000 |
| Stefon Diggs - Buffalo Bills | +30000 |
| Cooper Kupp - Los Angeles Rams | +30000 |
| Nick Chubb - Cleveland Browns | +30000 |
| Jameis Winston - New Orleans Saints | +30000 |
| Ja'Marr Chase - Cincinnati Bengals | +30000 |
| Davante Adams - Las Vegas Raiders | +30000 |
| Ryan Tannehill - Tennessee Titans | +30000 |
| Carson Wentz - Washington Commanders | +30000 |
| Baker Mayfield - Los Angeles Rams | +30000 |
| Marcus Mariota - Atlanta Falcons | +30000 |
| Mitch Trubisky - Pittsburgh Steelers | +30000 |
| Joe Mixon - Cincinnati Bengals | +30000 |
| Terry McLaurin - Washington Commanders | +30000 |
| Austin Ekeler - Los Angeles Chargers | +30000 |
| Aaron Jones - Green Bay Packers | +30000 |
| Cordarrelle Patterson - Atlanta Falcons | +30000 |
| Alvin Kamara - New Orleans Saints | +30000 |
| Kyle Pitts - Atlanta Falcons | +30000 |
| Kenny Pickett - Pittsburgh Steelers | +30000 |
There haven't been any substantial odds changes for the NFL MVP Award since they were released earlier this year — except for Tom Brady's reemergence near the top of this list.
Brady's return from retirement sent Russell Wilson, Matthew Stafford, Joe Burrow and several other quarterbacks' odds plummeting down the rankings.
For the players above him, though? Not much of a movement.
In fact, Bills quarterback Josh Allen — the favorite — has seen his odds shorten since opening as the +750 favorite. He's +700 at FanDuel in late July.
While that may come as a surprise to the average fan — Allen and the Bills have won nothing meaningful yet — the advanced metrics absolutely adore this team. They had the top rated defense and a top-three offense last season. The prognosticators don't expect those metrics to change much come fall.
Patrick Mahomes is the second-favorite to win the award at +800, also down from its opening mark of +900. This comes despite the loss of Tyreek Hill, who was traded to Miami earlier this offseason.
This all is pretty disrespectful news to Aaron Rodgers, who is tied as the third-best favorite with Brady and Justin Herbert. Even after back-to-back MVP years, Rodgers is still facing doubters across the league. Can he do it again? Without DaVante Adams?
49ers QB Trey Lance has been one of the most popular MVP bets at Caesars, dropping from 200-1 to 50-1. Bettors would hope for a Lamar Jackson or Mahomes-like breakout, a highly-touted quarterback balling out in his first year as a starter.
Deebo Samuel has the best odds to win MVP of any non-quarterback at +5000 as he continues to deal with contract negotiations with the San Francisco 49ers. There are 17 quarterbacks ahead of him.
Be sure to keep checking this page in the lead-up to the season and during the season to get the latest odds for NFL MVP.
Odds via FanDuel and updated in real-time.
Who is the favorite to win the NFL MVP?
1. Josh Allen +700
Allen has been dubbed as the guy to push Mahomes in the new generation of quarterbacks. He went wire-to-wire with Mahomes in the playoffs and has emerged as one of the most talented quarterbacks in the NFL. The Bills have also revamped Allen's receiver corps with a few touchups. Beyond that, the Bills have the most formidable defense in the country. There's a reason they're commanding Super Bowl favorites three months before the start of the season.
2. Patrick Mahomes +800
When Mahomes won the MVP award after the 2018-19 season, it appeared he would be the MVP favorite for many years to come. That hasn't come to fruition, and it remains to be seen how the gunslinger out of Texas Tech will fare without his favorite weapon in Tyreek Hill. And several external pressures have come to the forefront. Mahomes is no longer the darling, new kid on the block that he was in 2019. He has a target on his back — in part due to the exploits of his family. How much of the negative energy surrounding his girlfriend and younger brother will affect him going forward? Will that remain solely off the field?
T3. Aaron Rodgers +1000
Rodgers keeps showing us why he's one of the most exciting quarterbacks ever to don the gridiron. He can still throw bombs at 37 years old, with the same quick flick of the wrist that he became famous for over a decade ago. But while he's shown his prowess year-in, year-out, his teams continue to sorely, sorely disappoint in the playoffs. Even with four MVPs already under his belt, he may need another one — or, more importantly, a championship — to calcify his spot as a top 10 quarterback of all-time.
T3. Tom Brady +1000
This guy is back for another year, because of course he is. Whatever soy-based, antioxidant-optimizing diet he's putting into his body has to have paid dividends. It's remarkable that a 44-year-old with seven championships, five Super Bowl MVPs and three regular season MVPs has only improved athletically with age. It's completely unprecedented. But that's where we are — at an age where Brady should be golfing on some Caribbean island while sipping mojitos, he's back on the field chasing his fourth MVP. The man led the league in passing last season and finished second in MVP voting. This won't be an easy line to fade as the season progresses.
T3. Justin Herbert +1000
Herbert broke out last season due partly to his new partnership with Brandon Staley, the exact type of progressive mind needed to truly unlock the former Oregon QB's potential. But Herbert's skillsets are decidedly traditional. He's 6-foot-6, 250 pounds with an absolute rocket of an arm with great accuracy to boot. Seemingly all his teammates like him and puts in the requisite time needed to study his opposition. It's the playbook for an elite quarterback. Still, the 24-year-old has plenty to prove going forward. He's flashy in the pocket — and, wow, he can run too! — but can he truly drag his team to the next level?
How Do You Win NFL MVP?
We dove deeper into past NFL MVP winners, and there are three main qualifications:
Position: This is a quarterback award. Since 2000, there have been 19 quarterbacks to win and four running backs. An RB hasn't won since 2012.
Win total: Does the player's team have a path to the best record in the league? Of course, you'll want to look for teams with high win totals. And while win totals are not gospel, but it should give you a good starting point. (But if you think the Jags can win 11 games, by all means bet Trevor Lawrence.)
Stats: If everything goes really well, will that player have a statistical profile worthy of an MVP? Even though the Titans had one of the league's best records last year, Ryan Tannehill never got MVP consideration because he wasn't putting up big numbers.
FUTURES
Consensus
Cons.

Josh Allen

J.Allen

Patrick Mahomes

P.Mahomes

Jalen Hurts

J.Hurts

Lamar Jackson

L.Jackson

Joe Burrow

J.Burrow

Justin Herbert

J.Herbert

Kirk Cousins

K.Cousins

Derek Carr

D.Carr

Geno Smith

G.Smith

Tua Tagovailoa

T.Tagovailoa

Matthew Stafford

M.Stafford

Kyler Murray

K.Murray

Daniel Jones

D.Jones

Aaron Rodgers

A.Rodgers

Tom Brady

T.Brady

Dak Prescott

D.Prescott

Saquon Barkley

S.Barkley

Justin Jefferson

J.Jefferson

Cooper Kupp

C.Kupp

Derrick Henry

D.Henry

Trevor Lawrence

T.Lawrence

Jimmy Garoppolo

J.Garoppolo

Christian McCaffrey

C.McCaffrey

Cooper Rush

C.Rush

Stefon Diggs

S.Diggs

Deebo Samuel

D.Samuel

Jaylen Waddle

J.Waddle

Jameis Winston

J.Winston

Josh Jacobs

J.Jacobs

Zach Wilson

Z.Wilson

Ryan Tannehill

R.Tannehill

Russell Wilson

R.Wilson

A.J. Brown

A.Brown

Nick Chubb

N.Chubb

Micah Parsons

M.Parsons

Drew Lock

D.Lock

Javonte Williams

J.Williams

Travis Kelce

T.Kelce

Tyreek Hill

T.Hill

Aaron Jones

A.Jones

Damien Harris

D.Harris

AJ Dillon

A.Dillon

Jonathan Taylor

J.Taylor

Keenan Allen

K.Allen

Elijah Mitchell

E.Mitchell

Ja'Marr Chase

J.Chase

Aaron Donald

A.Donald

Davante Adams

D.Adams

J.K. Dobbins

J.Dobbins

CeeDee Lamb

C.Lamb

Dalvin Cook

D.Cook

Nick Bosa

N.Bosa

Taysom Hill

T.Hill

T.J. Watt

T.Watt

Mike Williams

M.Williams

Gardner Minshew

G.Minshew

Courtland Sutton

C.Sutton

Miles Sanders

M.Sanders

Austin Ekeler

A.Ekeler

Mac Jones

M.Jones

Mitch Trubisky

M.Trubisky

Mason Rudolph

M.Rudolph

Cam Akers

C.Akers

Sam Darnold

S.Darnold

Jared Goff

J.Goff

D'Andre Swift

D.Swift

Marcus Mariota

M.Mariota

Najee Harris

N.Harris

James Conner

J.Conner

Ezekiel Elliott

E.Elliott

Alvin Kamara

A.Kamara

Michael Thomas

M.Thomas

Amon-Ra St. Brown

A.St. Brown

DK Metcalf

D.Metcalf

Chase Young

C.Young

Terry McLaurin

T.McLaurin

George Kittle

G.Kittle

Amari Cooper

A.Cooper

DeAndre Hopkins

D.Hopkins

Cordarrelle Patterson

C.Patterson

Brandin Cooks

B.Cooks

Joey Bosa

J.Bosa

Matt Ryan

M.Ryan

Julio Jones

J.Jones

Antonio Gibson

A.Gibson

Devin Singletary

D.Singletary

Joe Mixon

J.Mixon

Davis Mills

D.Mills

Raheem Mostert

R.Mostert

Marquise Brown

M.Brown

Mark Andrews

M.Andrews

Carson Wentz

C.Wentz

Baker Mayfield

B.Mayfield

Teddy Bridgewater

T.Bridgewater

Kyle Pitts

K.Pitts

Michael Pittman Jr.

M.Pittman

J.J. Watt

J.Watt

Danielle Hunter

D.Hunter

Christian Kirk

C.Kirk

Khalil Mack

K.Mack

Jalen Ramsey

J.Ramsey

Jarvis Landry

J.Landry

Malik Willis

M.Willis

Bobby Wagner

B.Wagner

Chandler Jones

C.Jones

Robert Tonyan

R.Tonyan

Rashod Bateman

R.Bateman

Marvin Jones Jr.

M.Jones

JuJu Smith-Schuster

J.Smith-Schuster

Za'Darius Smith

Z.Smith

Allen Robinson II

A.Robinson

Mecole Hardman Jr.

M.Hardman

A.J. Green

A.Green

DJ Moore

D.Moore

Travis Etienne Jr.

T.Etienne

James Robinson

J.Robinson

Darren Waller

D.Waller

Clyde Edwards-Helaire

C.Edwards-Helaire

Chris Jones

C.Jones

Darnell Mooney

D.Mooney

Laviska Shenault Jr.

L.Shenault

Jerry Jeudy

J.Jeudy

Tony Pollard

T.Pollard

Chris Godwin

C.Godwin

David Montgomery

D.Montgomery

Hunter Renfrow

H.Renfrow

Montez Sweat

M.Sweat

DeVonta Smith

D.Smith

Jerick McKinnon

J.McKinnon

Chase Edmonds

C.Edmonds

Andy Dalton

A.Dalton

Desmond Ridder

D.Ridder

Von Miller

V.Miller

Taylor Heinicke

T.Heinicke

Tyler Boyd

T.Boyd

Hunter Henry

H.Henry

Tee Higgins

T.Higgins

Tyler Lockett

T.Lockett

Shaquil Barrett

S.Barrett

Bradley Chubb

B.Chubb

Leonard Fournette

L.Fournette

Kenny Pickett

K.Pickett

Deshaun Watson

D.Watson

Diontae Johnson

D.Johnson

Justin Fields

J.Fields

Mike Evans

M.Evans

Myles Garrett

M.Garrett

Leonard Floyd

L.Floyd

Carl Lawson

C.Lawson

Matthew Judon

M.Judon

Derwin James Jr.

D.James

Denico Autry

D.Autry

Adam Thielen

A.Thielen

Terrace Marshall Jr.

T.Marshall

T.Y. Hilton

T.Y.Hilton

Cole Beasley

C.Beasley

Dawson Knox

D.Knox

Maxx Crosby

M.Crosby

Bud Dupree

B.Dupree

Kenny Golladay

K.Golladay

Shaquille Leonard

S.Leonard

Trey Hendrickson

T.Hendrickson

Kadarius Toney

K.Toney

Jamison Crowder

J.Crowder

Quez Watkins

Q.Watkins

Brandon Aiyuk

B.Aiyuk

Tyler Conklin

T.Conklin

Marquez Callaway

M.Callaway

Melvin Gordon

M.Gordon

Jason Pierre-Paul

J.Pierre-Paul

Cameron Jordan

C.Jordan

Nelson Agholor

N.Agholor

Gabe Davis

G.Davis

Ronald Jones

R.Jones

DeVante Parker

D.Parker

Mike Gesicki

M.Gesicki

Jakobi Meyers

J.Meyers

Corey Davis

C.Davis

Chosen Anderson

C.Anderson

Noah Fant

N.Fant

Jalen Reagor

J.Reagor

Keelan Cole Sr.

K.Cole

Chase Claypool

C.Claypool
Past NFL MVPs
| | |
| --- | --- |
| MVP | Year |
| Aaron Rodgers | 2021-22 |
| Aaron Rodgers | 2020-21 |
| Lamar Jackson | 2019-20 |
| Patrick Mahomes | 2018-19 |
| Tom Brady | 2017-18 |
| Matt Ryan | 2016-17 |
| Cam Newton | 2015-16 |
| Aaron Rodgers | 2014-15 |
| Peyton Manning | 2013-14 |
| Adrian Peterson | 2012-13 |
| Aaron Rodgers | 2011-12 |
| Tom Brady | 2010-11 |
| Peyton Manning | 2009-10 |
| Peyton Manning | 2008-09 |
| Tom Brady | 2007-08 |
| LaDainian Tomlinson | 2006-07 |
| Shaun Alexander | 2005-06 |
| Peyton Manning | 2004-05 |
| Peyton Manning | 2003-04 |
| Steve McNair | 2003-04 |
| Rich Gannon | 2002-03 |
| Kurt Warner | 2001-02 |
| Marshall Faulk | 2000-01 |
NFL MVP Odds FAQs
Can I bet on who will win NFL MVP?
What is the NFL MVP award?
Who won the NFL MVP in 2021?
When is the NFL MVP winner announced?
Who has won the most NFL MVPs?
Who can win the MVP award?
Who distributes the NFL MVP award?
How many people vote on the NFL MVP?