2023-24 NFL MVP Odds Tracker: Tua Tagavailoa is Favored to Win MVP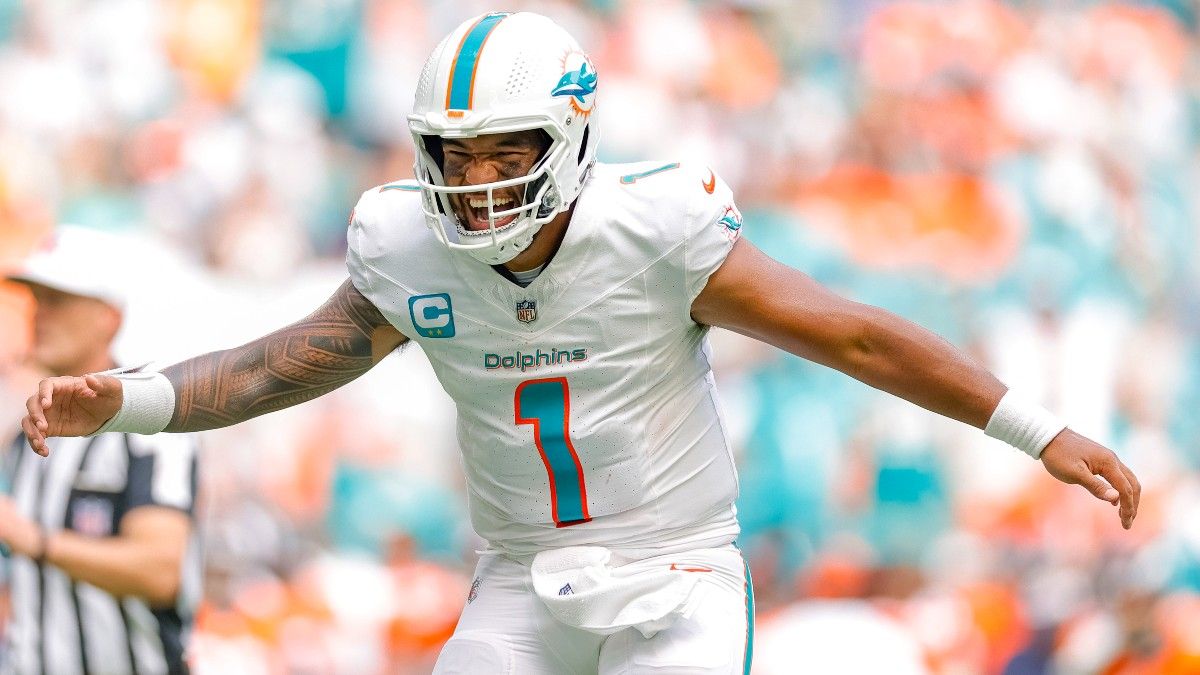 | Player | Odds |
| --- | --- |
| Jalen Hurts - Philadelphia Eagles | +150 |
| Patrick Mahomes - Kansas City Chiefs | +350 |
| Lamar Jackson - Baltimore Ravens | +600 |
| Dak Prescott - Dallas Cowboys | +600 |
| Tua Tagovailoa - Miami Dolphins | +800 |
| Brock Purdy - San Francisco 49ers | +1400 |
| Josh Allen - Buffalo Bills | +2000 |
| Trevor Lawrence - Jacksonville Jaguars | +2000 |
| C.J. Stroud - Houston Texans | +2000 |
| Christian McCaffrey - San Francisco 49ers | +3000 |
| Tyreek Hill - Miami Dolphins | +4000 |
| Jared Goff - Detroit Lions | +5000 |
| Myles Garrett - Cleveland Browns | +15000 |
| A.J. Brown - Philadelphia Eagles | +15000 |
| Justin Herbert - Los Angeles Chargers | +15000 |
| Micah Parsons - Dallas Cowboys | +20000 |
| Geno Smith - Seattle Seahawks | +20000 |
| Ja'Marr Chase - Cincinnati Bengals | +20000 |
| T.J. Watt - Pittsburgh Steelers | +20000 |
| Matthew Stafford - Los Angeles Rams | +20000 |
| Travis Kelce - Kansas City Chiefs | +20000 |
| Derek Carr - New Orleans Saints | +20000 |
| Amon-Ra St. Brown - Detroit Lions | +20000 |
| Russell Wilson - Denver Broncos | +20000 |
| DaRon Bland - Dallas Cowboys | +23000 |
Entering the season, it appeared most people saw Patrick Mahomes and Josh Allen as the clear-cut favorites to win the NFL MVP.
Mahomes is currently +600 while Allen is +850.
But Tua Tagavailoa has completely taken over the MVP race. The Miami Dolphins quarterback has moved to +380 odds to win the MVP after the first three weeks of the season. The Dolphins are 3-0, Tagavailoa leads the NFL in passing yards and the Dolphins have the best offense in the NFL.
Tagavailoa is having the season that is needed to make voters quit thinking about Allen and Mahomes.
Bills quarterback Josh Allen was the favorite entering last season and is back as the favorite at +550 odds.
Bengals quarterback Joe Burrow had similar odds to Allen and Mahomes entering the season. But a poor Week 1 performance already has him falling down the odds board.
There are some non-quarterbacks that have risen up the odds board. Christian McCaffrey is now 25-1 after opening around 80-1. Micah Parsons is currently 50-1.
Be sure to keep checking this page in the lead-up to the season and during the season to get the latest odds for NFL MVP.
Odds via FanDuel and updated in real-time.
Who is the favorite to win the NFL MVP?
1. Tua Tagavailoa +380
Tagavailoa jumped up into the MVP mix after a big win over the Chargers in Week 1. In the win, Tagavailoa threw for 466 yards and three touchdowns. He's been able to keep a similar pace since the first week of the season. A 70-point explosion over the Broncos will help his chances as well.
2. Patrick Mahomes +600
It was a surprise to many to see Mahomes not begin the season as the MVP favorite last year. He had already cemented himself as the best quarterback in the NFL. But it appeared to have put a chip on the shoulder of the Chiefs' gun slinger. He threw for over 500 more yards than any other quarterback during the 2022-23 season en route to one of his best seasons in the NFL. Can he repeat that kind of magic? Will he see some fatigue from voters? Many questions are going to be answered in 2023.
3. Josh Allen +850
Allen has been dubbed as the guy to push Mahomes in the new generation of quarterbacks. He went wire-to-wire with Mahomes in the playoffs in 2021 and has emerged as one of the most talented quarterbacks in the NFL. Could this be the year he takes the next step and becomes the Most Valuable Player in the NFL?
How Do You Win NFL MVP?
We dove deeper into past NFL MVP winners, and there are three main qualifications:
Position: This is a quarterback award. Since 2000, there have been 19 quarterbacks to win and four running backs. An RB hasn't won since 2012.
Win total: Does the player's team have a path to the best record in the league? Of course, you'll want to look for teams with high win totals. And while win totals are not gospel, but it should give you a good starting point. (But if you think the Jags can win 11 games, by all means bet Trevor Lawrence.)
Stats: If everything goes really well, will that player have a statistical profile worthy of an MVP? Even though the Titans had one of the league's best records last year, Ryan Tannehill never got MVP consideration because he wasn't putting up big numbers.
FUTURES
Consensus
Cons.

Jalen Hurts

J.Hurts

Patrick Mahomes

P.Mahomes

Lamar Jackson

L.Jackson

Dak Prescott

D.Prescott

Tua Tagovailoa

T.Tagovailoa

Brock Purdy

B.Purdy

C.J. Stroud

C.Stroud

Christian McCaffrey

C.McCaffrey

Trevor Lawrence

T.Lawrence

Josh Allen

J.Allen

Tyreek Hill

T.Hill

Jared Goff

J.Goff

Myles Garrett

M.Garrett

Joshua Dobbs

J.Dobbs

Justin Herbert

J.Herbert

A.J. Brown

A.Brown

Ja'Marr Chase

J.Chase

Derek Carr

D.Carr

Micah Parsons

M.Parsons

Geno Smith

G.Smith

T.J. Watt

T.Watt

Travis Kelce

T.Kelce

Russell Wilson

R.Wilson

DaRon Bland

D.Bland

Amon-Ra St. Brown

A.St. Brown

Matthew Stafford

M.Stafford

Calvin Ridley

C.Ridley

Jordan Love

J.Love

Derrick Henry

D.Henry

Bradley Chubb

B.Chubb

Austin Ekeler

A.Ekeler

Alvin Kamara

A.Kamara

Maxx Crosby

M.Crosby

Keenan Allen

K.Allen

DeVonta Smith

D.Smith

Joey Bosa

J.Bosa

Chase Young

C.Young

Haason Reddick

H.Reddick

Sauce Gardner

S.Gardner

Dalvin Cook

D.Cook

Michael Pittman

M.Pittman

JuJu Smith-Schuster

J.Smith-Schuster

Terry McLaurin

T.McLaurin

Chris Olave

C.Olave

Najee Harris

N.Harris

Jamaal Williams

J.Williams

Khalil Mack

K.Mack

D'Andre Swift

D.Swift

Shaquille Leonard

S.Leonard

Michael Thomas

M.Thomas

Marquise Brown

M.Brown

Jeffery Simmons

J.Simmons

Aaron Jones

A.Jones

Isiah Pacheco

I.Pacheco

Kadarius Toney

K.Toney

Joe Mixon

J.Mixon

Mike Evans

M.Evans

Nick Bolton

N.Bolton

Tyler Allgeier

T.Allgeier

Brian Robinson

B.Robinson

Ezekiel Elliott

E.Elliott

Matthew Judon

M.Judon

J.K. Dobbins

J.Dobbins

Kenneth Walker

K.Walker

Tyler Lockett

T.Lockett

Chris Godwin

C.Godwin

Dameon Pierce

D.Pierce

Jerry Jeudy

J.Jeudy

Kyle Pitts

K.Pitts

Miles Sanders

M.Sanders

Travis Etienne

T.Etienne

Drake London

D.London

Jarvis Landry

J.Landry

DK Metcalf

D.Metcalf

James Robinson

J.Robinson

T.J. Hockenson

T.Hockenson

Cam Akers

C.Akers

Diontae Johnson

D.Johnson

David Montgomery

D.Montgomery

Antonio Gibson

A.Gibson

Leonard Fournette

L.Fournette

Clyde Edwards-Helaire

C.Edwards-Helaire

Darren Waller

D.Waller

Zay Jones

Z.Jones

Elijah Mitchell

E.Mitchell

Kenny Golladay

K.Golladay

Melvin Gordon

M.Gordon

Courtland Sutton

C.Sutton
Past NFL MVPs
| | |
| --- | --- |
| MVP | Year |
| Patrick Mahomes | 2022-23 |
| Aaron Rodgers | 2021-22 |
| Aaron Rodgers | 2020-21 |
| Lamar Jackson | 2019-20 |
| Patrick Mahomes | 2018-19 |
| Tom Brady | 2017-18 |
| Matt Ryan | 2016-17 |
| Cam Newton | 2015-16 |
| Aaron Rodgers | 2014-15 |
| Peyton Manning | 2013-14 |
| Adrian Peterson | 2012-13 |
| Aaron Rodgers | 2011-12 |
| Tom Brady | 2010-11 |
| Peyton Manning | 2009-10 |
| Peyton Manning | 2008-09 |
| Tom Brady | 2007-08 |
| LaDainian Tomlinson | 2006-07 |
| Shaun Alexander | 2005-06 |
| Peyton Manning | 2004-05 |
| Peyton Manning | 2003-04 |
| Steve McNair | 2003-04 |
| Rich Gannon | 2002-03 |
| Kurt Warner | 2001-02 |
| Marshall Faulk | 2000-01 |
NFL MVP Odds FAQs
Can I bet on who will win NFL MVP?
What is the NFL MVP award?
Who won the NFL MVP in 2022?
When is the NFL MVP winner announced?
Who has won the most NFL MVPs?
Who can win the MVP award?
Who distributes the NFL MVP award?
How many people vote on the NFL MVP?