ESPN BET Bonus
ESPN BET has officially launched! Make sure to use our promo code ACTION for a "Bet Anything, Get $250 in Bonus Bets" new user bonus.
The most exciting new sportsbook in the betting world has finally arrived. ESPN BET was announced in August 2023 and has finally launched in more than a dozen states in the U.S. Read below on how you can use the ESPN BET promo code today!

Bet Anything, Get $250 in Bonus Bets
Must be 21+. Gambling Problem? Call 1-800-GAMBLER
ESPN BET New User Details
No promotions available. Try selecting a different location.
ESPN BET Key Takeaways For November 2023 
| | |
| --- | --- |
| ⭐️ ESPN BET Promo Code | ACTION |
| 💰 ESPN BET Welcome Offer | Bet Anything, Get $250 in Bonus Bets! (MUST use promo code ACTION when signing up to receive the ESPN BET promo) |
| 🗓 Terms and Conditions | New users that are 21+ only. Must be physically present in AZ, CO, IA, IL, IN, KS, KY, LA, MA, MD, MI, NJ, OH, PA, TN, VA, or WV in order to wager. Players must sign up using our specified promo code ACTION, and then place an "Eligible Wager" on an "Eligible Game" during the promotion period. $200 (four (4) $50 Increments) of the $250 in Bonus Bets will be credited upon making the first bet. |
| 🗺️ ESPN BET Legal States | AZ, CO, IL, IN, IA, KS, KY, LA, MD, MA, MI, NJ, OH, PA, TN, VA, WV |
| 📌 Launch Date | Nov. 14, 2023 |
| ✅ Promo Last Verified | November 30, 2023 |
What is the ESPN BET Promo Code?
The ESPN BET promo code is ACTION, and that must be used to properly receive the bonus bets in the new user promo. ESPN BET users can sign up for the new user bonus with promo code ACTION and Bet Anything to Get $250 in Bonus Bets!
ESPN BET is finally here! As ESPN BET was officially launched by PENN and ESPN on Nov. 14, 2023, the ESPN BET promo code is a great one for customers that are excited to try out the new sportsbook.
Come read our Action Network content to see what you can bet using an ESPN BET promo code this week:
Daily Boosts at ESPN BET for 11/29/23
ESPN BET Daily Boosts are an existing promotion that are available each day for popular sporting events. Here are a few you can wager today:
LeBron James and Anthony Davis each to score over 27.5 points @ +1000 odds
Paul George and James Harden to both record over 3.5 three pointers @ +1200 odds
Alex Ovechkin and Adrian Kempe to combine for over 9.5 shots on goal @ +575
How to Sign Up for the ESPN BET Promo Code
New customers will first need to complete the registration process at the ESPN BET sportsbook. This is a straightforward process, with just a few essential details needed. Here's how to sign up for the ESPN BET promo code on a computer or the ESPN BET mobile app:
Insert promo code ACTION when prompted to.
Follow the sign up details like entering personal information.
Begin wagering!
The ESPN BET Promo Code is a part of this signup process. Look for a dedicated box on that registration form. With some bonus offers, the code may already be typed in by default. If not, remember to enter the details exactly as shown. If there are any typos, the ESPN BET Promo Code will not be accepted.
Those who are existing customers of PENN's previous sportsbooks may still have a sportsbook bonus coming. This is an active operator for promotions, so there may well be ESPN BET Promo Code offers for current account holders too.
Latest ESPN BET News November 2023

November 14: ESPN BET has officially launched! Use our promo code ACTION today to Bet Anything, Get $250 in Bonus Bets.

November 13: Action Network has previewed everything you need to know about ESPN BET's Tuesday launch, including when it will launch, where it will be available, and more.

November 10: ESPN released its sports betting guidelines and announced that employees will not be able to bet on specific markets in order to uphold journalistic integrity.

November 8: Sports Handle's Eric Raskin highlights the biggest PR challenge ESPN faces when ESPN BET goes live next week.

November 7: Massachusetts regulators announce that they "won't stand in the way" of ESPN BET's Nov. 14 launch but will require PENN Entertainment to provide additional information next month, per Sports Handle's Jill Dorson.

November 2: ESPN announces that ESPN BET will officially launch on Nov. 14, 2023, almost a full week before the big MNF Super Bowl rematch between the Eagles and the Chiefs.

According to a press release from the ESPN Press Room, here are the states getting ESPN BET on Nov. 14 pending final approval: Arizona, Colorado, Illinois, Indiana, Iowa, Kansas, Kentucky, Louisiana, Maryland, Massachusetts, Michigan, New Jersey, Ohio, Pennsylvania, Tennessee, Virginia, and West Virginia.
SportsCenter anchors Scott Van Pelt and Elle Duncan are officially part of the creative campaign for ESPN BET.
As part of ESPN BET launching soon, the network's Las Vegas-based show "Daily Wager" rebranded to ESPN BET Live on Friday, Nov. 10. The show's final episode as Daily Wager aired on Monday, Nov. 6.
As we get closer to the official launch of ESPN BET, fans of the media brand can enter a sweepstakes for the chance to win an exclusive trip to the headquarters in Connecticut!

November 1: Sports Handle's Jeff Edelstein wrote about how ESPN BET will be harvesting data from their fantasy operations.

October 26: Action Network's Darren Rovell sat down with ESPN BET exec Mike Morrison to clarify more details about the upcoming sportsbook release and other information like regulatory issues.

October 25: Marketing firm publishes a survey that says that Fanatics Sportsbook has a better shot at earning a bigger sports betting market share than ESPN BET.

October 23: Upstart betting company says the new ESPN BET sportsbook logo is too similar to its own.

October 18: ESPN BET releases new its sportsbook logo as a launch date is imminent.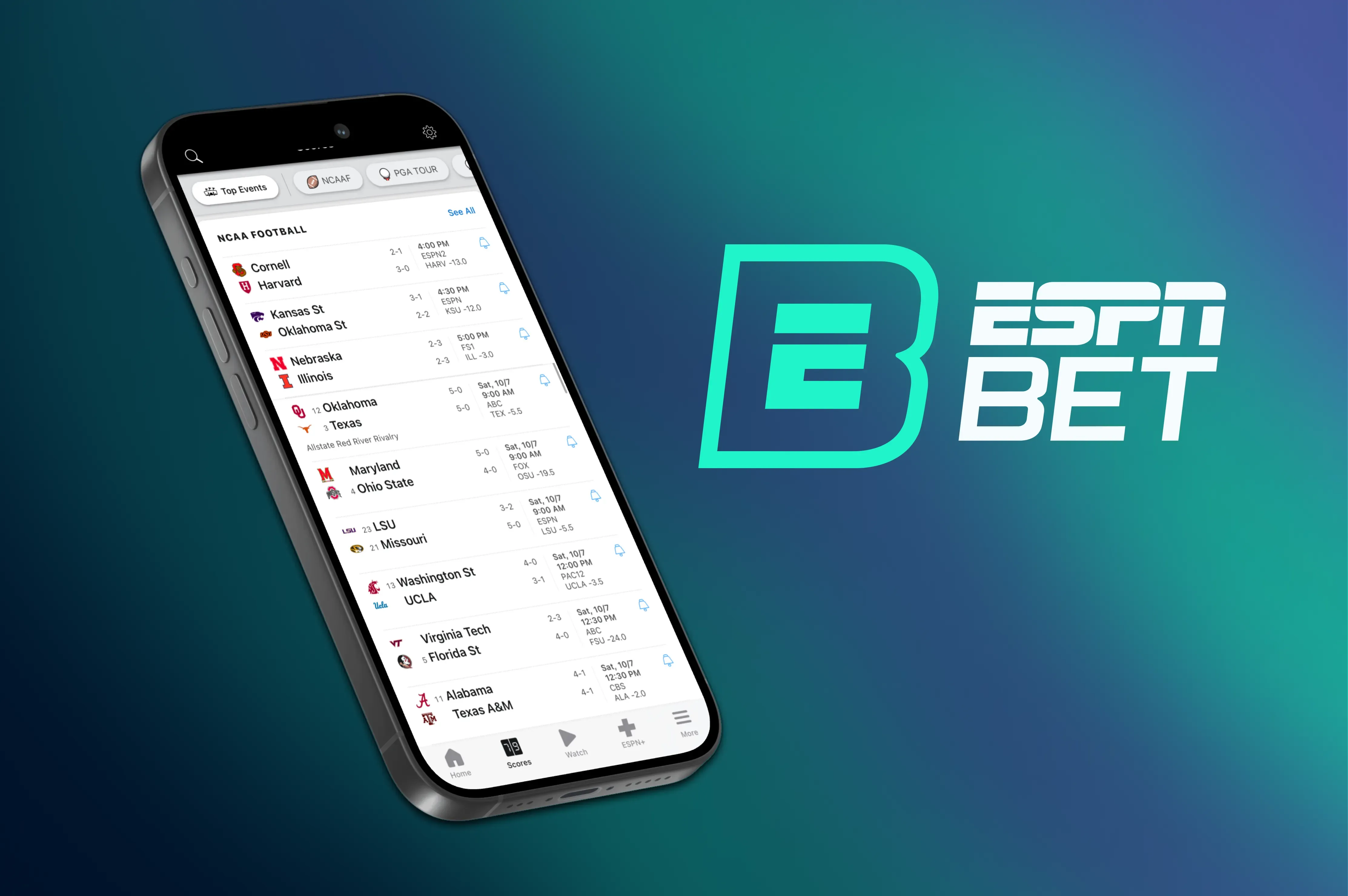 ESPN BET Legal States
The list of states where the ESPN BET sportsbook is accessible will be in flux since we know PENN wants to continue adding states to their total. Since other brands were previously owned by PENN Entertainment, Inc., there's no reason to expect any major changes in their approach to sports betting.
As the ESPN sportsbook launched online on Nov. 14, it is possible to place bets in each of the below states. Some of the states that feature the ESPN BET promo code are Kentucky, Michigan, Massachusetts, and New Jersey. Here are all of the states ESPN BET is available as it launched on Nov. 14:
| | | |
| --- | --- | --- |
| State | Licensed Operator | Launch |
| Arizona | NASCAR | Nov. 14, 2023 |
| Colorado | Ameristar Casino Black Hawk | Nov. 14, 2023 |
| Illinois | Hollywood Casino Aurora | Nov. 14, 2023 |
| Indiana | Hollywood Casino Lawrenceburg | Nov. 14, 2023 |
| Iowa | Ameristar Casino Hotel Council Bluffs | Nov. 14, 2023 |
| Kansas | Hollywood Casino at Kansas Speedway | Nov. 14, 2023 |
| Kentucky | Ellis Park Racing | Nov. 14, 2023 |
| Louisiana | Boomtown Casino | Nov. 14, 2023 |
| Maryland | Hollywood Casino Perryville | Nov. 14, 2023 |
| Massachusetts | Plainridge Park Casino | Nov. 14, 2023 |
| Michigan | Greektown Casino | Nov. 14, 2023 |
| New Jersey | Freehold Raceway | Nov. 14, 2023 |
| Ohio | Hollywood Casino Columbus | Nov. 14, 2023 |
| Pennsylvania | Hollywood Casino at Penn National Race Course | Nov. 14, 2023 |
| Tennessee | Online Only License | Nov. 14, 2023 |
| Virginia | Online Only License | Nov. 14, 2023 |
| West Virginia | Hollywood Casino at Charles Town Races | Nov. 14, 2023 |
Is ESPN BET a Legit Sportsbook?
Of course! The ESPN BET platform is a fully licensed and regulated sports betting operation. It is legal to bet here since the sportsbook has launched, just make sure you're in a viable state.
With their new partner PENN Entertainment, ESPN has become associated with a recognized name in the sports betting industry. With PENN behind them, the short answer is yes, ESPN BET is a legit sportsbook.

What Sports Can I Wager On at ESPN BET?
The most popular sports leagues in America are the NFL, the MLB, The NBA and the NHL. All online sports betting operators opening up here should therefore offer wide coverage for football, baseball, basketball and hockey.
Options are available throughout the season, and the list of markets will increase when we get to the MLB, NHL, NBA and NFL playoffs.
Soccer, golf and tennis are also popular among the online sports betting community in North America and these will be covered by the ESPN Sportsbook.
Other events covered by the sportsbook include college football, rugby, cricket, boxing, MMA/UFC, motorsports and more.
Since ESPN BET launched on Nov. 14th, many bettors have used the app to wager on exciting NFL, CFB, NBA, NHL, or CBB outcomes and props.
Unique Betting Markets
Here are some of the unique betting options that we've enjoyed so far at ESPN BET:
Alternate Player Props
ESPN BET is one of the few sportsbooks to allow users to bet alternate player prop unders in same game parlays. Most sportsbooks only allow you to bet the upside – a player for 50+ yards, or 75+ yards at increased prices. But at those books, you can't capture a player's downside because you're stuck betting only the under on his normal prop line.
You don't have an infinite number of options, of course. You can't bet Patrick Mahomes under 25.5 passing yards at 100-1, and hope he gets hurt. (Many sportsbooks shy away from this after getting burned on situations like Draymond Green playing starting a game to honor teammate Klay Thompson, then immediately subbing out, which cost DraftKings millions).
But it's definitely a step in the right direction that you can take some alternate unders.
For example: in a previous Philadelphia Eagles game, you could have bet on Jalen Hurts' alternate over 41.5 at +110, or his alternate under 34.5 at +115, and any number in between. Most intelligent sports bettors shop around alternate props at competing sportsbooks, so it is very smart of ESPN BET to have these options so early in their history as a sportsbook.
Players to Not Score a Touchdown
In the great debate about sportsbook refunds, in which bettors argue that if you don't like getting burned by player injuries when betting props, you should bet some unders instead, they forget that you often can't bet the downside case.
Most sportsbooks don't let you bet things to not happen – players to not score a goal, players to not score a touchdown.
ESPN BET is one of the few on the market, and the only one among the major U.S. sportsbooks in double-digit states, that allow you to bet players to not score TDs. You can also bet a player to not score in the NHL.
Most bettors want to bet on things to happen. But it's wonderful to see a sportsbook give you the option to bet the other side. It also helps keep the pricing in line on the "yes" side.
The Boosts
Every sportsbook offers some kind of boosted odds on pre-determined markets. Some are bad, some are really bad, and only a few are worth betting blindly.
After the first weekend of ESPN BET, it was definitely a mix. X accounts that calculate the value of every NFL boost found that two of the nine NFL boosts on Sunday were +EV and worth betting.
That's better than most sportsbooks! However, with previous PENN products, only betting the +EV boosts can get you limited pretty quickly.
Latest ESPN Game Odds
For NFL games and futures betting, check the current odds below.
NFL Game Odds: Cleveland Browns vs. Los Angeles Rams
Below is a selection of odds for the upcoming NFL game: Updated November 30, 2023 - Odds Provided by ESPN BET - Subject to Change
| | | | |
| --- | --- | --- | --- |
| Team | Spread | Moneyline | Total |
| | (+3.5) -115 | +155 | Over 39.5 (-110) |
| | (-3.5) -105 | -185 | Under 39.5 (-110) |
Futures Odds
Here are the NFL Championship futures odds: Updated November 30, 2023 - Odds Provided by ESPN BET - Subject to Change
| | |
| --- | --- |
| 2023/2024 NFL Team | Futures Odds |
| KC Chiefs | +425 |
| PHI Eagles | +425 |
| SF 49ers | +425 |
| BAL Ravens | +800 |
| MIA Dolphins | +850 |
What's On ESPN Tonight?
ESPN sporting events being aired on Wednesday, Nov. 29:
| | | |
| --- | --- | --- |
| Event | Time & Channel | Context |
| Tennessee @ North Carolina (CBB) | 7:15pm ET on ESPN | No. 17 UNC will host No. 10 Tennessee in the ACC/SEC Challenge tonight. |
| Duke @ Arkansas (CBB) | 9:15pm ET on ESPN | No. 7 Duke visits Arkansas in another ACC/SEC Challenge game. |
ESPN BET Key Features
Since ESPN BET has officially launched, we can look at what some of the fun parts of the app are so far. This is what we love so far about ESPN BET app:
Special Event Promos
ESPN gets to air big sporting events like Monday Night Football, so be sure to check and see what kind of profit boosts or odds boosts they have as options during those events.
Live Betting
Users can make live bets on the ESPN BET app while watching their favorite games on any of the ESPN channels, which enhances their online sports betting experience.
ESPN BET Live
ESPN began a daily sports betting show titled Daily Wager back in March of 2019, but has rebranded it as ESPN BET Live, which started on Friday, Nov. 10th. The first episode aired at 6pm ET on ESPN2 from a studio in Connecticut.
ESPN BET Live will have lots of eyeballs on it as the launch of the ESPN BET sportsbook inches closer. ESPN's daily wagering broadcast will likely resemble Daily Wager, which provided sports knowledge and betting expertise to help ESPN viewers with their own sports wagers.
ESPN BET Pros and Cons
Pros and cons come with any mobile sportsbook, and the popularity of the ESPN brand means many people will be critical of the sportsbook from the start. Here's our pros and cons as we have passed the launch of the ESPN BET sportsbook.
ESPN BET Pros ✅
The 'Bet Anything, Get $250 in Bonus Bets' new user promotion is a very generous offer when compared to other competing sportsbooks
Is in many states because of their partnership with PENN Inc.
Brand identity brings a strong presence of ESPN employees and history to the sportsbook
Has special promos to align with what sporting events they are broadcasting, like MNF
ESPN BET Cons ❌
No live streaming option available
Promos are competing with other new sportsbooks like Fanatics and Betr
Will have to compete with the top older sportsbooks like FanDuel and BetMGM
The History of ESPN
The ESPN brand is a huge organization that was invented way back in 1979. They are widely known by sports fans as a broadcast network that provides live coverage of top games from the US and beyond
The initials stand for Entertainment and Sports Programming Network, and that neatly sums up what ESPN does. In the present day, the Walt Disney Company has an 80% share in the group, and it continues to focus on its TV output.
ESPN also looks to diversify within the sports world: They have comprehensive websites, which are a great source of stats for most sports, and the new sportsbook launch is a great example of that diversification.
They may be a new name in betting, but the historic and vast ESPN sports broadcasting network behind it all suggests that this is a name to trust.
Payment Options at ESPN BET
The ESPN BET Sportsbook payment methods are very similar to the old PENN Sportsbook ones. PENN Entertainment generally works with a regular list of methods and these include:
VISA
Mastercard
Bank Transfer
PayPal
Apple Pay
Discover
Play+
PayNearMe
ACH Check
ESPN BET Payout Timing
Many users have experienced delayed payouts since ESPN BET's opening weekend in November. One of our own editors withdrew their winnings, but it took more than two days to process. Yes, the timeline is within the stock timeline most sportsbooks give you, but it is also well outside what's become normal in U.S. sports betting.
We've noticed users on X (formerly known as Twitter) complained about the inconsistency of payouts, receiving certain payouts instantly and others still pending after two days.
Other users complained about verification time, as they needed to wait 4-5 days to join the platform while customer support reviewed their supporting documents and verified their account.
We expect these things to improve as signups and registrations slow following ESPN BET's opening launch, but it doesn't inspire a ton of confidence for many users who expect near-instant verification and payouts from big name brand sportsbooks.
Conclusion of our ESPN BET Promo Code Review
ESPN BET is already one of our favorite sportsbooks that we've added to our arsenal. The excitement about the new sports betting brand is palpable as ESPN BET offers a generous new user welcome bonus of Bet Anything, Get $250 in Bonus Bets when you use our promo code ACTION.
We are excited like everyone else since ESPN BET has officially launched as of Nov. 14, 2023. ESPN BET has competitive odds, security safeguards for responsible gambling, and a wide choice of sports to choose from when wagering. Combine those together with several offers and promotions and ESPN BET has shown how they'll attack the big sports betting market in the U.S.
No promotions available. Try selecting a different location.
ESPN BET FAQs
When did ESPN BET launch?
ESPN BET, the sportsbook from the ESPN media brand, officially launched on Nov. 14, 2023.
Yes, ESPN BET is live! Bettors can wager on a number of markets at the ESPN BET sportsbook, providing they reside in an eligible state and are of legal betting age.
Betting is available via PC, laptop or the ESPN BET mobile app.
What is the ESPN BET promo code?
How do I bet on NFL games with ESPN BET?
The ESPN sportsbook lists all of their sports in separate sections. Log in to your ESPN BET account, look for the NFL and identify the game that you want. Click on the odds to open an online betslip, and enter the amount that you wish to stake.
Check that everything is in order, and click the button to confirm. The bet is then placed.
What states will ESPN BET be in?
ESPN BET announced these 17 states as the official starting point as they launched on Nov. 14th, 2023:
Arizona

Colorado

Indiana

Illinois

Iowa

Kansas

Kentucky

Louisiana

Maryland

Massachusetts

Michigan

New Jersey

Ohio

Pennsylvania

Tennessee

Virginia

West Virginia