FanDuel Sportsbook
Review, Bonuses, & Promo Codes
Bonuses & Promotions

Mobile App & Website

Registering & Cashiering

Betting Options

Comparison
FanDuel Sportsbook offers one of the most straightforward and seamless start-to-finish registration and deposit experiences in the market. Additionally, it's hard to beat its $1,000 risk-free-bet offer for your first wager.
FanDuel Sportsbook Sportsbook Offers
$1,000 Risk-Free First Bet
Claim Now
$1,000 free-roll on first bet
Key Takeaways
FanDuel Sportsbook Promo Code

FanDuel doesn't require you to enter a promo code. Just

follow this link

to get a risk-free bet up to $1,000.

FanDuel Sportsbook Promo Details

FanDuel's risk-free bet requires a 1x rollover, which means if you deposit $1,000 of your own money into your FanDuel account and win your risk-free bet (you can choose which game to put it on), nothing happens, because you won the bet and get your winnings. If you lose, you'll be credited money back in a separate part of your account. Note that the $1,000 risk-free bet is a one-time thing, so if your first bet after signing up for an account is just $20, that will be your risk-free bet. Make sure to optimize that first wager to get the biggest bang for your buck.

Where You Can Use the FanDuel Sportsbook App

FanDuel is a fully legal, regulated online sportsbook and you can bet at in the following states:

Colorado

,

Indiana

,

Iowa

, Illinois,

New Jersey

,

Michigan

,

Pennsylvania

,

Tennessee

,

Virginia

and

West Virginia

.

Sports You Can Bet on With FanDuel

NFL, NBA, MLB, NHL, soccer, UFC/MMA, NASCAR, tennis, college football and college basketball (except in New Jersey if you want to bet on New Jersey teams and college events held in the state) and more.

Charges to Expect From FanDuel

FanDuel will not charge you fees for depositing or withdrawing. But all sportsbooks charge "juice" or "vig" on each bet — meaning you need to risk more than you'll win. Juice differs by sportsbook, but on a standard bet, you're paying 10% to the book to take your action.
FanDuel Sportsbook Review Summary
FanDuel Sportsbook Overall Score

Bonuses & Promotions

FanDuel has a good $1,000 risk-free bet sign-up offer that requires only a 1x rollover, one of the better marks in the industry. While it doesn't offer the volume of big promotions like some books, it does make an effort to give promotions to new and existing customers, which is uncommon currently.

Mobile App & Website

FanDuel's app is high-tech and easy to use, as they've been in the business of developing their products for over a decade thanks to their beginnings as a DFS company. The only major downside is that it can be difficult to contact support via the app.

Registering & Cashiering

We haven't heard of significant issues registering, depositing or withdrawing at FanDuel. They recently updated their organization so users can have just one wallet for the sportsbook, casino and DFS products, which is a big deal for customers.

Betting Options

FanDuel offers just about any market that's legal within the state it operates in. There are a few niche markets like specific props that may not be available, but overall, FanDuel is among the best U.S. books in setting odds for nearly every sport and league.

FanDuel Sportsbook vs Other Sportsbooks

FanDuel is already one of the biggest sportsbooks in the U.S., and it excels with its solid app and regular offers to help retain customers. While it can offer higher holds than some books, it's fairly standard across the board, allowing users to find value on more niche markets.
FanDuel Sportsbook: Mobile App Review
Bonuses & Promotions
It can often be tough to profit long-term at sports betting, mainly because of the juice — the "tax," sometimes called the "vig" — charged on each bet. That means it's essential for bettors to take advantage of sportsbook promotions, whether it's a sign-up offer or a daily booster, to maximize expected value. FanDuel's mobile app has top-of-the-line bonus and promotion offers for all levels of sports bettors, whether you're new or seasoned.
FanDuel offers one of the simplest and most seamless start-to-finish registration and deposit experiences in the market. Additionally, it's hard to beat its $1,000 risk-free-bet offer for your first wager.
Mobile App & Website
Web Experience
Following the overturn of PASPA in 2018, FanDuel made the natural expansion to get into sports betting and has since launched sportsbooks in Colorado, Indiana, Iowa, Illinois, New Jersey, Michigan, Pennsylvania, Tennessee, Virginia and West Virginia. They'll likely expand into every legal state and should be a major player in the industry for years to come. FanDuel has been perfecting its daily fantasy desktop site and app for a decade now, so it's no surprise that they have one of the best sites and apps for sports betting now, too.
The desktop site is speedy, mobile-friendly, sleek, and easy to navigate. On FanDuel's homepage, users can easily find the sport they want to bet, along with live markets, odds boosts and featured promotions (e.g., "Get FREE NFL entries all season long when you sign up"). Everything is housed on one screen, which means users don't have to reload pages and have multiple tabs up at once to bet. FanDuel's bet slip experience is very user-friendly, as it seamlessly pops up on the right side of the screen after clicking on a bet. It's easy to change a bet type from straight to a teaser, parlay or round robin as well.
The navigation is also set up in their sports menu; it's effortless to find sub-markets like game and player props, head-to-head matchups, and more. However, it could organize markets a little better — FanDuel has separate tables for related markets like a golfer's odds to finish in the top-five, top-10, top-20, etc. — but that's a minor quibble for an overall reliable web and app product.
THE GOOD
Positive App Feedback from Action & Users
Navigation. It's very easy to quickly find a bet you're looking for, and markets are smartly organized. You swipe in and out of navigation areas, which makes it simple to quickly move throughout the app.
Promotions and boosts. Right on the main page, FanDuel highlights current offers and daily boosts, helping users find the highest value betting opportunities without navigating to a separate page.
Combined wallet. FanDuel has recently updated its organization so users can have just one single wallet for sports betting, daily fantasy and the casino. Instead of moving money around to take advantage of each product, users can deposit just once and use their money wherever they'd like seamlessly.
THE BAD
Negative App Feedback from Action & Users
Finding smaller markets. While it's easy to locate market-like player props on the desktop site, it's a little more challenging on the app, where you have to click into a specific game.
No rewards program. FanDuel's daily fantasy sports product has a rewards program that gives back site credit to users for playing, but the sportsbook does not yet have any system.
Lack of support. FanDuel makes it difficult to get in touch with their support team. Clicking the "contact support" button in the app takes you out of the app and onto the mobile site. Once there, it's challenging to find out how to contact them.
Registering & Cashiering
We haven't heard of many problems depositing or withdrawing funds from FanDuel Sportsbook, which gives users a variety of options to do so, including credit and debit cards, prepaid cards, PayPal, online banking, checks, wire transfers and cash at their in-person casinos.
Creating an Account Requires
Signing up for a FanDuel account is extremely easy. It will only take you a few minutes from the time you start to when you place your first bet. To register for a FanDuel Sportsbook account, you will need to provide your:
| | |
| --- | --- |
| Full name | User name |
| Phone number | Date of birth |
| Email | Two security questions |
| Address | Last four digits of SSN |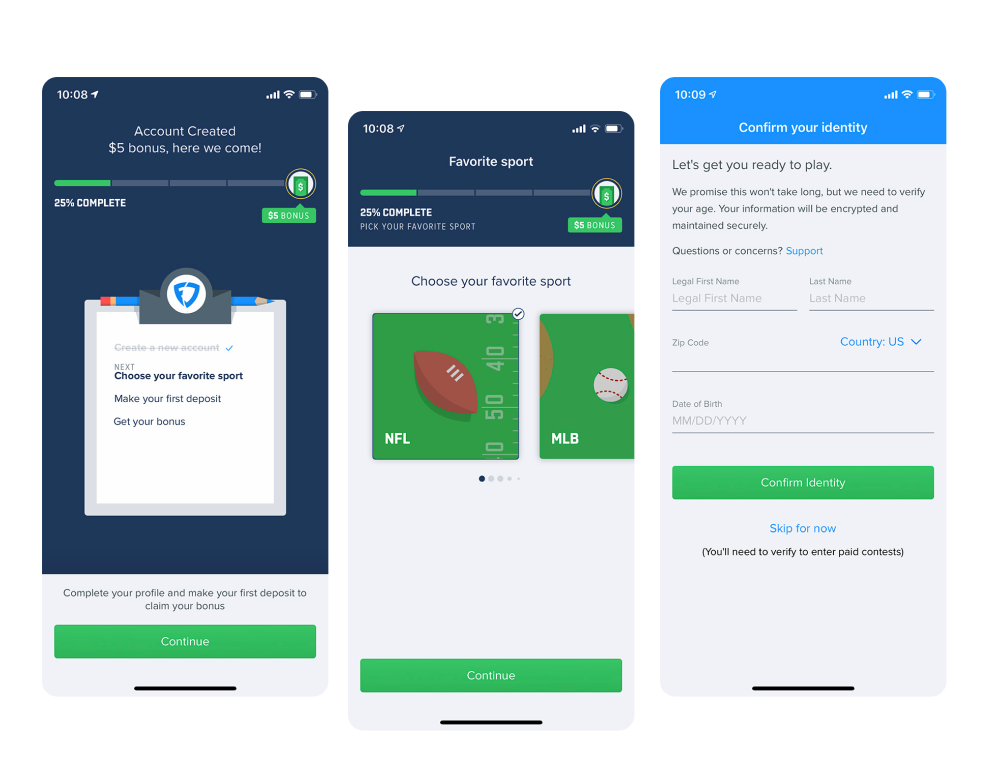 Notably, no current U.S. sportsbook allows deposits or withdrawals with a cryptocurrency like Bitcoin, including FanDuel.
Per FanDuel's customer support section, it can take up to 24 hours for a withdrawal to be reviewed. It can take 3-5 days to process for online banking, and for checks, it can take 7-10 days for it to arrive.
Payout Speed
One of the advantages of betting at a legal U.S. book like FanDuel, which is regulated by the state it is located, is that you don't have to worry about withdrawals or receive your money. Users have protections at legal U.S. books, so you can rest assured your money is safe.
FanDuel has a variety of deposit and withdrawal options, including:
| | |
| --- | --- |
| Credit card | Debit card |
| Prepard card | Cash at casino cage (in-person) |
| PayPal | Online banking |
| Check | Wire transfer |
How to Deposit at FanDuel
FanDuel gives users a number of ways to deposit funds, including:
| | |
| --- | --- |
| Deposit options | Visa |
| ACH (eCheck) | Wire transfer |
| PayPal | PayNearMe |
| Cash inside sportsbook | FanDuel prepaid card |
| Mastercard | Check |
How to Withdraw from FanDuel Sportsbook
How to take money out of your FanDuel account:
Wiithdrawal options:
PayPal
ACH
FanDuel prepaid card
Check
Cash inside sportsbook
Spending Controls
Almost all U.S. sportsbooks have ways to promote responsible gambling, including FanDuel. Within the app, bettors can set controls:
| | |
| --- | --- |
| Time-out | You can have your account closed for a set period of time, after which it will automatically reopen and let you access it. |
| Time limits | You can set several hours to allow yourself to be on the site per day. |
| Deposit limits | You can set a limit on how much money you can put into your account during a set period of time. |
| Wager limits | You can set a limit on the maximum amount of money you can wager in a given time period. |

Betting Options
FanDuel is already one of the biggest sportsbooks in the U.S. As a result, and they offer just about every type of bet you can think of. Here are some of the main bet types:
| | |
| --- | --- |
| Spreads | Moneylines |
| Player props | Futures |
| Totals | Second half |
| First half | |
Sports Markets Offered
As one of the biggest sportsbooks in the U.S., FanDuel has a lot of available markets, including all major sports and most niche ones, too. Some exceptions like political markets and props not revolved around sporting events, but the options are vast. There are other smaller markets available as well, including leagues within sports. For example, within soccer, you can bet on various leagues like the MLS, Champions League, Premier League and more.
FanDuel does offer some markets that are not found in other books. For example, while most sportsbooks will offer odds on a golfer to finish in the top-10 and top-20, FanDuel weekly offers odds on finishing top-30 and top-40 positions. FanDuel also offers some sports markets that aren't available everywhere, like the LPGA, for example.
| | | |
| --- | --- | --- |
| NFL | NBA | MLB |
| Soccer | Tennis | Boxing |
| Cricket | Rugby | Darts |
| NHL | College football | College basketball |
| UFC/MMA | NASCAR | Golf |
| Volleyball | Cycling | Table tennis |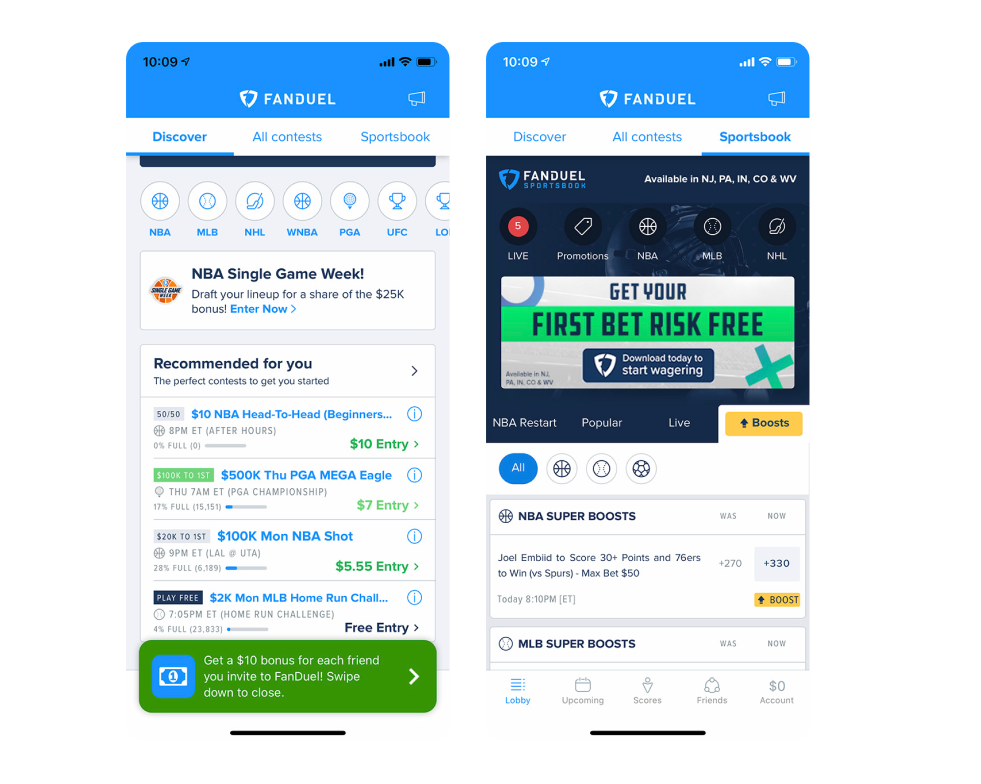 FanDuel vs Other Sportsbooks
While sign-up offers, promos and user experience are crucial factors in selecting a sportsbook, the most sophisticated bettors are often worried about the price. We can compare books like FanDuel in this regard a couple of ways:
Juice: Also referred to as the "vig," this is the tax a sportsbook charges for a bet. The standard odds for a spread bet is -110, which means you have to pay $110 to win $10. That extra $10 is the tax.
Hold: Like the juice, the hold is defined as the percentage of a sportsbook for every dollar wagered. It's a better metric to measure for moneylines, for example.
Most online U.S. books — in states where betting is entirely online and not regulated by the state lottery, at least — have standard juice on your typical bets. Take, for example, the juice on spread bets for the NFL:
There's no significant difference between sportsbooks: It is common to get -110 on both sides for both the spread and the over/under.
In terms of hold on moneylines, here's how FanDuel has compared with other U.S. books in the past:
FanDuel is on the higher end of U.S. sportsbooks in hold percentage, and we've also found that they're often beat at a price in some futures markets like golf. It depends on the specific market, though: For NBA title odds, for example, they offer superior odds than a bunch of the giant U.S. books. That highlights the importance of line shopping and having multiple accounts; FanDuel is a worthy addition to your sportsbook portfolio.
In general, for some smaller markets like player props, FanDuel is competitive and offers standard pricing. Whereas a book like BetMGM can offer up to -118 on both sides for some props or head-to-head matchups, FanDuel is more in line with DraftKings in offering -110 standard odds.
Other FanDuel Benefits
Cash Out of Bets In-Game
A popular new feature from legal U.S. sportsbooks is the ability to cash out of a bet while it's still in progress. FanDuel calls it the "Cash Out" feature.
Let's say you bet $100 on the Rockies to beat the Dodgers at +200 odds. You'd win $200 if Colorado wins the game outright.
If the Rockies lead in the sixth inning, FanDuel may give you the option to cash out your bet (albeit at a worse price) if you don't feel great about Colorado finishing off the game.
Odds Boosts
FanDuel will often boost the odds on certain bets as an incentive for players. What's an odds boost? It's simply a better price on a bet than what's offered normally or at other books.
For example, FanDuel may boost the Tampa Bay Bucs to win the Super Bowl from 14-1 to 20-1.
To get all odds boosts from legal sportsbooks and see the percentage value you're getting on each, check out our hub here.
More offers and bonuses after your initial deposit: FanDuel is constantly offering additional bonuses once you're already betting.
They'll send emails to the address associated with your account and send alerts to your mobile phone if you have the FanDuel app.
FanDuel Customer Service
FanDuel's customer service is available by phone (646-930-0860) or via the web on live chat.
Customer service is also available via email at sportsbook@fanduel.com. If you're an existing user, include your username in the email for expedited service.
FanDuel Frequently Asked Questions
Which states allow FanDuel Sportsbook?
What's the best promo code to use for FanDuel Sportsbook?
How does FanDuel's $1,000 risk-free bet work?
How fast can I withdraw money from my FanDuel account?
Is my money safe on FanDuel?
Can I put checks in place to limit my betting?
What are the minimum and maximum amounts I can deposit?
Does FanDuel charge fees?
Do I have to be a resident of a state with legal online betting to bet on FanDuel?
Can I withdraw money from FanDuel if I'm not in a legal state?
What type of devices can I bet on at FanDuel?
Can I deposit money via PayPal?
Does FanDuel have an app?
Why does FanDuel need my social security number and other personal information?
Are FanDuel winnings taxed?
How is FanDuel different from Bovada?