DraftKings
Sportsbook Review
Bonuses & Promotions

Mobile App & Website

Registering & Cashiering

Betting Options

Comparison
DraftKings is a heavyweight sportsbook with a sleek mobile interface, new live betting offerings and industry-leading sign-up promotions for sports bettors. Learn more about DraftKings promo codes, online bonus offers and why DraftKings is The Action Network's preferred book.
DraftKings Sportsbook Offers
Bet $1, Win $100 if USA Wins a Medal
Claim Now
Bet $1 on ANY Olympic event
Win $100 if USA wins a medal that day
$1,000 Deposit Bonus + $50 Free Bet
Claim Now
Get a deposit bonus up to $1,000
Get $100 FREE When You Pre-Register!
Claim Now
DraftKings Sportsbook is coming to WY
Pre-registration is now open
Sign-up today and get $100 FREE
Key Takeaways
| | |
| --- | --- |
| DraftKings Sportsbook Promo Code | The DraftKings Sportsbook promo doesn't require a code — all you need to do to redeem the $1,000 sign-up bonus exclusive to Action Network users is click this link. |
| DraftKings Sportsbook Promo Details | The deposit bonus is a 20% match worth up to $1,000. So if you deposit $100, you would earn a $20 bonus. To earn the max $1,000 bonus, you would have to deposit $5,000. Again, no promo code is needed to redeem this exclusive $1,000 sign-up bonus. |
| Where You Can Use the DraftKings Sportsbook App | DraftKings is a fully legal, regulated online sportsbook and you can bet in the following states: Colorado, Illinois, Indiana, Iowa, New Jersey, Michigan, Pennsylvania, Tennessee, Virginia and West Virginia. |
| Sports You Can Bet on With DraftKings | NFL, NBA, MLB, NHL, soccer, tennis, boxing, UFC/MMA, NASCAR, golf, college football and college basketball (except in New Jersey if you want to bet on New Jersey teams and college events held in the state) and more. |
| Charges to Expect From DraftKings | You will not be charged for withdrawing or depositing at DraftKings, but all sportsbooks charge "juice" or "vig" on each bet, which is 10% on standard bets. In terms of hold moneylines, DraftKings, on average, has been the highest of the most critical U.S. books. |
DraftKings Review Summary
Bonuses & Promotions

DraftKings has pretty standard sign-up bonuses, but it stands out with one-off promos on certain events. For example, DK will give you 30% boosts on one bet per golf tournament, a few dollars per 3-pointer made if you make an NBA bet, and plenty more. They're creative, easy to opt into and usually free money.

Mobile App & Website

DraftKings' app is user-friendly and relatively fast, but it can get a little busy with all the promotions and bet types offered. We found it easier to navigate on a desktop. The app is structured straightforwardly, making it easy to find what you're looking for — something we can't say about most U.S. sportsbooks.

Registering & Cashiering

We didn't have any issues depositing and withdrawing money on DraftKings. Deposits through your bank account, credit card or PayPal are seamless, and cash will be back in your account in a day or two after withdrawing. DraftKings is a trusted, reliable sportsbook for registering and cashiering. You'll be able to sign up and get in on the action faster than many other books.

Betting Options

In a world where sportsbooks simply copy and paste odds from each other, DraftKings is doing its best to stand out. They've been first to market in the U.S. on some NFL props, college football futures and golf matchups. DraftKings is still behind the offshore leaders, but it's clear the company has the vision and resources to offer its own markets.

DraftKings vs Other Sportsbooks

There's a reason DraftKings has scooped up so much market share in New Jersey and beyond in the early days of legal U.S. sports betting. It offers a superior product to most of its competitors in the two most significant areas — mobile application, and bet types offered. Most sports bettors care about these two things: "Can I bet on everything I want at a fair price?" and "Will I have an easy time executing my bet?" DraftKings does both well.
Draftkings Sportsbook: Mobile App Review
Bonuses & Promotions
No matter your level of expertise, sports betting can be a challenge to profit from. Savvy bettors take advantage of high-value sign-up offers, promotions, codes, and daily boosts to find +EV (expected value) opportunities — an area DraftKings excels. Because of their massive user base and appetite for acquiring new customers, DraftKings offers some of the most competitive ways to boost your betting bankroll from their sign-up offers, ongoing bonuses and loyalty promotions. Deposit bonuses vary in their amounts awarded to customers, and DraftKings' is definitely on the high side: They're giving a $1,000 deposit bonus to all first-time depositors.
The deposit bonus is pretty simple: They'll match 20% of your first deposit up to $1,000.
To get the full $1,000, you must deposit $5,000 when signing up. Note that the minimum deposit to qualify for this 20% deposit bonus is $5, but you'll want to make sure you take full advantage the first time you credit your DraftKings account.

No promo code is needed to redeem this exclusive $1,000 sign-up bonus.
DraftKings is one of the best books in the industry and an easy choice for a new bettor, especially given their awesome app and overall user-friendly experience.
Mobile App & Website
All in all, DraftKings gives users a robust mobile app that does core things well for any new or experienced sports bettor.
Web Experience
DraftKings has one of the most user-friendly desktop and mobile sites as well. Their website has easy-to-use navigation, so you can quickly find a sport and bet you're looking for. They routinely highlight their boosters and promos on the front page, so they are easy to find. The site also organizes bets well, which is an essential factor when you start using a sportsbook often.
Here's an example of golf odds and their navigation: Many other books will list bets on a single page, so you have to sort through various markets, including outrights, matchups and more. Further, almost all other books will have different pages or tables for a golfer's odds to win, top-five and top-10. As you can see above, DraftKings lists them all in a single table, so it's straightforward to find bets you want to make.
THE GOOD
Positive App Feedback from Action & Users
Easy bet slip functionality.

The process of finding bets to betting them at DraftKings is seamless. Just select a bet to pull up the Bet Slip, and click away from it to minimize so you can add more bets. It's easy to find and use but not disruptive to the research and exploring experience.

Intuitive sport navigation.

DraftKings has smartly organized its bet types into a tiered structure, which is slightly easier to navigate on desktop but perfectly fine on mobile given the width constraints. Users can navigate to the sport and then will see bet categories at the top — for the NFL, and you'll get Game Lines, Team Futures, Players Props, and more. Once you click into those, you'll get more bet types — for Futures, and you'll see Super Bowl, division, win totals, and more. You can also click into a specific game to see more bet types.

Attractive and functional UI/UX.

The dark background and green text make looking at the DraftKings app both easy and enjoyable. It's easy to find what you're looking for, and the color contrast isn't too aggressive — something we've found to be an issue in competing apps.



THE BAD
Negative App Feedback from Action & Users
Occasional glitching and freezing.

Our staff has at times had to delete the app and redownload their app because DraftKings was frozen, or not loading. We saw similar responses in user reviews when analyzing reviews in the app store. It's rare, but it's frustrating when it does happen.

Promotion-heavy experience.

It's clear by navigating through DraftKings' app for a few minutes that they want two things — for users to opt into promotions and to play the online casino, which has much higher margins than sports betting. Seemingly every screen you go to has one of these two options. In user feedback, many of the negative comments were around the casino experience rather than the sportsbook. As sports bettors, we're a bigger fan of that anyway.

Separate DFS mobile app

. There are good reasons both DraftKings and FanDuel need separate apps for DFS and betting — both technical and legal. Still, it's a little frustrating you can't toggle between fantasy games and betting and your sportsbook action in the same place.
Registering & Cashiering
Legal U.S. sportsbooks haven't had the most straightforward time with registrations and deposits due to state-by-state restrictions. FanDuel and William Hill, for example, make some users purchase an eCredit of sorts, which can be flagged by your bank as fraudulent.
DraftKings isn't perfect on this front, but it's among the best in the sports betting industry. Depositing is seamless, and payouts are reasonably quick — in the dozen payout requests we filed in our app testing for this review, each came in below a three-day window.
Creating an Account Requires
If DraftKings can't verify your identity using these details, it may ask you to submit other proof of identity, like a photo of your license or passport. Generally, the verification process has been smooth in our testing. To create a DraftKings account, you must provide your:
| | |
| --- | --- |
| First name | Address |
| Last name | Date of birth |
| Email | Last 4 digits of SSN |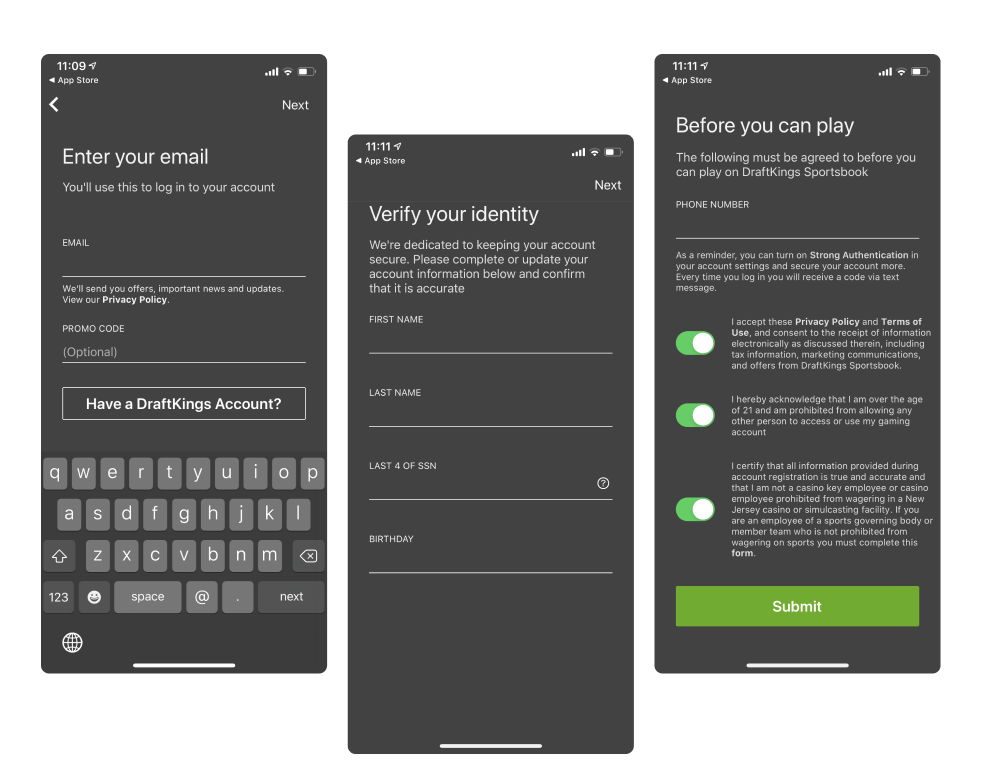 Payout Speed
One of the most significant advantages of betting legally with sportsbooks like DraftKings is worry-free payouts. You know you'll get any money owed returned, and your bankroll funds are secured because sportsbooks like DraftKings are required to set up a liability fund that operates separately from their expenses. This way, no matter the business outcomes DraftKings are experiencing, your money is secure. Offshore books cannot promise the same security.
DraftKings has every payout and deposit option in the book, including:
| | |
| --- | --- |
| Bank account | Credit card |
| PayPal | Casino cage |
| Debit card | Prepaid DraftKings card (Play+) |
| eCheck | |
Spending Controls
Most legal sportsbooks have self-imposed limiting controls in place, and DraftKings is no different. DraftKings has brought on an Academic Executive advisor to encourage responsible gaming practices as the sportsbook grows, as well as built-in product features to allow users to set and fine-tune healthy boundaries for themselves:
These are effective ways to stop yourself from betting too much if it's becoming a problem or to be proactive about setting healthy limits for yourself. We recommend configuring whatever setup helps you maintain responsible limits and educating yourself. The controls DraftKings offers include:
Player limits: Limit your deposits by day, week, or month of the year.
Self-exclusion: Ban yourself from using the app for a set period.
Cool off: Prevent yourself from depositing or placing bets for a set period while still accessing the app.
In addition to the DraftKings-provided resources, The Action Network has developed bankroll management educational materials to help ensure bettors have fun and establish sustainable behavior.
Betting Options
DraftKings is a market leader in setting odds and offering unique bets. They are often first-to-market, including on NFL props, college football futures and matchups for golf. Of legal options, they're leading the way.
Bet types available
DraftKings is among the leaders in the U.S. for original bet types. You can find a bevy of player props available for football, matchups for golf, finishing position markets for NASCAR, and much more that you can't find anywhere else in the U.S.
That's in addition to all the popular, standard bets you can get at any sportsbook — point spreads, totals, moneyline, first half derivatives, etc. These include:
| | |
| --- | --- |
| Spreads | Moneylines |
| First half | Second half |
| Totals | Player props |
| Futures | |
Sports Markets Offered
In general, DraftKings offers about the broadest range of bet types you'll find in any U.S. sportsbook. For example, they're one of the only books to offer odds on golfers to make or miss the cut, which is based on finishing position and known as "Head to heads." They also typically provide the most player props for NFL, NBA and other major sports. There are tons of other leagues available within each sport, too. On a given week, DraftKings will offer outright odds and plenty of other markets on the PGA Tour, Euro Tour and Korn Ferry Tour.
| | | |
| --- | --- | --- |
| Boxing | IndyCar | NHL |
| College basketball | College football | MLB |
| Cricket | MMA | Soccer |
| Darts | NASCAR | Tennis |
| Formula 1 | NBA | Rugby |
| Golf | NFL | Other available DK Markets |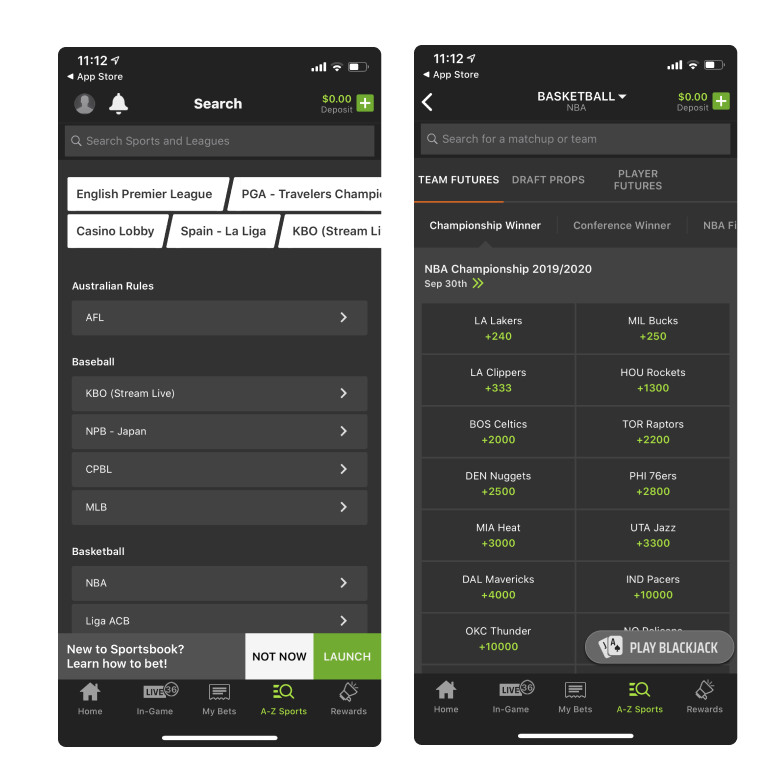 DraftKings vs Other Sportsbooks
While sign-up offers, promos, and user experience are crucial factors in selecting a sportsbook, the most sophisticated bettors are often worried about the price. We can compare books in this regard a couple of ways:
Juice: Also referred to as the "vig," this is the tax a sportsbook charges for a bet. The standard odds for a spread bet is -110, which means you have to pay $110 to win $10. That extra $10 is the tax.
Hold: Similar to juice, the hold is defined as the percentage a sportsbook keeps for every dollar wagered. It's a better metric to measure for moneylines, for example.
Most online U.S. books — in states where betting is entirely online and not regulated by the state lottery, at least — have standard juice on your typical bets. Take, for example, the juice on spread bets for the NFL. There's no significant difference between sportsbooks: It is common to get -110 on both sides for both the spread and the over/under.
In terms of hold on moneylines, here's how DraftKings has compared with other U.S. books in the past. DraftKings, on average, has been the highest of the most critical U.S. books. While that may not matter for a more recreational bettor who wagers every once in a while, that extra vig can add up over time.
DraftKings is comparable to the other U.S. online sportsbooks in the juice for the most popular bets, notably spread and totals, and it's on the higher end for moneyline wagers, outright bets, etc.
Of course, it also depends on the sport. Golf is an example where you can often find superior odds at DraftKings compared to other big books like BetMGM and FanDuel.
It also depends on the market for each book. For example, DraftKings offers -110 sides on most head-to-head matchup props for golf, whereas BetMGM offers -118 on such bets.
Whereas DraftKings may charge a little more on major sports for moneylines, they are more standard across the board, which can allow bettors of more niche sports to find value. They also often offer a more comprehensive range of bets than other U.S. books.
Other DraftKings Benefits
Risk-Free Bets
DraftKings Sportsbook offers a risk-free bet worth up to $500 for first-time users through their sign-up bonus, meaning the bet would be fully refunded in the form of free bets if it loses.
Let's say your first bet is $500 on the Packers as 4-point road favorites against the Bears. If Green Bay fails to cover the spread in Chicago, you would be refunded the full $500 in the form of free bets, hence eliminating the "risk" in risk-free.
Daily Odds Boosts at DraftKings
DraftKings Sportsbooks offers daily odds boosts for the biggest sports. Odds boosts are enhanced odds for a given outcome that thus enhance potential winnings.
Live Betting at DraftKings Sportsbook
DraftKings Sportsbook does offer live sports betting. You can find those in-game odds here.
DraftKings Sportsbook also has a Flash Bet feature through which you can live bet play-by-play action on football, basketball, baseball and tennis.
Refunds for Scoreless EPL Matches at DraftKings Sportsbook
DraftKings Sportsbook will sometimes run a "No Goals No Problem" promotion in which the book will refund bets up to $25 if an English Premier League match ends in a 0-0 draw.
Parlay Insurance at DraftKings Sportsbook
DraftKings Sportsbook offers parlay insurance up to $25 if you ever suffer the ultimate heartbreak of having only one leg of your parlay lose.
Here's an example of when the DraftKing Sportsbook parlay insurance would come in handy: Say you bet $100 on a three-team parlay with the Dodgers +100, Red Sox +120 and Cubs +200. If the Dodgers and Red Sox win, but the Cubs lose, you would get back $25.
DraftKings Sportsbook Customer Service
You can reach the DraftKings Sportsbook customer service team through this page, where you can either send a message or live chat with a representative. They're available 24/7.
You can also reach DraftKings Sportsbook customer service via email at support@draftkings.com.
More Reading on DraftKings
Informed Onboarding and Bettor Education
Quick Start For Sports Bettors Guide. DraftKings offers a "Quick Start Guide" that covers fundamental betting basics for their users: understanding odds, placing a bet, live betting and a rich glossary resource of betting terminology and (e.g., American Odds, bet slip, etc.) and sporting terminology (e.g., Ace, buzzer-beater, etc.) as it relates to their app.
They also offer more in-depth, sport-specific guides with tips and insights for each:
Additionally, if DraftKing had outlined sport-by-sport rules, users would have questions.
Security Practices
To help protect sportsbook users, Draftkings has opt-in "strong authentication" that triggers a text message containing a temporary six-digit code that must be entered on any login attempt.
VIP
DraftKings VIP Program is a by-invitation-only initiative that rewards loyal sports bettors. VIPs have reported an alternate (re: extra-responsive) email address for support issues, offers to exclusive freerolls, and sometimes, even real-time sporting event invitations.
League Partnerships
Background
DraftKings was initially founded in 2012 by Jason Robins (now CEO), Paul Liberman (COO) and Matt Kalish (CRO) in Boston, Massachusetts, as a daily fantasy sports site and provider. In just two short years, they were the second-largest DFS operator in the market.
With that large user base, the company was primed to jump into the sports betting scene when the Professional and Amateur Sports Protection Act (PASPA) was overturned by the U.S. Supreme Court in 2018, allowing individual states to legalize and regular sports betting.
DraftKings jumped into the sports betting waters, launching its first online sportsbook in New Jersey in August 2018. Since then, the company has launched in West Virginia, Indiana, Pennsylvania, New Hampshire, Iowa, Colorado and Illinois. They also have retail-only casino locations in New York and Mississippi, although online betting is not yet allowed in those two states.
In April 2020, DraftKings became a publicly-traded company; it can be found on the Nasdaq stock exchange under the ticker symbol "DKNG." The company was valued at $3.3 billion when it went public, and as of April 2021, it's up over $55 a share after opening at $20.49 the year prior.
DraftKings, which is still headquartered in Boston, Massachusetts, is now one of the biggest gaming companies in the U.S. They've launched books in every state where online betting is currently legal, and they will likely be one of the first to launch when every other subsequent state comes online.
DraftKings Frequently Asked Questions
What is the best DraftKings Sportsbook promo code?
If I live in Iowa, how do I complete my account verification at DraftKings Sportsbook?
How do I download the DraftKings Sportsbook app?
Why does DraftKings Sportsbook need my social security number?
How do you place a bet at DraftKings Sportsbook?
What is an odds boost at DraftKings Sportsbook?
Can I transfer money from my DraftKings Daily Fantasy account to my DraftKings Sportsbook account?
Why can't I bet in a state that allows DFS?
How do I make a deposit at DraftKings Sportsbook?
How do I withdraw DraftKings Sportsbook payouts?
Is DraftKings Sportsbook legit?
Can you bet parlays at DraftKings Sportsbook?
How do you bet a teaser on DraftKings Sportsbook?
What is a free bet on DraftKings Sportsbook?
What is the max bet on DraftKings Sportsbook?
Can I cancel bets on DraftKings Sportsbook?