New users can use Fliff promo code ACTION to claim our exclusive 100% first purchase match promo: get up to 600,000 Fliff Coins + 100 in Fliff Cash bonus.

Get a 100% Match up to 600,000 Fliff Coins + $100 Fliff Cash!
Must be 21+. Gambling Problem? Call 1-800-GAMBLER
Fliff Social Sportsbook New User Details
No promotions available. Try selecting a different location.
Fliff Sports Betting Highlights & Registration Process
Fliff Promo Code Takeaways November 2023
Fliff Social Sportsbook Promo Code

Purchase Match Offer Details

100% First Purchase Match (up to 600,000 Fliff Coins) + 100 Fliff Cash

Legal States

Every state but Washington.

Sweepstakes restrictions in: AL, GA, ID, MN, MS, NV, and SC

Last Verified On

November 30, 2023
Fliff Terms & Conditions
Promotional offer only valid for new users that are 18+ years old
Purchase of Fliff Coins is not required to participate in sweepstakes
In-app purchases do not increase a player's odds of winning sweepstakes
Fliff Cash credits will only be given to users with less than $5 available in Fliff Cash in their account
Fliff Coins are not eligible for cash withdrawals.
Fliff became active in June 2019 as the self-proclaimed "minor leagues for sports bettors." Fliff is widely available across the United States as sweepstakes rules regulate it as opposed to sportsbooks, which are subject to much more strict gambling legislature. Fliff offers users both a free-to-play option as well as real-money stakes. Cash awards and other redeemable prizes can only be won by competing in contests using Fliff Cash. We'll walk you through how to collect and utilize the various Fliff currencies later in this review.
You can bet on plenty of things at Fliff. Check out these articles to help you decide what to bet next after signing up with our Fliff promo code.
Promotions for Existing Users
Fliff provides a set of daily challenges that users can participate in to earn more experience points. These are fun ways to accrue more Fliff Coins (and ultimately Fliff Cash) to level up your account and increase your winnings. Simply navigate to the "Challenges" tab at the top of the app home screen to see what is available on a given day.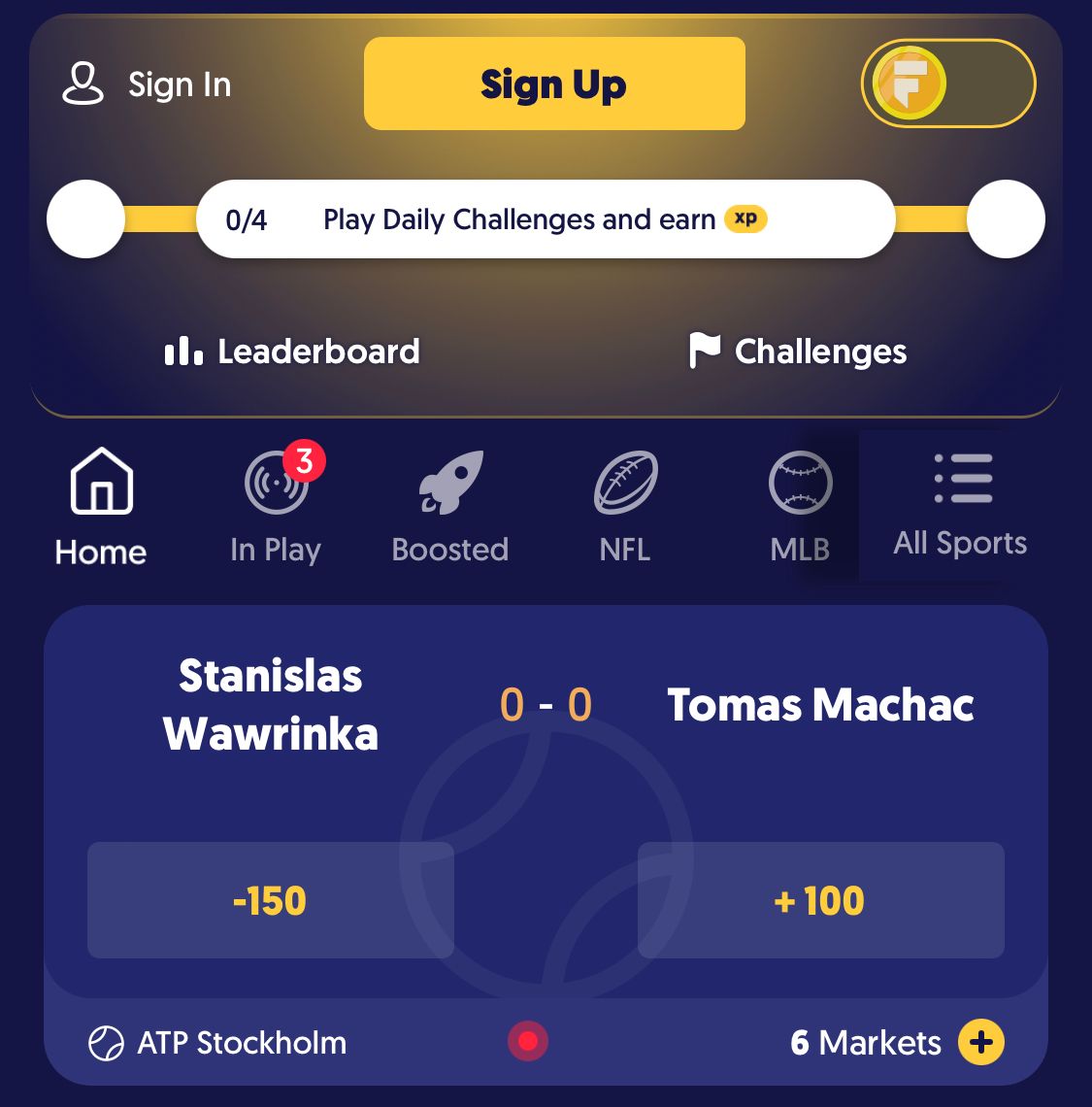 Daily Odds Boosts for November 30
Fliff Boosts
Rasmus Hojlund to score the 1st goal @ +600 odds
Sevilla to win 1-0, 2-0, or 3-0 @ +475 odds
Harry Kane to score 2+ goals & Bayern wins @ +275 odds
Login to Fliff for more boosts!
Ongoing Rewards for Fliff Users to Earn Experience Points
Invite Friends
One of the founding principles of Fliff is to be a social sportsbook. It only makes sense that they reward their existing users when they refer friends and family to join the fun. Players will earn 100 experience points for every $5 one of their referrals spends on Fliff. Experience points can be used to acquire Fliff Cash or to claim other rewards on the app such as gift cards.
Daily Challenges
Users will receive 2 points for every challenge completed. They'll be eligible to receive even more experience points for completing all of the daily challenges for a particular date.
Making Picks
The simplest way to earn experience points on Fliff is to simply make picks. Each pick made in the app is good for 1 experience point per every 1,000 coins staked. So, get to picking!
Fliff Sportsbook Odds
For betting on NFL games and futures, check out current Fliff odds below.
NFL Game Odds: Seattle Seahawks vs. Dallas Cowboys
Below is a selection of odds for the upcoming NFL game: Updated November 30, 2023 - Odds Provided by Fliff - Subject to Change
| | | | |
| --- | --- | --- | --- |
| Team | Spread | Moneyline | Total |
| | +9 (-115) | +325 | Over 47 (-115) |
| | -9 (-115) | -510 | Under 47 (-115) |
How to Sign Up for Fliff Social Sportsbook
Ready to get started on Fliff? Signing up is a breeze. Just follow the steps below to get your accounted online and to claim your $25 bonus.
Step 1. Click here the Fliff website or download the app to your phone.
Step 2. Enter required account details and accept terms of use:
Username
First and Last Name
Email Address
Password
Step 3. Enter your state and use Fliff promo code ACTION
Step 4. Complete the verification process through SMS messaging
Step 5. That's it! Explore the app and make your first picks.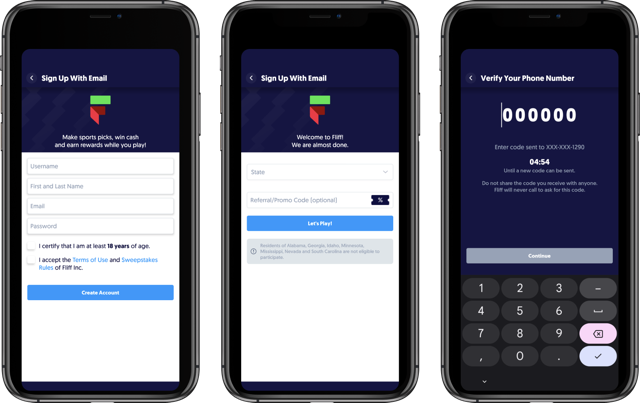 Where is Fliff Legal?
Fliff is available in every state except Washington. Because Fliff is technically a sweepstakes-based game, it is governed by a different set of laws than traditional sportsbooks. These laws are significantly more lax. There are some states, however, that do restrict resident participation in Fliff Sweepstakes promotions. Those states are:
Alabama
Georgia
Idaho
Minnesota
Mississippi
Nevada
South Carolina
Social Sportsbook vs. Traditional Sportsbooks
As we've mentioned a few times, Fliff is considered a social sportsbook. This is not the same as a traditional sportsbook that you're likely more accustomed to.
What is a Social Sportsbook?
Sports betting (and sportsbooks by extension) is an inherently individual endeavor. Users operate on their own to place wagers without engaging with other bettors. A social sportsbook, like Fliff, is designed to remove the high-stakes element of sports betting by offering a free-to-play option. As the name suggests, Fliff Social Sportsbook has features that encourages user interactions within the app. You can easily share your bets and compete with friends and family on Fliff leaderboards, earn loyalty rewards, and play a variety of promotional games without ever spending a single dollar. All of this is done with the use of Fliff Coins, which we explain in more detail later in this review. Click here to jump ahead.
No promotions available. Try selecting a different location.
Fliff Mobile App Screen Shots

Home Screen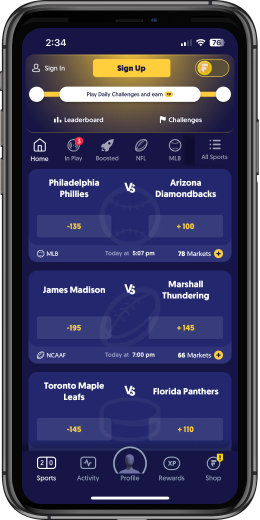 Bet Types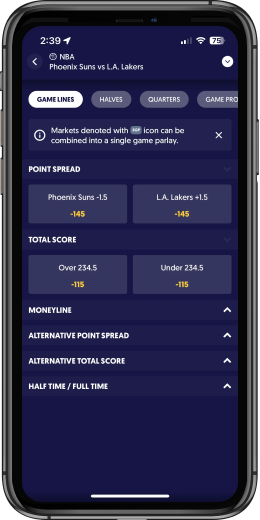 Rewards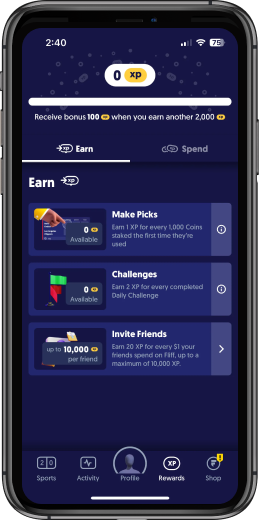 Challenges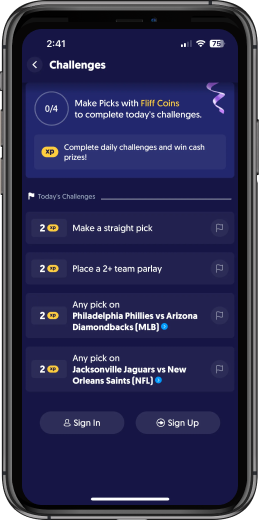 Profile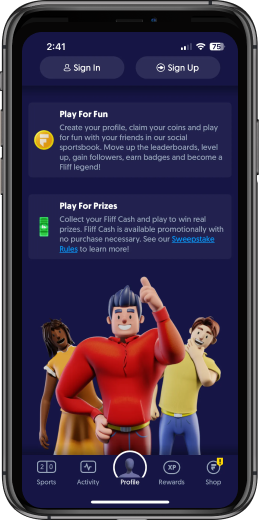 Fliff Odds Boosts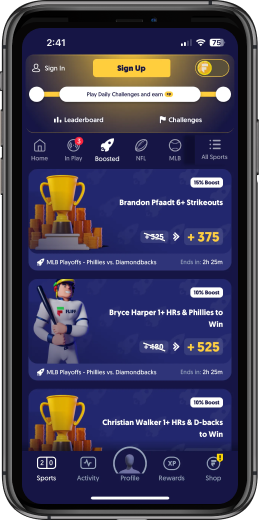 Activity Page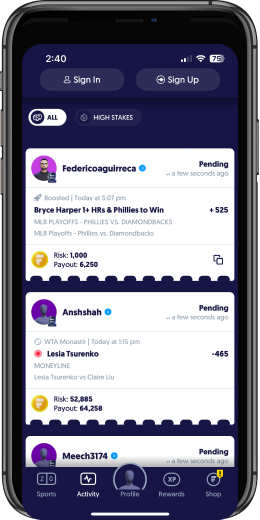 Fliff Shop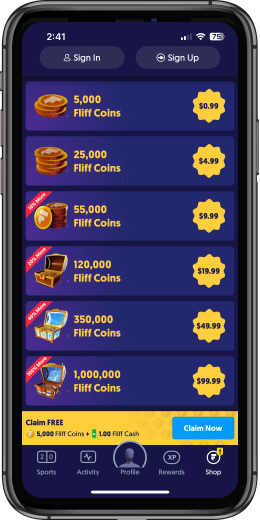 Fliff Social Sportsbook Mobile App Experience
Action Network has surveyed the reviews available on Apple App Store and Google Play Store to determine the most frequently mentioned pros and cons of the Fliff app. Below is a distilled overview of our team's findings.
Fliff Sportsbook App Apple Store Reviews
#67 in Sports - 4.8/5 Stars - 47.5K Ratings (November 2023) - Download at the Apple App Store
| | |
| --- | --- |
| iOS User Positives | iOS User Negatives |
| Fun Alternative to Sportsbooks. Several users enjoyed Fliff as an alternative to traditional sportsbooks, whether they did not live in a legalized betting state or did not have enough disposable income to gamble responsibly. | App Glitches: Many reviews mentioned regular app glitches or being unable to access the app at times. General bugginess was a theme. |
| Bonus Money: Users enjoyed the various ways in which they could earn "bonus money" (Fliff Coins) through the app that could be used in a variety of ways. | Live Betting: Live betting was mentioned as a pain point, especially in comparison to more traditional sportsbooks. |
| Solid Customer Service: Users with issues noted that Fliff Customer Service was helpful in addressing their problems. | Referral System: Trouble with the referral links left some users missing out on the experience points for this particular Fliff feature. |
Latest Release Notes:
Version 4.6.173
Hotfix: sorted out a bug that prevented some users from using the "Log In With Email" functionality in version 4.6.171
Fliff Sportsbook App Google Play Store Reviews
4.7/5 Stars - 4.01K Reviews (November 2023) - Download at Google Play Store
| | |
| --- | --- |
| Android User Positives | Android User Negatives |
| App Interface: Seamless and easy to use have been common themes when it comes to the UX/UI of Fliff's mobile app. | App Glitches: Similar to iOS, several users commented on the bugginess of the app. |
| Bonus Money: Users once again enjoyed the various ways in which they could earn "bonus money" (Fliff Coins) through the app that could be used in a variety of ways. | Early Cashout: Fliff users expressed interest in a traditional feature that does not exist in the app - early cashout. |
| Sports Betting For Non-Legalized States: Android users living outside of legalized sports betting states agree that this is a great alternative to the standard sportsbook options. | Customer Support: Unlike iOS users, there have been comments on the lack of response from Customer Support from Android users. |
Latest Release Notes:
Version 4.6.170
Hotfix: sorted out a bug that prevented some users from using the "Log In With Email" functionality in version 4.6.171
Fliff Cashiering
Cashiering itself on the Fliff app is fairly straightforward. What can be confusing, though, is that the app features two different currency types that have different uses. Below is an overview of traditional cashiering options as well as an explanation of the differences between Fliff Coins and Fliff Cash.
Fliff Deposit Process & Payment Options
The depositing process will be slightly different for users who are more accustomed to playing on traditional sportsbooks. In fact, there is no "depositing" at all. Because Fliff operates under sweepstakes gaming regulations, users must purchase coins to be used within the app rather than depositing real money to wager.
Follow the process below to complete a purchase in Fliff:
Step 1. Sign-in to your account
Step 2. Select "Cashier" in the bottom-right corner of the app screen
Step 3. Choose your preferred purchase tier
Step 4. Complete payment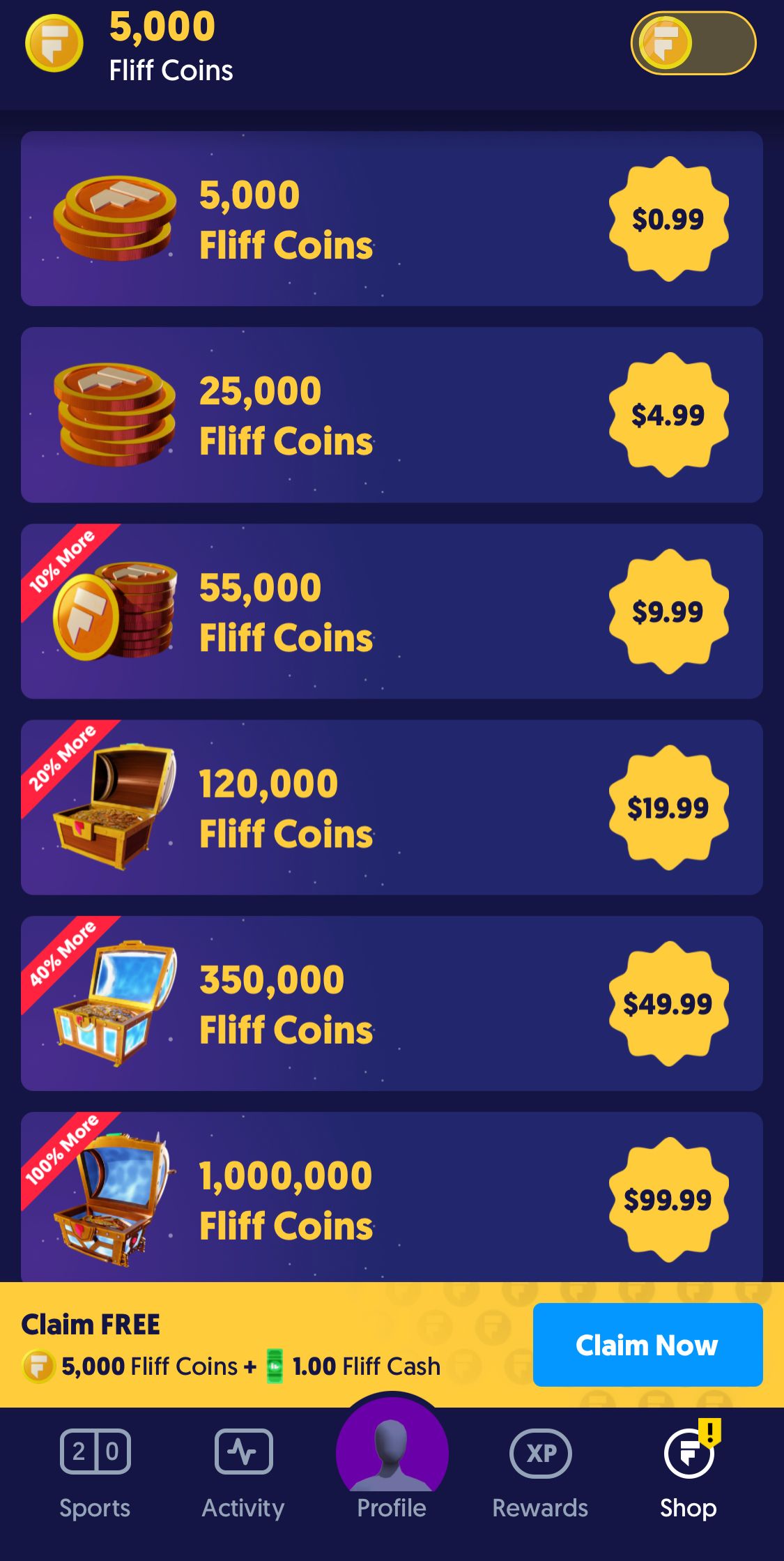 Fliff users will not have as many payment options as you would typically see in traditional sportsbooks. Purchases are restricted to:
Instant Bank Transfers
Credit or Debit Card
Fliff Sports Betting Withdrawal
Here's where things get interesting. Fliff users can only withdraw Fliff Cash (minimum $50), not Fliff Coins. Fliff also requires a 1x play-through of all Fliff Cash before it can be withdrawn from the account. In addition, users have to complete Fliff's identify verification process before they are able to claim any type of reward. This process entails players submitting a photo of their valid ID along with a selfie photo that matches the ID. Users could also be required to provide their SSN as further verification. Once all of the requirements are met, you have two options to complete your Fliff cash withdrawal:
Fliff Cash vs. Fliff Coins: What's the Difference?
As you've probably already picked up on, there are two Fliff currencies at play in the app: Fliff Cash and Fliff Coins. Let's take a look at the both:
Using Fliff Cash
Fliff Cash can be viewed as real money, similar to how you'd view a bankroll in a traditional sportsbook. If you accrue a minimum of $50 in Fliff Cash, you are able to withdraw it as profit. This is the currency that players would use to bet with real stakes. Unlike Fliff Coins, you cannot purchase Fliff Cash. You can accrue Fliff Cash in the following ways:
Placing (and winning) bets using your existing Fliff Cash
As a bonus when purchasing Fliff Coins
Special in-app promotions
Fliff Cash is a 1:1 ratio with real money. For example, 5 Fliff Cash is the equivalent to $5.
What to do with Fliff Coins
Fliff Coins are used to make picks in Fliff Social Sportsbook without risking any real money. The use of Fliff Coins earns players experience points and Fliff Cash within the app. Fliff Coins can be acquired in several ways:
Purchase
Coins be claimed every two hours in the app in the Cashier tab
Winning picks
Completing Challenges
Rewards offerings (i.e. Refer a Friend)
Fliff Coins are in high abundance and have several uses throughout the app. The Fliff Coin currency can be used to do the following:
Make picks across the app on any available sporting contest
Climb weekly leaderboards competing against other Fliff users
Fliff Coins themselves do not have any real-money value. However, the can be exchanged into Fliff Cash at a rate of 1,000 Fliff Coins to 0.10 Fliff Cash. For those users who are purely on Fliff Social Sportsbook to play for fun, Fliff Coins are the most important currency. Those players looking to make real-money wagers and profits on the app will want to 'harvest' Fliff Coins as a means to increase their Fliff Cash balance.
Betting Options & Sports Market Coverage on Fliff
While Fliff may have some key differences between itself and traditional sportsbooks, our team found that the app largely offered similar betting and sports markets. Fliff accounts for all of the major American sporting leagues, and a few European leagues as well. That said, it is definitely less niche in its sports markets than some of the more mainstream books.
Sports Leagues Available on Fliff
Basketball: NBA, College Basketball (Men and Women), Euroleague Women, LEB Oro (Spain), Serie B (Italy)
Football: NFL and College Football
Hockey: NHL
Soccer: World Cup, English Premier League, EFL Cup, English Championship League
MMA: UFC
Fliff Bet Types
Users will notice that Fliff offers many of the same basic bet types found on a sportsbook. Fliff does, however, not feature prominent betting options like player props or team futures. Here's a look at what you can expect to find on the app.
Fliff App Screenshot
Bet Type & Example

Point Spreads: Spread betting is a bet on the margin of victory (the # of points won) in a game.

Pittsburgh Steelers are favored by 2.5 points over the Baltimore Ravens

Totals: Totals, also known as an over/under, are bets on the number of points both teams will combine to score in a game.

Pick either "Over" or "Under" 37 total points to be scored by both teams

Moneyline: Moneyline betting is when you pick the outright winner of a game or event.

Steelers are the favorite at -150 over the underdog Ravens at +125

Half Bets: Half-bets or Quarter bets let a bettor treat the first and second half as separate matches. Depending on the sport, you can also bet quarters as individual wagers.

Steelers are favored in a variety of half bets in the upcoming game against the Ravens

Prop Bets: Short for a proposition, Prop bets wager that is not directly tied to the final score or outcome. Fliff does not offer player props like a traditional sportsbook, but users can bet on team or game props.

Team props for either squad to have the highest scoring quarter, and other team-specific bets.
Other Fliff Social Sportsbook Benefits
Social Play
As Fliff's name indicates, it is designed to be a platform where bettors can socialize with each other. Regular sportsbooks are a solo venture. Fliff's 'for-fun' part of the app (Fliff Coins) allows players to compete against friends on leaderboards, see each other's wagers, and earn badges for their wins. This is not a feature you'll find anywhere else!
Odds Boosters
Fliff, like many sportsbooks, provides featured odds boosts for select sporting events on a regular basis. These featured boosts are great ways to bolster your bankroll. Be sure to vet the boost, though, as not all of them may be favorable to the player.
Customer Service
Fliff does offer Customer Service, but it is somewhat lacking. There is no direct telephone number to contact Fliff, so users are left with the following options:
Response time varies based on our experience. Fliff does not make mention of how long a reply could take. The ticketing system only confirms that they've received your request. Clearly, this is an area Fliff could improve upon, as it is a toss-up in its current form.
Fliff Social Sportsbook FAQ
Does Fliff have a promo code?
Yes! New users can use our exclusive promo code for Fliff: ACTION to earn a 100% first purchase match up to 600,000 Fliff Coins + 100 in Fliff Cash!
Where is Fliff available to play?
Just about everywhere! Fliff is available to residents of every state in the country except Washington. Players in AL, GA, ID, MN, MS, NV, and SC are unable to participate in sweepstakes promotions.
What is the difference between sweepstakes gaming and a traditional sportsbook?
Fliff is so widely available because it is technically a sweepstakes gaming site, not a sportsbook. Sweepstakes are regulated differently from real-money gambling. Users are not able to deposit funds into a Fliff account like they would with a traditional sportsbook. Instead, as a sweepstakes sites, Fliff requires users to purchase a product (Fliff Coins) to be used on the site. Fliff Coins can be used in various ways to collect Fliff Cash, which can be used to play real-money games and claim prizes on the platform.
What is the difference between Fliff Coins and Fliff Cash?
Fliff Cash
Fliff Cash is a real-money equivalent to a standard sportsbook bankroll. Fliff Cash can be used to claim prizes on the app or it can be withdrawn as profit ($50 minimum). Fliff Cash cannot be purchased, but only earned through various ways on the Fliff app.
Fliff Coins
Fliff Coins are used to make picks without risking any real money. The use of Fliff Coins will earn players experience points and Fliff Cash within the app. This currency can be acquired in several ways:
Purchase
Coins be claimed every two hours in the app in the Cashier tab
Winning picks
Completing Challenges
Rewards offerings (i.e. Refer a Friend)