LIVE
Arizona Sports Betting
AZ Online Sportsbooks & Promo Codes


Last updated: November 30, 2023
Arizona sports betting has been legal for over two years. Read on to learn more about top 10 online sportsbooks in Arizona, available promos, and insights into the local betting market.
bet365 Arizona: The state of Arizona has just approved a license for bet365, so we expect sometime in the coming months a new bet365 bonus code to premiere in Arizona!
ESPN BET Arizona: PENN Entertainment partnered with ESPN in August 2023 to create a new sportsbook called ESPN BET. The ESPN BET app is now live in Arizona, and we have a great ESPN BET promo code for new users to get $250 in bonus bets after making a wager of any amount.
No promotions available. Try selecting a different location.
Arizona Sports Betting Key Takeaways
⚖️ Is online sports betting legal in AZ?
Yes, as of Sept. 9, 2021
💸 What are the eligibility requirements for mobile betting?
To place a legal sports wager in your phone in Arizona you must be 21+ years of age and within the state boundaries

(verifiable by your mobile device's

geolocation tech

or a downloadable desktop plugin).

📒 What AZ online sportsbooks are available?
BetMGM, Caesars, FanDuel, ESPN BET, Hard Rock, BetRivers, Betfred, Unibet, DraftKings, and Bally Bet
🏈 What sports can you bet on in Arizona?
No sports are off-limits (relative to other legal U.S. markets). The only bet type that's not allowed is betting on college player props.
In addition to legal sports betting, Arizona sports bettors can play PrizePicks, a DFS provider that is currently available in 30 states and Washington D.C. Bettors simply select their favorite players like Devin Booker or Kevin Durant, choose an over/under player prop, and they're entered in to win cash prizes.
How to Sign up for PrizePicks in Arizona
Step 1. Sign up using our PrizePicks promo code.
Step 2. In the app (or on your desktop), select the "Deposit" button in the top right corner of the page.
Step 3. Select the amount of money that you want to deposit and the funding source (PayPal, credit, etc).
Step 4. Submit deposit. Once the deposit is submitted and credited to your account, you'll automatically be given the promotional value matching your initial deposit (up to $100).
No promotions available. Try selecting a different location.
Where to Play: Legal Online Sportsbooks in Arizona
Arizona sportsbooks offer a variety of promotional offers for new bettors and regular users alike. In some cases, no promo codes are needed, although the Action Network does feature some exclusive partnership offers below. Follow the direct links below to claim the promotion at your preferred Arizona sportsbook.

Caesars Sportsbook Arizona

Caesars Sportsbook (formerly known as William Hill) is one that effectively integrates a top-tier platform with regular player promotions to help users pad their account. Caesars has partnered with sports and entertainment icons alike to get the word out on its competitive odds across a variety of sports markets, offering great value for NFL, MLB, and NCAAF. We're big fans of their user-friendly bet slip and unparalleled Same Game Parlay (SGP) offering.

Check out our Caesars Sportsbook Arizona Promo Code page to learn more about what Caesars is offering sports bettors in The Grand Canyon State.

Caesars Sportsbook Promo

Get up to $1,000 Back in Bonus Bets if Your First Bet Loses!

Caesars Sportsbook Promo Code

ACTION221000




Action Network Score

9.3/10. See our Caesars Sportsbook Promo Code and review page for more in-depth information about Caesars and step-by-step instructions on how to sign up.

| | |
| --- | --- |
| Category | Star Rating |
| Bonuses & Promotions | |
| Mobile App & Website | |
| Registering & Cashiering | |
| Betting Options | |
| Caesars Sportsbook vs Other Sportsbooks | |

BetMGM Arizona

BetMGM is the sportsbook platform of MGM Resorts International, a significant name in hospitality and gaming. Their mobile app has a lot to offer in the forms of compelling promotions, rapid payout speeds, and a variety of sports market coverage. BetMGM Sportsbook highly recommended for new and experienced bettors alike, and has competitive pricing--particularly for NBA markets.

BetMGM Promo

Get Your First Deposit Matched up to $1,500!

Bet $10 on Any Market, Get $200 in Bonus Bets - Guaranteed!

BetMGM Bonus Code



TANMATCH1500


ACTIONGET1

Action Network Score

9.8/10. See our BetMGM Arizona Bonus Code and review page for more in-depth information about BetMGM and step-by-step instructions on how to sign up.

| | |
| --- | --- |
| Category | Star Rating |
| Bonuses & Promotions | |
| Mobile App & Website | |
| Registering & Cashiering | |
| Betting Options | |
| BetMGM vs Other Sportsbooks | |

FanDuel Arizona

FanDuel provides multiple ways for Arizona residents to get into the action with its sportsbook and daily fantasy sports offerings. Known originally as a fantasy sports platform, FanDuel launched its first sportsbook almost five years ago, and they have been rapidly expanding into new states ever since. FanDuel's stellar mobile interface is most game data dense on the market, giving Arizona bettors an advantage of more visible action at a time.

Check out our FanDuel Arizona page to learn more about what's being offered to sports bettors in The Grand Canyon State.

FanDuel Promo

Bet $5 on Any Moneyline, Get $150 in Bonus Bets IF Your Bet Wins!

Promo Expires on 12/11 @ 11:59 PM EST

FanDuel Promo Code

There is no promo code required to claim the FanDuel offer

Action Network Score

9.6/10. See our FanDuel Promo Code and sportsbook review page for more in-depth information about FanDuel and step-by-step instructions on how to sign up.

| | |
| --- | --- |
| Category | Star Rating |
| Bonuses & Promotions | |
| Mobile App & Website | |
| Registering & Cashiering | |
| Betting Options | |
| FanDuel vs Other Sportsbooks | |

Hard Rock Bet Arizona

New Hard Rock Bet Arizona users can sign up today to activate exciting daily boosts during the NFL season!

Hard Rock Bet Promo

Coming Soon

Hard Rock Bet Bonus Code

No promo code required

Action Network Score

9.1/10. See our Hard Rock Bet Promo Code and review for more in-depth information about Hard Rock and step-by-step instructions on how to sign up.

| | |
| --- | --- |
| Category | Star Rating |
| Bonuses & Promotions | |
| Mobile App & Website | |
| Registering & Cashiering | |
| Betting Options | |
| Hard Rock Bet vs Other Sportsbooks | |

BetRivers Arizona

Consistency and fair odds is the name of the game at BetRivers. In addition to competitive odds, BetRivers features just about every market you could think of when it comes to sports betting. Users will have no shortage of contests to wager on.

BetRivers Promo

2nd Chance Bet up to $100 paid out in Bonus Bets

BetRivers Promo Code

ACTION

Action Network Score

9.1/10. See our BetRivers Promo Code and review for more in-depth information about BetRivers and step-by-step instructions on how to sign up.

| | |
| --- | --- |
| Category | Star Rating |
| Bonuses & Promotions | |
| Mobile App & Website | |
| Registering & Cashiering | |
| Betting Options | |
| BetRivers vs Other Sportsbooks | |

Unibet Arizona

Simplicity and ease of use make Unibet a solid option for newcomers and no-frills bettors. Finding games and odds is a breeze with Unibet, so bettors can place wagers in no time at all. Quick payout times also make Unibet a strong option for those Arizona sports bettors looking to cash-in and cash-out fast.

Unibet Promo

Coming Soon!

Unibet Promo Code

ACTION

Action Network Score

8.9/10. See our Unibet Promo Code and review for more in-depth information and step-by-step instructions on how to sign up.

| | |
| --- | --- |
| Category | Star Rating |
| Bonuses & Promotions | |
| Mobile App & Website | |
| Registering & Cashiering | |
| Betting Options | |
| Unibet vs Other Sportsbooks | |

DraftKings Arizona

DraftKings is another sportsbook with its roots in daily fantasy sports. Using the lessons learned through DFS, DraftKings has created a user-friendly sportsbook that is easy on the eye in addition to being simple to use. This household name provides Arizona sports bettors with both fantasy and sportsbook options to enjoy.

DraftKings Promo

Bet $5, Get $200

DraftKings Promo Code

No promo code is required to claim the DraftKings sign-up offer

Action Network Score

9.2/10. See our DraftKings Promo Code and review for more in-depth information about DraftKings and step-by-step instructions on how to sign up.

| | |
| --- | --- |
| Category | Star Rating |
| Bonuses & Promotions | |
| Mobile App & Website | |
| Registering & Cashiering | |
| Betting Options | |
| DraftKings vs Other Sportsbooks | |

ESPN BET Arizona
ESPN BET is now live in Arizona! Use promo code TANBONUS to unlock its Bet/Get welcome offer!

ESPN BET AZ Promo

Bet Anything, Get $250 in Bonus Bets!

ESPN BET AZ Promo Code

TANBONUS

Action Network Score

9.5/10. See our ESPN BET Promo Code and review for more in-depth information about ESPN BET and step-by-step instructions on how to sign up.

Terms & Conditions

New users only, 21+. Gambling problem? Call 1-800-GAMBLER. Must be physically present in AZ, CO, IA, IL, IN, KS, KY, LA, MA, MD, MI, NJ, OH, PA, TN, VA, or WV in order to wager. Players must sign up using a specified Promotion code and then place an Eligible Wager on an Eligible Game during the Promotion Period. $200 (four (4) $50 Increments) of the $250 in Bonus Bets will be credited upon making the first bet. Please Gamble Responsibly.
Arizona Daily Fantasy Sports (DFS)
In addition to the sportsbooks that went live, daily fantasy operators launched on Saturday, Aug. 28, 2021.
Despite being available in most U.S. states, Daily Fantasy Sports (DFS) has been illegal in Arizona. This changed with the legalization of legal sports betting in the state — DFS is now allowed.
Major DFS forces like DraftKings or FanDuel, which also have sportsbooks, are only gaining access to the market now. Often, they hold an "early movers" advantage in markets as sports betting goes live because of their DFS foothold. The competition will escalate as the market is flooded with options at once. We expect this to translate to strong offers to the sports bettor's benefit.
There are six approved daily fantasy sports operators in Arizona:
PrizePicks
DraftKings
FanDuel
Fantasy Sports Shark
Fantasy Football Players Championship (FFPC)
Underdog Sports
Yahoo

PrizePicks Arizona

Arizona bettors can play Daily Fantasy Sports (DFS) through PrizePicks. The rising DFS provider offers users a quick and simple way to bet on their favorite players across a variety of sports leagues. Users pick over/under totals of players from their favorite teams like the Arizona Cardinals or the Phoenix Suns. The best part? Action has partnered with PrizePicks to provide our users with an exclusive sign-up code.

PrizePicks Promo

Action Network Score

9.4/10. See our PrizePicks review for more in-depth information about PrizePicks and step-by-step instructions on how to sign up.

| | |
| --- | --- |
| Category | Star Rating |
| Bonuses & Promotions | |
| Mobile App & Website | |
| Registering & Cashiering | |
| Betting Options | |
| PrizePicks vs Other Sportsbooks | |
How to Place a Mobile Sports Bet in Arizona
Now that you know a little bit about the available sportsbooks in Arizona, it's time to make a wager. Sports fans with a mobile phone in Arizona can easily place online sports bets across any of the books detailed above. We will show you how to use BetMGM as an example:
Step 1: Choose a Legal Arizona Sportsbook

In sports betting, it's best practice to have accounts at multiple sportsbooks to get the best price on every game you bet on. This is known as "line shopping". We cover this on our YouTube channel here. But one step at a time — BetMGM is a great book to start with. You can sign up with this link. Click "Register" on the site to begin the process.

Step 2: Sign Up & Verify

Fill out all the required fields for a new sports bettor in the state: full legal name, email address, home address, phone number, and date of birth. BetMGM may ask you for a driver's license or social security number to verify your identity. These questions and details are all standard measures sportsbooks take to protect you.

Step 3: Deposit With Your Preferred Payment Method

BetMGM will take you to the deposit screen once you've put in your personal information. Select your payment method, then click "Deposit". Our preference is direct deposit via a bank account for speed. This way when you cash out, the money will be accessible in your checking account right away instead of being credited back to a card in a few days.

Step 4: Place an Online Sports Bet

Here's how to place your first wager. Remember — the app or website will geo-locate you to confirm you're actually in Arizona before you're able to bet.

Navigate to your desired sport (via the A-Z menu, or League Logo banner) and click the line you want to bet

Head to your bet slip

Select your bet type

Enter your bet amount

Submit
That's it! You've just placed your first legal sports bet. BetMGM, and most other books, will track your wager for you on their platform so that you can check on its status during and after the contest.
Arizona Sports Betting Regulations
Arizona gives sports bettors freedom to wager with relatively few restrictions, but there are some essential regulations in place to be aware of. Sports fans can wager on a full range of bet types, including:
There is also no shortage of sports markets that bettors can take advantage of to make wagers, including:
Football:

NFL & CFL

Basketball: NBA, WNBA, European/international baseball league
Baseball: MLB
Hockey: NHL, international hockey leagues
Soccer: MLS, English Premier League, UEFA Champions League
College sports: NCAA football and basketball, more NCAA sport types will come online
Golf: PGA Tour, LPGA Tour, PGA Tour Champions, PGA European
Auto Racing: IndyCar, NASCAR, Formula One

Additional market choices like boxing, tennis, rugby and more are also be offered at many of Arizona's sportsbooks.
What Can't I Bet On in Arizona?
Arizona sports bettors are prohibited from individual performance prop bets across all college sports. ❌

What does this mean? You cannot bet that #26 on the Sun Devils will score a touchdown in a particular game. However, you can bet on if a particular Wildcat player is favored to win the Heisman this season. So, there are no single-game player prop bets allowed to eliminate the possibility of gameplay conflicts of interest.
What are the requirements to bet?
You must be 21 years of age and physically located in Arizona (verifiable by your mobile device's geolocation tech, or a downloadable desktop plugin) to place bets.
Where to Bet on Sports in Arizona
Online & Via Mobile Apps

For now, the most straightforward method to bet legally is online or via your mobile phone through one of the currently live sportsbooks: DraftKings, BetMGM, FanDuel, BetRivers, Caesars (formerly William Hill), Betfred and Unibet. You will need to be within Arizona state borders — the sportsbooks will verify your location before you can commit to any bets.

In-Person Betting at Arizona Casinos and Professional Sports Venues

Longer-term, Arizonans will have plenty of options from stadium sportsbooks to casinos in real life. The launch of these venues as sports betting destinations will be announced separately and begin opening individually starting in September. FanDuel at the Suns' Footprint Center and Caesars at the Diamondback's Chase Field have partial sportsbook offerings open to the public already. For more information, we detail all existing, potential, and known in-progress physical betting destinations in the "Sportsbook Partnerships" section and within the "Locations" information at the end of the page.
Arizona Sports Betting Tips
Sports Betting Tips for Beginners
If you're new to sports betting, you likely have questions: How much money should you be betting? Where should you be betting on the Cardinals' win totals? (First, check the NFL odds!) How do you find the best odds for a Diamondbacks game? Every sport and bet type comes with different considerations.
Here are our top sports betting tips for beginners to help you make smarter decisions with any action.
Sports Betting Glossary to Learn the Fundamentals
Sports betting comes with its own language and terminology — spreads and money lines, over/unders and props, juice and vig, and more. It can be intimidating for newer betting sports fans, so consult our sports betting glossary for detailed definitions of all the main terms.
We recommend each online sportsbook to help define these terms within their product to make everything easier for you to understand.
Sports Betting Mistakes to Avoid in Arizona
Sports betting isn't easy whether you're betting on the Phoenix game totals or Coyotes futures. It's important to stay disciplined and not overextend yourself. There will always be ups and downs, but your sports betting experience will be much more enjoyable if you remain true to our critical mistakes to avoid. One of those mistakes is not paying your sports betting taxes correctly.
How Arizona Sports Betting Compares: The Sports Betting Report Card
We've graded Arizona on its sports betting bill and experience relative to other states on crucial categories that set the market's tone: the number of operators, tax rates, mobile offerings and more. We continue to evaluate the Grand Canyon State as things have changed since the legislation has launched and learn more about the local market. As such, we will revise this scorecard as needed over time.

Mobile Apps
Current legislation allows for up to 20 sports betting licenses, which gives Arizona sports bettors ample opportunities to shop books and make online wagers. Many of the top brands in sports betting have already entered the Arizona market like BetMGM, Caesars, FanDuel and more.
Deposit Options
Leading sportsbooks and no restrictions mean plenty of deposit options.
Competitive Prices
A competitive market will all but assure industry-standard prices. This is a huge win for Arizona sports bettors — odds and upside (e.g., sign-up bonuses) will have to be stronger for consumers to attract new customers across the sportsbooks.
Market Coverage
With reasonable taxes, high-profile sports teams and a significant population, most significant operators will enter Arizona and bring with them hundreds of leagues and sports to bet on, including in-state college teams. The limits on individual player college prop bets are within reason.
How do taxes work with sports betting winnings (or losses)?
Whether you play online on a mobile device or at a physical sportsbook in Arizona, all sports betting winnings (and other gambling, including fantasy football) above $600 a year are taxed and must be reported. That amount could come from one big bet or smaller bets that add up to $600. The other details:
Federal Taxes

The federal tax rate on gambling winnings is 24%. Operators often withhold this for you when cashing out, and provide tax documentation. You are responsible for completing the IRS Form W2-G to report winnings. S

ee the

W2-G form

and

IRS details here.
State Taxes

The more detailed, specific-to-you part is state taxes, The state tax rate is dependent on your taxable income, between 2.59% - 4.5%, breaking down this way:
| | | |
| --- | --- | --- |
| Tax Rate | Income if Single | Income if Married |
| 2.59% | $0 - $26,500 | $0 - $53,000 |
| 3.34% | $26,501 - $53,000 | $53,001 - $106,000 |
| 4.17% | $53,001 - $159,000 | $106,001 - $318,000 |
| 4.50% | = or > $159,001 | = or > $318,001 |
Deducting Losses

You can deduct sports betting losses, but only as an itemized deduction — foregoing the standard deduction that most people take. It may or may not be worth it to do so. Additionally, the losses you deduct can't be greater than the amount of gambling income you report.

Example: With $2,000 in winnings but $4,000 in losses, your deduction is limited to $2,000. You can't write off the other $2,000 you lost.

Gambling losses claimed up to the number of winnings are classified as "other itemized deductions" on your Schedule A Form 1040 come tax time with the IRS.
We recommend bettors keep receipts and detailed records on betting activity — one of the reasons online sportsbooks are great. They're kept by default and easy to access.
Arizona Sports Betting Background and Legalization Timeline
The signing of HB 2772 to the actual launch of legal sports betting was a long two-year journey. At the end of the day, though, sports betting went live on schedule despite some attempts to block the bill from moving forward along the way. Below is a complete timeline of Arizona's legalization process.
Click for Previous Arizona Sports Betting Legalization Updates

Date
Legalization Update
August 2023

bet365 is coming to Arizona! The state approved a new license to bet365, making them the 17th operator in the state. [August 30]

July 2023

A one-month application period will be opened for three new sportsbooks in Arizona. It's been a long time, but the AGR will be opening up the remaining three online sports betting applications in August with plans to select the new operators by September. [July 5]

September 2021

Sports Betting Goes Live. As intended, Arizona launches Sept. 9 with six legal sportsbooks on day one. [The Action Network, Sept. 9]

Judge Declines to Delay Launch. The Yavapai-Prescott Tribe's motion seeking to delay sports betting's launch for constitutionality reasons is dismissed by Judge James Smith. [The Action Network, Sept. 7]

A Possible Launch-Blocking Lawsuit Didn't Gain Traction

A new lawsuit was recently filed by the Yavapai-Prescott Indian Tribe claiming that the bill legalizing sports betting in Arizona is unconstitutional. An emergency hearing was held Sept. 6, Labor Day, to address the lawsuit, but an Arizona judge dismissed the tribe's motion seeking to delay the launch of the state's first legal sportsbooks. The Yavapai-Prescott Tribe was seeking a temporary restraining order to stop the opening, arguing the legislation enacting sportsbooks violated the state constitution.

The judge determined the tribe's lawsuit did not merit the temporary restraining order as the case continues through the legal system. Though legal challenges are not yet over for Arizona sportsbooks — and the judge has indicated an appeal is likely — the decision is a strong indication the lawsuit will not ultimately prevail.

Claim summary:

An Illegal Amendment Made. The Yavapai-Prescott Tribe claims HB 2772 Violates the "Voter Protection Act" by illegally amending a 2002 voter initiative (Prop 202) that authorized tribal gambling in Arizona by allowing non-tribal groups to have gambling operations without asking voters to weigh in.

Unfair Licensing Practice for Tribes. The Yavapai-Prescott Tribe also claims tribes are at a disadvantage with the current law's structure. Arizona has 22 tribes, and up to 19 qualifying tribal applicants, but only 10 tribal licenses are available (a deficit, and notably the Yavapai-Prescott Tribe was not granted licensing). However, there are 10 licenses for Professional teams with only nine qualifying teams or events (a surplus for fully commercial entities).

Key parties involved:

Judge: Maricopa County Superior Court Judge James Smith

Plaintiff: The Yavapai-Prescott Indian Tribe is represented by Nicole Simmons, of Quarles & Brady LLP

Defendant: Gov. Doug Ducey is represented by Anni Foster, General Counsel

Arizona sportsbooks continued as planned for Sept. 9's launch. However, the legal pushback on licensing is not over yet. Full claim documentation is available here.

August 2021

Preregistration Begins. As of Aug. 28, licensed sportsbooks began sign-ups and the DFS industry becomes legal. [AZ Gaming's Official Calendar, Aug. 28]

Licenses are Announced. The Arizona Department of Gaming announced 18 approved licenses. [The Action Network, Aug. 27]

Lawsuits May Block Launch.Two lawsuits were filed that contest the constitutionality of HB 2772, with the potential to delay launch timelines.[The Judicial Branch of Arizona, Aug. 27]

Four Books Confirmed. PENN Entertainment Sportsbook, BetMGM, DraftKings Sportsbook and FanDuel Sportsbook are confirmed as approved in Arizona.[Aug. 26]

Caesars Partners with Fiesta Bowl. Caesars and the Fiesta Bowl Organization (a college bowl game) announce a partnership to capitalize on passionate CFB fans.[Fiesta Bowl Org, Aug. 23]

Betfred Partners. Betfred announces a partnership with the Fort McDowell Yavapai Nation.[AP News, Aug. 11]

BetMGM & NFL Cardinals. BetMGM announces a partnership with the NFL Cardinals & Gila River Hotels & Casinos. [PR Newswire, Aug. 9]

July 2021

TwinSpires Makes a Deal. TwinSpires partners with the Tonto Apache Tribe. [TwinSpires Press Release, July 30]

Rules are Locked in. The state's sports betting rules are finalized. [AZ Gaming.Gov, July 26]

PENN Entertainment Links with Phoenix Raceway. PENN Entertainment and Phoenix Raceway (NASCAR) announce a planned alignment. [NASCAR Press Release, July 21]

PointsBet Partners. PointsBet partners with the Yavapi-Apache Nation to approach entering the market. [PR Newswire Release, July 20]

Tax and License Details Ready. Regulators released a proposed tax rate and license fee structure within the second draft of sports betting rules. In-person bets would be taxed at 8% and mobile wagers at 10%. Initial licenses cost $850,000. [AZ Gaming.Gov, July 2]

June 2021

Comments Gathered & Released. The ADG allowed for a public comment period and then state regulators released public comments. [AZ Gaming.Gov, June 28]

Draft Rules Ready. A draft of the rules is released to allow for public comment. [Arizona Department of Gaming, June 17]

September Launch Set. The Arizona Department of Gaming indicates plans to launch Sept. 9, 2021. [iGaming Business North America, June 2]

May 2021

Tribal Compact Approved. The U.S. Department of the Interior approves the state's new tribal compact critical to sports betting going live. [CDC Gaming Report, May 26]

April 2021

Sports Betting & DFS is Deemed Legal. Sports betting, DFS and keno become legal via a signature from Gov. Doug Ducey on HB2772. [American Indian Policy Institute, April 15]

Senate Approves, Sends for Signature. The Arizona Senate approves a sports betting bill, HB2772, and sends it to the governor's desk for his signature. [TrackBill, April 12]

March 2021

House of Representatives Approves. The Arizona House of Representatives approves HB2772. The Arizona Senate now needs to determine which bill (between HB2772 and SB1749) to proceed with. [TrackBill, March 5]

January 2021

Gov. Ducey Supports. Gov. Doug Ducey indicates support of sports betting as a means to revitalize the economy in his State of the State Address. [Office of the Governor, Jan. 11]

February 2020

Sports Betting Bills 2.0 Begin. Two Arizona lawmakers introduce Bill SB1525 proposing sports betting to the state. The bill proposed allowing tribes to offer sports betting away from their physical reservations, which may be better for bettors — but is potentially a violation of tribal gaming rules. [AZ Senate Documentation, Feb. 4]
Arizona Sports Teams & Sportsbook Partnerships
Latest Sports News in Arizona:
Following the Arizona Cardinals' decisive defeat by the Los Angeles Rams on Sunday, Kyler Murray's expression conveyed a clear message. It didn't require much interpretation: the franchise quarterback for Arizona was visibly frustrated with the 37-14 loss. Despite an impressive opening drive, the Cardinals' offense encountered significant challenges, ultimately finishing with a total of 292 yards. (11/28)

NBA In-Season Tournament action resumed on Friday, leaving uncertainties about the Phoenix Suns' likelihood of progressing but concluding with their prospects appearing promising for securing the Western Conference's lone wild card spot. (11/28)
What to Keep an Eye on:
On Sunday, December 3, the Arizona Cardinals and Pittsburgh Steelers will face off at Acrisure Stadium as part of the NFL Week 13 schedule. Who will emerge victorious in this Week 13 NFL matchup? (11/28)


The Tampa Bay Lightning are away from home as they journey to take on the Arizona Coyotes on Tuesday night. Engaging in back-to-back games, Tampa Bay hit the road once again on Monday night, facing the Avalanche in their first game of the pair. In their prior matchup, the Lightning convincingly defeated Carolina 8-2 on Friday night. (11/28)
Arizona Sports Betting Licenses
The state's 2021 sports betting law allows as many as 20 individual operators, though not all are expected to launch before the end of the year. Caesars, FanDuel, and BetMGM highlight the list of statewide mobile sportsbooks approved by state regulators to take online and retail sports bets.
The Arizona Department of Gaming is specific about the distribution of the 20 total sports betting licenses in the state:
10 will be associated with professional sports teams or franchises (e.g., NBA, NFL, MLB)

10 will be associated with federally recognized tribes located in-state (e.g., the Hualapai or Tonto Apache)
And for online vs. brick-and-mortar sportsbooks, the details:
1 license can support 2 online sportsbook brands (aka "skins" or styling) and 1 physical location

1 professional sports team license can support 1 primary sportsbook (generally home arenas) and 1 "adjacent" location (e.g., a retail location a block from the home arena)
17 of 20 Licenses Claimed So Far
In total, Arizona has issued 17 of its 20 licenses across Tribes and professional sports teams in the state.
Tribal Licenses
Six licenses have been granted to federally recognized tribes:
Ak-Chin Indian Community & No Operating Partner Announced
Fort McDowell Yavapai Nation & No Operating Partner Announced

Fort Mojave Indian Tribe & SuperBook

Hualapai Tribe & Golden Nugget

Quechan Tribe & Unibet (Paradise Casino Location)

San Carlos Apache Tribe & WynnBET (Apache Gold Casino Resort Location)

San Juan Southern Palute Tribe & Betway

Tonto Apache Tribe & TwinSpires (Mazatzal Casino Location)

Navajo Nation & No Operating Partner Announced

Tohono O'odham Nation & No Operating Partner Announced
One license will be granted to a state tribe.
Professional Team Licenses
Eight in-state professional sports organizations have petitioned and been approved to open books under the law in Arizona. Here are the current partnerships:
Arizona Cardinals & BetMGM

Phoenix Suns & FanDuel

Arizona Diamondbacks & Caesars Sportsbook

TPC Scottsdale (PGA) & DraftKings

Phoenix Raceway (NASCAR) & PENN Entertainment

Phoenix Mercury & Bally Bet

Arizona Rattlers (IFL) & BetRivers

Arizona Coyotes - SaharaBets
Two additional licenses for professional sports organizations remain.
Arizona is one of the first states to allow pro sports entities to open retail sportsbooks within or adjacent to their playing facility. There's no shortage of professional sporting teams that bettors can take advantage of in Arizona of sportsbook partnerships. For those interested in college sports, Arizona has plenty of great teams to bet on!
Pro Sports Teams & Sportsbook Partnerships

Arizona Cardinals and BetMGM

The Arizona Cardinals are partnered with BetMGM to create a sports gambling experience inside State Farm Stadium. This is one of BetMGM's plans to launch four retail sportsbooks, with the other three at each of the Gila River properties.
NFL Game Odds: Arizona Cardinals vs. Pittsburgh Steelers
Below is a selection of odds for the upcoming NFL game: Updated November 30, 2023 - Odds Provided by BetMGM - Subject to Change
| | | | |
| --- | --- | --- | --- |
| Team | Spread | Moneyline | Total |
| | (+5.5) -110 | +200 | Over 40.0 (-110) |
| Pittsburgh Steelers | (-5.5) -110 | -250 | Under 40.0 (-110) |

Phoenix Suns and FanDuel

The Phoenix Suns have partnered with FanDuel to create a luxury sportsbook experience in the Footprint Area. Suns fans will be able to place bets throughout the arena on their mobile devices during games and sporting events. Additionally, the Suns' existing partnership with Verizon means the stadium is already equipped with the 5G for seamless real-time mobile transactions in the FanDuel Sportsbook App. They expect their in-arena sportsbook was completed ahead of the 2021-22 NBA season.
Footprint Arena currently features 25 betting kiosks, five betting windows, and one VIP window that are already set up and accessible seven days a week. You do not need a game ticket to enter the facility and place a bet.

Arizona Diamondbacks and Caesars Sportsbook

The Arizona Diamondbacks and Caesars Sportsbook have teamed up for a long-term partnership, allowing Caesars to enter the market. Fans can place their bets at the Caesars location adjacent to Chase Field.

Arizona Coyotes

Arizona Coyotes owner Alex Meruelo has partnered the team with a sportsbook app he owns — SaharaBets.
The Arizona Coyotes were established in 1972 as part of the World Hockey Association and would later join the NHL. Formerly known as the Winnipeg Jets, the Coyotes moved to Phoenix and rebranded as the Coyotes in 1996. The franchise has never been to the Stanley Cup and has one division championship.

TPC Scottsdale and DraftKings

DraftKings and The Professional Golfers' Association (PGA) are teaming up to provide online sports betting at TPC Scottsdale, where the Waste Management Phoenix Open is held. The greens are sprawling and the location is set for spectacle — and soon with even more opportunities to engage in this unique DraftKings online betting experience.

Phoenix Mercury and
Bally Bet

In June 2021, Bally Bet partnered with the Phoenix Mercury, making history as the first professional women's team to sign a sports betting partnership. The Phoenix Mercury shares an arena with the Suns, so they will also benefit from that construction.

Phoenix Raceway and ESPN BET Sportsbook
ESPN BET Sportsbook (via PENN Entertainment) is set to launch through a new agreement with NASCAR and the Phoenix Raceway. Plans for a retail betting facility at the track are already in the works, and ambitions to increase sports bettor participation in NASCAR races are a marketing challenge ESPN BET is tasked with.

Arizona Rattlers and BetRivers

The Arizona Rattlers plan to launch online sports betting in the state under the BetRivers brand during the upcoming NFL and college football season.
College Sports Teams in Arizona
There are just four colleges in Arizona that field Division I athletics programs, but only two have a football team that competes at the FBS level.
Arizona Wildcats Football
One of two Arizona college football teams competing at the FBS level, the Arizona Wildcats have produced six conference titles and competed in 21 Bowl games. Arizona recently hired Jedd Fisch as its new head coach ahead of the 2021 season, replacing Kevin Sumlin, who was 9-20 in three seasons at the helm. The Wildcats compete in the Pac-12 Conference and play their home games at Arizona Stadium, with a capacity of 50,782.
Arizona State Sun Devils Football
Arizona State has been a more successful program than its in-state counterpart, producing 17 conference titles and 32 Bowl appearances. The height of the Sun Devils came in the 1970s under Hall of Fame head coach Frank Kush. Arizona State would win four Fiesta Bowls and a Peach Bowl from 1970-75, finishing inside the top 15 of the Associated Press's end-of-season rankings. The Sun Devils joined the Pac-12 Conference in 1978, where they have won three titles since and are currently coached by Herm Edwards. ASU plays its home games at Sun Devil Stadium, with a capacity of 56,634.
Recommended resources to help you bet smartly on college football in Arizona:
College Basketball Betting in Arizona
Arizona Wildcats Men's Basketball
The Arizona Wildcats are the 11th-winningest program in college basketball and have won 16 Pac-12 regular-season championships since its transition in 1978. The program rose to prominence under Hall of Fame head coach Lute Olson, the winningest head coach in Pac-12 history. The Wildcats made the NCAA Tournament 25 consecutive seasons, starting in 1985, all but two coming under Olson.
Arizona State Sun Devils Men's Basketball
Arizona State has yet to win a Pac-12 Championship since its transition in 1978 but has 16 NCAA Tournament appearances. Though not finding much postseason success, the Sun Devils have produced 36 NBA players, none more notable than current Brooklyn Nets star James Harden. Arizona State is currently coached by Bobby Hurley, who has led the program to two NCAA Tournaments — would have likely been three if the 2020 postseason was not canceled due to COVID-19 — in six seasons. The Sun Devils play home games at Desert Financial Arena.
Grand Canyon Antelopes Men's Basketball
Grand Canyon basketball transitioned to Division I in 2013, finishing above .500 all but once. The Antelopes are coached by Bryce Drew, who secured the program's first-ever Western Athletic Conference championship and NCAA Tournament berth in 2021. No. 15 seed GCU would fall in the Round of 64 to Iowa, 86-74. The Antelopes play home games at GCU Arena on campus.
Northern Arizona Lumberjacks Men's Basketball
Northern Arizona competes in the Big Sky Conference, where the program has won four regular-season conference championships and two NCAA Tournament berths. Their most recent appearance came in 2000, a near upset over No. 2 seed St. John's. The Lumberjacks are coached by Shane Burcar and play home games at Walkup Skydome.
Recommended resources to help you bet with insight on college basketball in Arizona:
Other Sporting Events in Arizona
Arizona has a few notable events that extend beyond its in-state teams for sports fans and bettors alike to enjoy, including:
Fiesta Bowl (CFB) — Partnered with Caesars
This is an NCAA-certified college football game that has been held annually since 1971. The Fiesta Bowl is sponsored by Playstation and is held at State Farm Stadium in Glendale. It is one of the New Year's Six bowl games and serves as a semifinal in the College Football Playoffs every three years. Iowa State is the defending Fiesta Bowl champion after defeating Oregon, 34-17. This year, a new element will be at play — a Caesars Sportsbook partnership and on-site betting opportunities.
Guaranteed Rate Bowl
(CFB)
Held annually since 1989, the Guaranteed Rate Bowl is now a postseason matchup between the Big Ten and Big 12 through the 2025-26 season. Before the new conference tie-ins, Air Force defeated Washington State, 31-21, in the 2019 bowl game. It was canceled due to COVID-19 the following year. The Guaranteed Rate Bowl is held at Chase Field in Phoenix.
Arizona Bowl
(CFB)
The Arizona Bowl is an NCAA-certified college football game that has been held annually since 2015. The postseason event is sponsored by Offerpad and features teams from the Mountain West and Mid-American Conference. Ball State is the defending Arizona Bowl champion after defeating San Jose State, 34-13. The bowl is held at Arizona Stadium in Tucson.
Waste Management Phoenix Open (Golf) — Partnered with DraftKings
The Phoenix Open is a tournament held at TPC Scottsdale. It has been played annually since 1932 and is referred to as the Greatest Show on Grass. The course stretches 7,266 yards with a par of 71 and consists of a 7.3 million prize fund. Brooks Koepka took home the 2021 Phoenix Open with a 19-under par finish, his second time winning the event.
Instacart 500 (NASCAR)
Part of the NASCAR Cup Series, the Instacart 500 is held annually at Phoenix Raceway. This race is 312 laps, beginning in 2005. Martin Truex Jr. is the defending Instacart 500 champion, finishing the race in 3 hours and 20 seconds.
More Reading on Arizona
Additional Sports News
To supplement Action, you can find additional local sports news coverage at The Arizona Republic, The East Valley Tribune and The Arizona Daily Star.
Government Oversight
For official communications, you can check out the Arizona Department of Gaming (ADG) website, covering FAQs, allowing access to meeting minutes and official Gaming Compact documentation.
Support Resources
For support with any gambling problems, the ADG has a Problem Gambling Division that offers support like self-diagnostic quizzes and vetted treatment providers.
Arizona Retail Sportsbooks & Casinos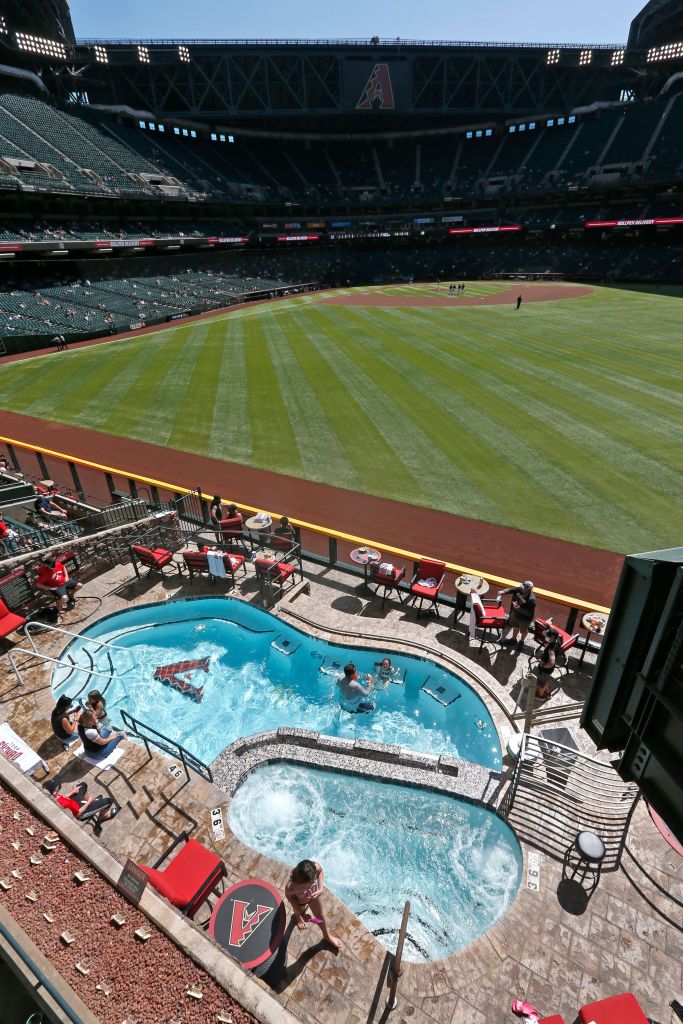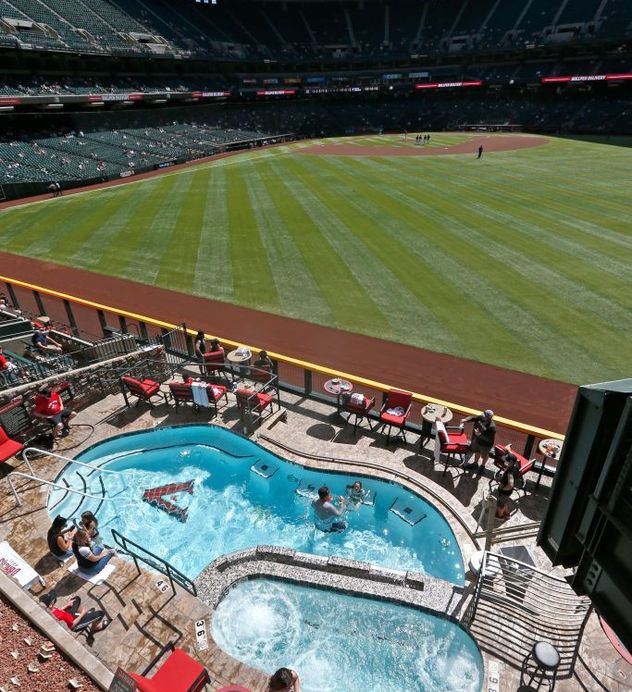 Sports Betting FAQ
Commonly asked questions about sports betting in the Grand Canyon State.
Is it legal to bet on sports in Arizona?
Yes! It was legalized on April 15, 2021, when Gov. Doug Ducey signed HB 2772 into law. Bets were allowed to be placed as of Sept. 9, 2021, following the official launch by the Arizona Department of Gaming (ADG).
What sportsbooks are available in Arizona?
BetMGM, Bally Bet, ESPN BET Sportsbook, Hard Rock Sportsbook, Caesars, DraftKings, FanDuel, Unibet, WynnBet, BetRivers and Betfred are legal operators in AZ.
bet365 has recently been approved to launch in Arizona but has not launched yet.
When will online sports betting be legal in Arizona?
Arizona officials successfully met a Sept. 9, 2021 sports betting launch, one of the nation's quickest turnarounds from the bill signing to the first bet.
What tax rate is paid by the Arizona casinos and tribes for onsite sports betting?
There is a 8% tax on retail wagers and a 10% tax on mobile wagers in the state of Arizona.
Who regulates online gaming in Arizona?
Online gaming is regulated by the Arizona Department of Gaming, the Tribal Gaming Authority, or directly through state tribes (that own a casino). This all depends on jurisdiction and regulations set in place by all responsible gaming authorities present in the Grand Canyon State.
Are offshore sportsbooks legal in Arizona?
Sports betting or gambling websites that are not regulated by the state of Arizona are considered illegal. Your money is never secure on offshore sites that are not regulated by a legal entity. Websites like MyBookie and Bovada are common examples of offshore gambling operators.
How old do you have to be to bet in Arizona?
You must be at least 21 years old to place a sports bet in Arizona.
Will it be legal to bet on college sports?
Yes, betting on college sports will be permitted.
Is Daily Fantasy Sports (DFS) legal in Arizona?
Yes, Daily Fantasy Sports (DFS) became available on Sept. 9, 2021, at the same time that legalized sports betting launched in AZ. There are currently six legal DFS operators in AZ:
DraftKings
FanDuel
Fantasy Sports Shark
FFPC
Yahoo
Underdog Sport