What Is a Prop Bet? Definition, Examples, More
Credit:
Lachlan Cunningham/Getty Images. Pictured: George Kittle
A prop bet, short for proposition bet, is a wager in sports betting not tied to the final score or outcome of a game.
Props can include anything from total passing yards by a quarterback to which team will reach 20 points first in a basketball game, and so much more.
Sportsbooks now offer hundreds of prop bets on every NFL game.
What Is a Prop Bet?
A prop bet in sports betting — short for proposition bet — is a wager that is not directly tied to the final score or final outcome.
Almost anything but the point spread, total and moneyline can be considered a prop bet — total passing yards by a player, who will score the first touchdown, coin toss result (yes, even the coin toss) and so much more.
Props are a great way to add additional action to a game, and are often easier to beat than efficient markets like point spreads.
You can use our props tool at Action Labs to compare prop prices at different books and beat the market with our industry-leading projections.
Where Can I Bet Props?
You can bet props at every legal sportsbook now, including DraftKings, BetMGM and FanDuel. See where legal online sports betting stands in your state.
At DraftKings, there are a few different ways to access the thousands of props they have available for Super Bowl 55 and other games.
Some props are listed immediately when you click the game, and others are available along the menu at the top.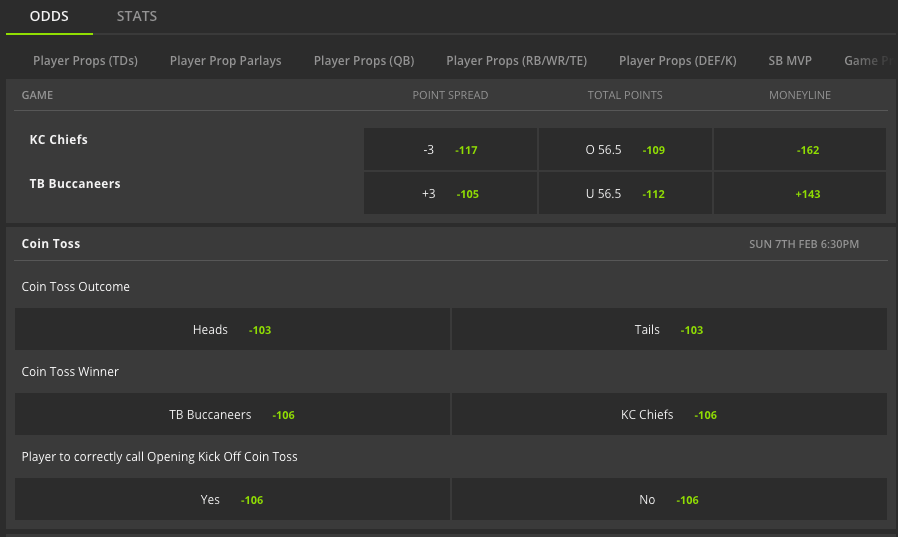 Some books like FanDuel keep props for each game within that game. So if you want to bet a rebound prop on a 10-game NBA slate, you have to go into that game and find that player.
At DraftKings, they list all rebound props for all 10 games in one menu.
Prop Bet Examples & Types
Prop bets are typically broken up into three broad categories.
Player Props
Anything pertaining to player statistics or outcomes can be considered a player prop.
Betting LeBron James over or under 8.5 assists, Patrick Mahomes over or under 255 passing yards, or Max Scherzer over or under 8 strikeouts are all player props. Props like these are offered for just about every game.
In bigger games, like the Super Bowl, there will be more player prop markets offered. Things like will Tyreek Hill score two touchdowns (offered at 6-1 odds), who will catch the first pass of the game, will Travis Kelce's longest catch be 22 or more yards, and so much more.
Game Props
There are hundreds of game props on the Super Bowl covering almost every event and play during said game.
The following are game props you'll see for just about every regular season NFL contest.
Longest touchdown over/under 47.5 yards
Which team will score first?
Which team will get to 10 points first?
Novelty/Exotic Props
Novelty props only pop up during big events like the Super Bowl. Their common characteristic is that they don't take place within the actual game — only on the periphery. Here some examples:
Which team will win the coin toss?
What color will the Gatorade bath on the winning coach be?
How long will the National Anthem be?
What color shirt will Chiefs coach Andy Reid wear?
Prop Examples
Here's an example of a popular prop for each major American sport.
Football
Patrick Mahomes Over or Under 2.5 Touchdowns: Oddsmakers have determined that the Chiefs quarterback is expected to throw between 2-3 touchdowns based on his statistical history, opponent strength and more.
For low-event props like touchdowns, the juice will often be higher on one side. If you want to bet Mahomes over 1.5 touchdowns, for example, you need to risk $230 to win $100 on the over. If you take the under, a $100 bet pays $180.
Basketball
LeBron James over/under 8.5 assists. Like with Mahomes, oddsmakers use historical data and current form to determine that LeBron is likely to have between 8-9 assists per game. You can wager on him going over or under that number.
Hockey
Will there be a score in the first 10 minutes? There is a goal scored in the first 10 minutes of an NHL game about 57% of the time, and it's priced accordingly depending on the teams playing and their offensive/defensive prowess. "No goal" can be found around +130 or +140, with "goal" at around -170.
Baseball
Max Scherzer over/under 8 strikeouts. Strikeouts by starting pitcher are available for just about every regular season game.
Why Bet Props?
Why should you bet props? There are two main reasons.
Additional action: If you aren't satisfied with just rooting for a team in a game, props offer a way to stay involved during almost every play. If you bet Mecole Hardman to score a touchdown for the Chiefs during the Super Bowl, you'll be on the edge of your seat every time Patrick Mahomes drops back and launches a deep ball, hoping Hardman is on the other end of it. If you bet Travis Kelce over 6.5 catches, you'll be hoping for plenty of action in the flat and over the middle.
Props are exploitable: With a little math, you can get the better of many prop markets. Betting limits are low for these props, so books aren't as incentivized to get the lines right.
Remember, the biggest advantage you have over a sportsbook is that you don't need to take every bet, and they do (they're supposed to, anyway). By specializing in a certain type of prop, you can beat the books because they can't get hundreds of lines as accurate as you can get one or two.
How would you rate this article?
This site contains commercial content. We may be compensated for the links provided on this page. The content on this page is for informational purposes only. Action Network makes no representation or warranty as to the accuracy of the information given or the outcome of any game or event.