There is no promo code required to sign up for theScore Bet in Ontario! Building off an already top-of-the-line sports news and scores app, theScore Bet's mobile sportsbook app is fast and extremely easy to use. Pair that with promotions surrounding big events and a solid lineup of betting options, and you've got a highly recommended sportsbook.
theScore Bet New User Details
No promotions available. Try selecting a different location.
theScore Bet Key Takeaways
| | |
| --- | --- |
| theScore Bet Promo Code: | Coming soon |
| theScore Bet Sportsbook States: | Ontario |
| theScore Bet Sports Offered: | NFL, NBA, MLB, NHL, soccer, tennis, boxing, UFC/MMA, NASCAR, golf, college football and college basketball |
| Promo Last Verified On: | October 01, 2023 |
No promotions available. Try selecting a different location.
theScore Bonus Code & Promotions
Let's face it — sports betting is tough. Oddsmakers are quite good at setting lines to keep bettors hitting around just 50% of their plays, and since they charge a tax, known as "the vig," on winnings, 50% isn't quite enough to break even in the long run. That's why promotions and bonuses can be of huge value to bettors.
theScore Bet Mobile Sportsbook App
Web Experience
theScore Bet is a Canadian-based sports media company known for providing sports news and scores through its app. theScore Bet does not offer a web-based betting platform as everything is run through its app.
theScore Bet Mobile Sportsbook App
The Action Network Positives:
Ease of use.

theScore Bet has parlayed their already established app for sports news and scores into a tremendously user-friendly, intuitive app, which makes it easy to get a bet in quickly. In times where you've forgotten to make a pick until right before a game starts, that functionality can be extremely useful.

Betting types. Once you've (easily) found the game you're betting on, there are likely to be numerous options or ways to get action on that game. theScore Bet offers the standard spreads, totals and moneylines, but also props, parlays and teasers to spice up your bet slip.
Live betting. Not only does theScore Bet offer live betting, but the app also has an entire section dedicated to it. That means no fussing around when you've got only seconds to place an in-game bet before the score changes.
The Action Network Negatives:
No desktop platform. While this technically isn't an "app" con, it's still worth noting that the app is the only way for bettors to access their theScore Bet accounts and place bets, which could be frustrating for users who prefer a more full desktop experience.
Lacking betting markets. For those who stick to the major sports when betting (think NFL, NBA, NCAAF, MLB, etc.), this won't be much of an issue. But if you're interested in some more niche markets, you might be hard-pressed to find them — although theScore Bet's market list is growing.
Cross-app integration. theScore Bet misses an opportunity by not fully integrating its sister app's box score information, especially in the live betting market. Instead, it links out that app (theScore), causing back-and-forth navigation for users interested in that data.
However, we know It's important to have a broader data set in evaluating a mobile application like theScore Bet Sportsbook. We distilled what's available in the Apple App Store and Google Play to find the advantages and challenges the betting population at large found with theScore Bet below.
theScore Bet Sportsbook Reviews in the Apple App Store
#31 in Sports - 4.8/5 Stars - 16.2K Ratings - Download at the Apple App Store
theScore Bet Sportsbook iOS User Positives

Fast Payouts: theScore Bet app appears to get its users their money fast, which is always a big plus to bettors and should be used as a draw-in for new users.
User Friendly: Users have found it easy to locate the plays they want, get solid promos and have no problem placing bets within the slips.
theScore Bet Sportsbook iOS User Negatives

Prop Bets: Some more seasoned bettors have found the lack of prop bets -- including player props and future bets -- disappointing.
theScore Bet Sportsbook Reviews in the Google Play/Android Store
4.2/5 Stars -1.7K Reviews - Download at Google Play Store
Android User Positives for theScore Bet Sportsbook

First Bet Promo: First-time users saw large deposits of bonus money made into their accounts when signing up for theScore Bet.
User Friendly: Like iOS, Android users found it easy to navigate through the app.
Android User Negatives for theScore Bet Sportsbook

Live Updates: Some Android users are finding the live odds and updates to be a bit slower. This also goes along with the lack of prop bets many bettors wish were offered more.
App Bugs: The "Oops, we missed that shot" slogan comes up way too often for Android users, whether it's while making a withdrawal or deposit, or while actually trying to place a bet.
Registering & Cashiering
As it pertains to withdrawals, most legal sports betting options in the U.S. are relatively the same — in a good way. Unlike offshore sportsbooks, the legal options are all government-backed, meaning your money is protected by law (which isn't necessarily the case offshore).
How to Sign Up at theScore Bet
theScore Bet's technologically modern setup allows for quick and easy account creation. To create a theScore Bet account, you will need to follow these steps:
Step 1. Click here to visit theScore Bet and enter your phone number to receive a link to download the mobile app. Once the app has been downloaded, click "Sign Up" at the bottom of the page and enable your location services in order to continue signing up.
Step 2. Enter your details:

Email

Username

Create a Secure Password

Phone Number
Verification code (sent to your email)

Last four digits of your SSN

Gender (optional)
Step 3. Confirm your eligibility (must be 21+) and agree to the Terms of Use and Privacy Policy.
Step 4. Scan your DL or state-issued ID and take a selfie to confirm your identity.
Then, you're ready to make your first deposit and bet! Please note that theScore Bet gives users the opportunity to set wagering limits directly on the app.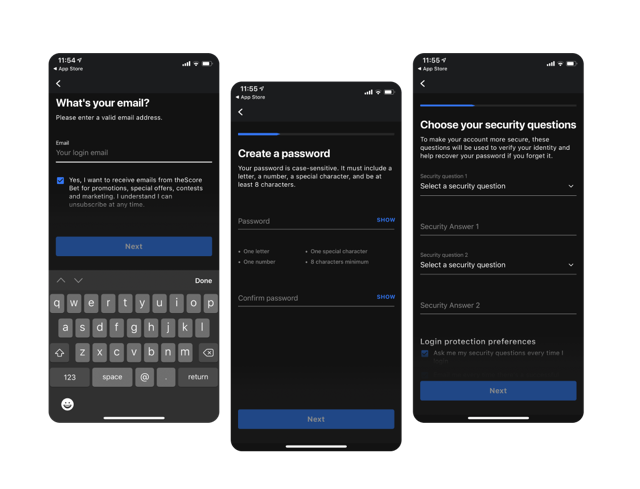 Sign up for ScoreBet and follow the instructions above to start betting
Payout Speed
Like much of the competition, withdrawals at theScore Bet take anywhere from 24 to 72 hours.
They offer a few different withdrawal methods as well:
Online banking

Play+ prepaid card

Cash the cage (New Jersey only)
Responsible Wagering
Like many legal online options in the U.S. and Ontario, theScore Bet allows users to more responsibly wager by offering some self-imposed restrictions, including:
Daily time limit: Limit the amount of time you spend on the app per day
Deposit limits: On a daily, weekly or monthly basis
Spend limits: On a daily, weekly or monthly basis
Cool-off period: Take a break by locking your account for several days
Self-exclusion: A longer, or even permanent, logout
theScore Bet Betting Options And Sports Market Coverage
theScore Bet may not offer the largest gallery of sports betting markets, but they do consistently offer leagues and bet types to cover the sports and wagers you're most likely to be interested in.
Bet types offered include:
There are plenty of additional ways to get in on the action at theScore Bet, including their speedy live-betting options, alternate pregame lines and much more.
Sports Markets Offered
As mentioned, you might not find, say, Aussie rules football, on theScore Bet's list of available sports. But chances are you'll be able to find the sport you're interested in. They include the NFL, NBA, MLB, NHL, college football and basketball, and more.
theScore Bet vs Other Sportsbooks
theScore Bet shines thanks to the ease of its mobile app's use, which makes it a top (or the top) option for bettors who'd be doing most of their wagering from a mobile phone — and especially those who are already familiar with theScore's general sports scores and news app.
In terms of promotions, theScore remains near the top, though the fashion in which bettors must unlock their generous deposit match may turn off some.
And as for the betting odds, which should ultimately be the most important factor in deciding on a sportsbook, theScore Bet is right in line with the market.
theScore Bet offers the standard "juice" or "vig" that you'll find across most of the market: -110 on each side of a major sport's spread. That means bettors would have to risk $110 to win $100, $11 to win $10, etc. when betting spreads in the NFL, NBA or the like.
theScore Bet is also very fair on moneylines, keeping a 20-cent window between each side (ex. -160 vs. +140) for games that are somewhat near even money.
When it comes to props, however, you will be paying a slight premium at theScore Bet. Betting on an NBA player's point total on a given night, for example, means laying -120 on either side and while it's normal to pay up for props, -120 is on the expensive side (other books list the same bet types at -115).
Overall, though, theScore Bet is emerging as a true competitor in the sports betting marketplace and is a sportsbook worth adding to a portfolio, especially for mobile bettors looking for an easy-to-use option.

theScore Bet Ontario Update
theScore Bet has been live in Ontario since April 4, 2022. The company will enter the Canadian market as theScore Bet Canada – and hopes to get preferential treatment once other provinces launch online betting.
Other theScore Bet Benefits
Formerly a pure sports media company, theScore is making headlines as a sports betting operator these days. Although they're based in Canada and only have a presence in Ontario, theScore Bet is making its mark on the U.S. betting market.
With their recent launch in Ontario, expect theScore Bet to be among the leading sportsbooks in Canada's largest market.
If you're looking to start betting or add another book to your repertoire, theScore Bet could be the one for you.