The 5 Best Same Game Parlay Sports Betting Sites
Same game parlays have taken over the sports betting world.
First launched by FanDuel in 2019, SGPs allow bettors to parlay bets from the same game.
Sportsbooks didn't offer parlays on the same game because they couldn't properly price the correlation of events — if Derrick Henry scores 2+ touchdowns, the Titans are more likely to win, so you shouldn't get a standard parlay payout.
Books have now figured out how to price these two events together and charge you a more appropriate price.
And now, everyone wants to be a lottery winner through a massive SGP.
So if you love same game parlays, where should you bet them?
There's a clear winner, but we've included five sportsbooks that all bring something to the table.
Here's our top five.
1. FanDuel

States Available: AZ, CO, CT, IL, LA, IN, IA, MI, NJ, NY, PA, TN, VA, WV, WY
FanDuel invented the same game parlay and has kept its lead over the last three years, even after every sportsbook copied the concept.
FD nails almost everything you'd want in a same game parlay. Pair that with the world-class FanDuel promo code, and they're offering new bettors a
Pros
Seamless user experience: It's one of the only books that doesn't force you to go into a separate "Same Game Parlay Mode." You can just add bets to the bet slip from the same game, and if those bets can be parlayed, it will add it to the parlay. At DraftKings, you must enter all your bets on a different screen.
Better pricing: FanDuel won't always have the best price on every SGP, but its pricing is transparent and it robs you on correlation far less than other books.
Wide variety of props: FanDuel will offer more alternative lines than other books for SGPs, and more player props. Other books have many of the same props available but restrict them in same game parlays.
As you can see below, adding one extra prop to your bet slip from the same game just adds it right to the same game parlay ticket. Remove it, and it goes away — you don't have to remove the entire thing.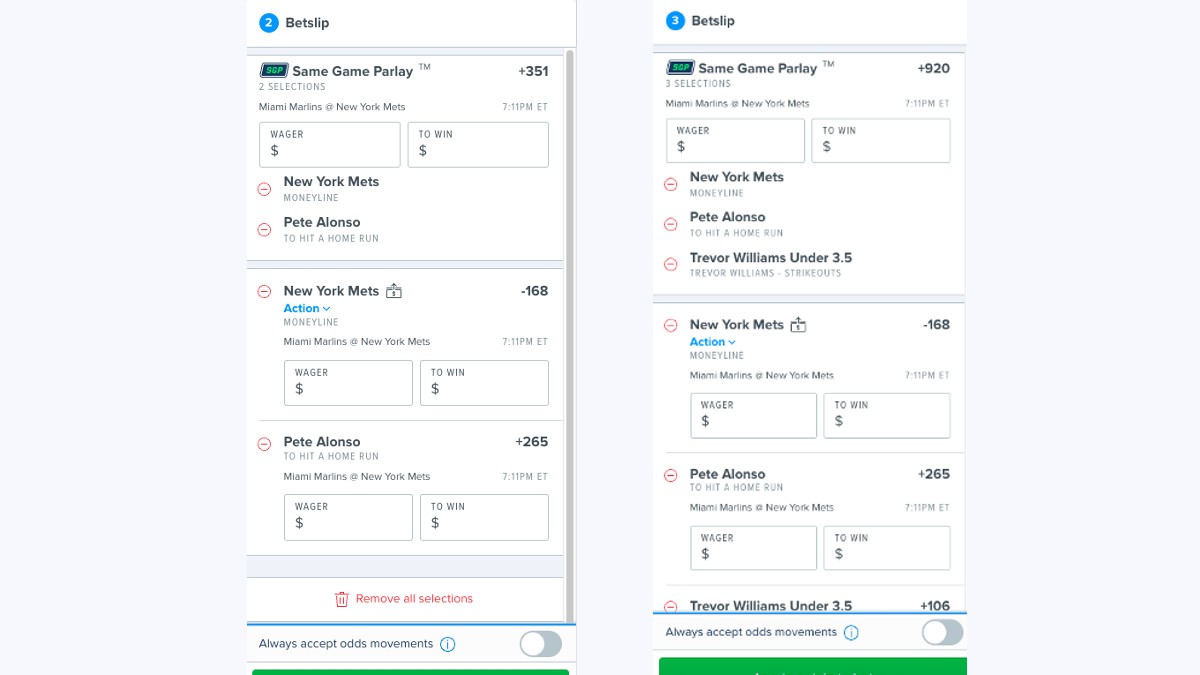 Cons
The only con of FanDuel's same game parlays is that they don't offer many boosts or promotions tied to SGPs, like DraftKings does.

States Available: NJ, Ohio, Virginia, Colorado
Bet365 is a major player in European sports betting but hasn't made waves in the U.S. just yet. Still, expect it to expand in the coming years and bring its strong same game parlay engine with it.
Pros
Wide variety of props: Like FanDuel, Bet365 offers a ton of alternate lines and props that you can't get at every book when making SGPs.
Get the price before you add the bet: This might be the best SGP feature of any sportsbook. Before you add a bet, it will tell you what the price of your same game parlay would be if you added that bet.
Why is that so important? Let's look at an example.
Let's say you know you want to bet Gerrit Cole over 7.5 strikeouts. That starts your SGP at -110.
Then you go to add Yankees moneyline (left image below). Before you even click it, it shows you that Yankees full-game moneyline would make your SGP +155. And taking the Yankees in the first 5 innings would be +175. You add Yankees full-game ML to make your parlay +155.
Now you want to add an under. On the right, you can see that it gives you the price for all the alternate unders before you even click them — the SGP would be +650 if you add under 6.5 runs, +900 if you add under 5.5, etc.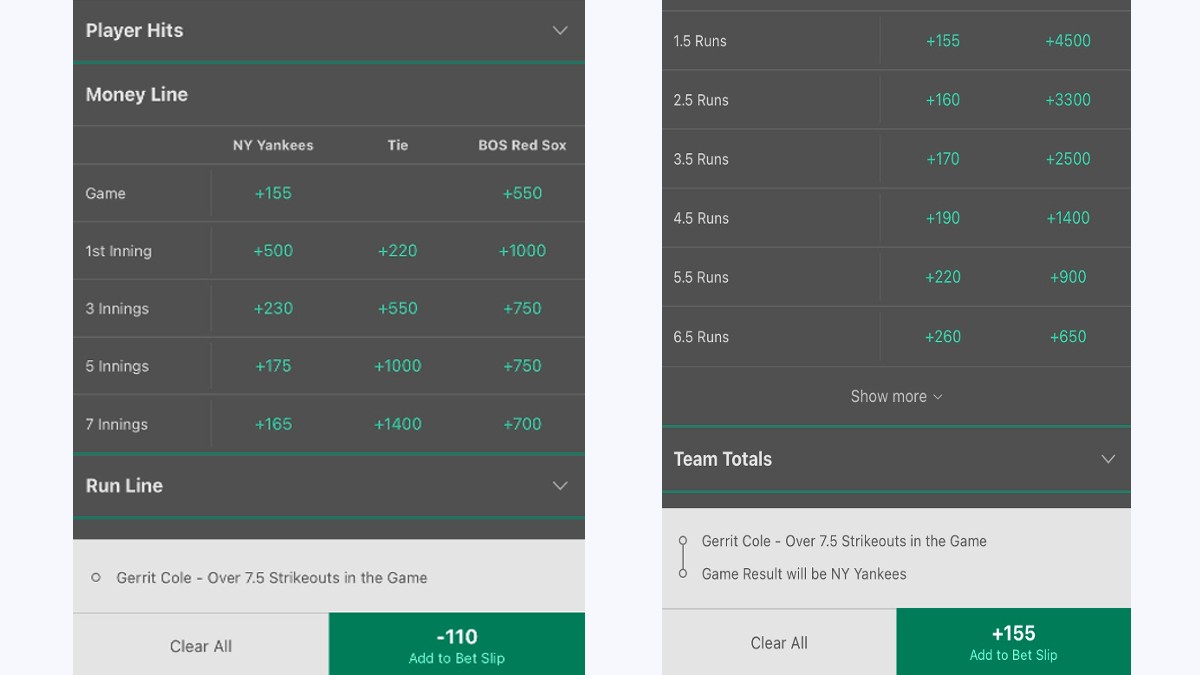 Cons
The UX is a bit clunky and fragile: Bet365's odds pop-ups can cause swiping gestures that force you to close games, which is frustrating. The UX could be better.
Interface: It does not have as much of a "high-end" feel to it, like FanDuel.
3. DraftKings

States Available: AZ, CO, CT, IL, IN, IA, LA, MI, NH, NJ, NY, OR, PA, TN, VA, WV
DraftKings is lagging behind FanDuel in its same game parlay experience and pricing, but it's still worth checking out at times for its promotions.
Pros
Boosts and promos tied to SGPs: Perhaps more than any other book, DraftKings consistently offers boosts and promos tied to same game parlays, like a 50% profit boost on any 3-leg SGP.
Pre-made SGPs that make sense: Other books will pre-make SGPs for you, but they don't have a ton of meaning. DraftKings has been smart about branded SGPs, like "New Owner of Fenway," which had several Yankee homerun bets and Yankees moneyline for a road game in Boston.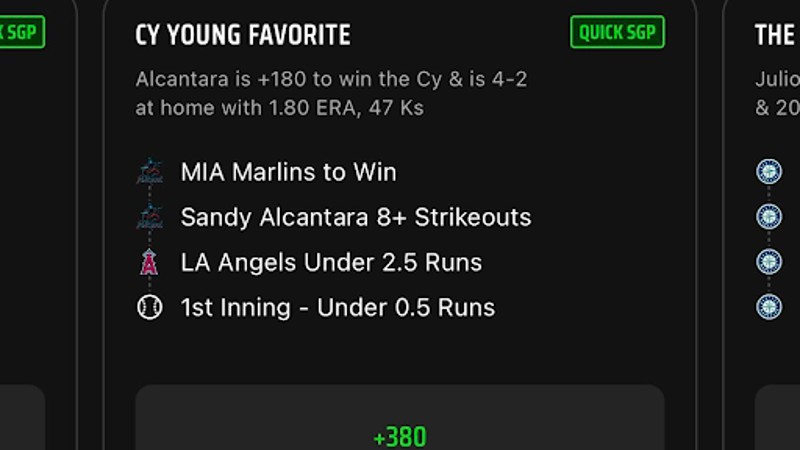 Cons
DraftKings still has a long way to go with its SGPs, because it's behind on many of the key features.
Pricing: DK does not offer competitive odds, and does not offer alternative lines that go as high as other books. FanDuel is far better in both categories. While the DraftKings Promo code is generous, its pricing falls short. We dove into DraftKings' poor pricing here.
SGP Mode: In order to create a SGP, the user must turn the "SGP Feature" on, and is then taken to a separate screen. Not the most efficient.
Navigation: DK does not have one giant scroll with all the props available and props default to being expanded, so it's not as easy to navigate around and find what you want because there's so much on the screen.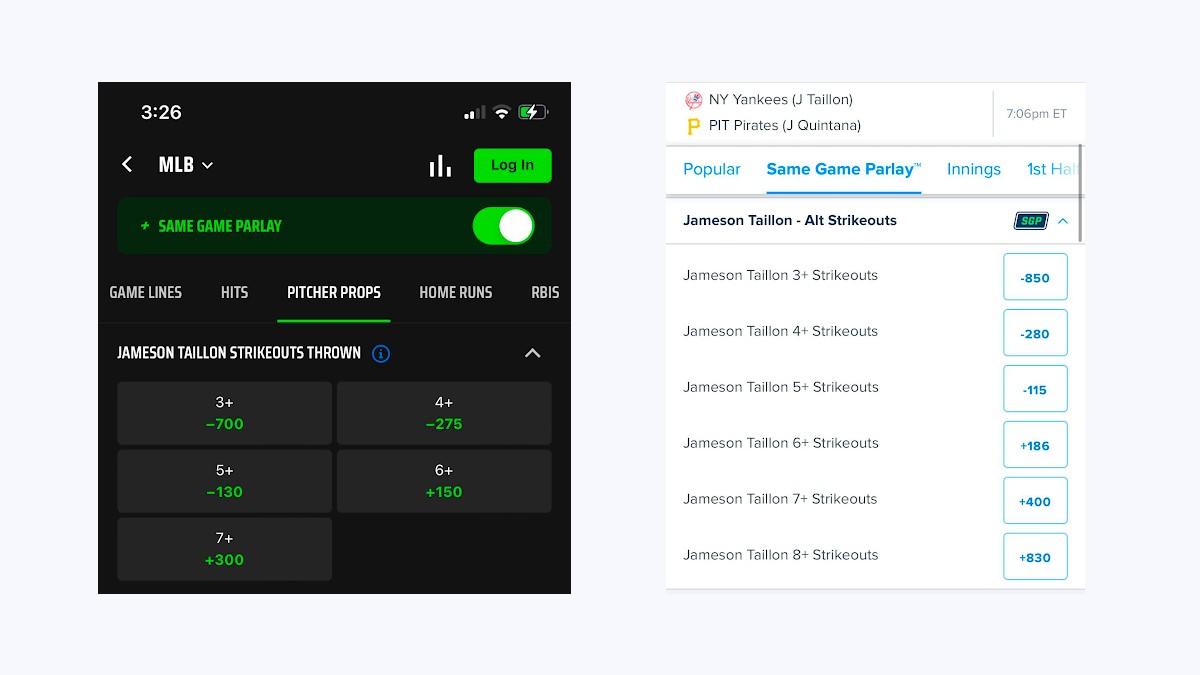 States Available: CO, IL, IN, IA, MI, NJ, NY, PA, VA, WV
PointsBet's SGP feature has a few things going for it, but the navigation leaves a lot to be desired.
Pros
Wide variety of props: The prop menu isn't quite as extensive as FanDuel, but PointsBet offers plenty.
Competitive alternative odds: The pricing is pretty good on most bets, and the PointsBet promo code upside is some of the best in the industry, amplifying alternative odd value.
Cons
Navigation: This is the main con but it manifests in many different ways. Types of bets aren't separated into their own sections — there's just a giant list of props you have to scroll through. Most apps will have a tab for each type of bet (hits, home runs, etc..) that makes it easy to navigate.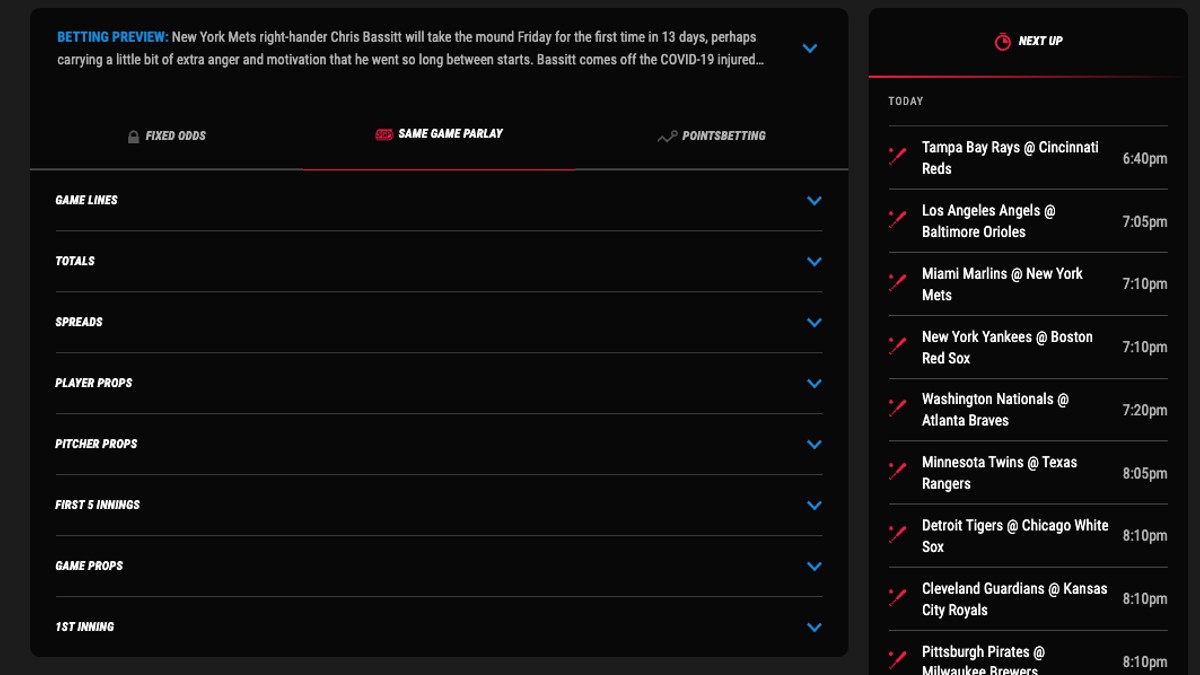 States Available: AZ, CO, IL, IN, IA, LA, MI, NJ, NV, NY, TN, VA, WV
Pros
Seamless interface: Like its normal bet slip, Caesars offers a great experience for actually placing bets.
Props other books don't: Caesars offers specific types player props that other books do not on SGP's. Like for NFL games, users can include props like receptions, carries and pass attempts. These props are considered more predictable and beatable, which is why the majority of sportsbooks do not offer them for SGPs. Pair Caesars Sportsbook promo code and unique props for maximum bettor ROI.
Cons
No alternate player prop lines: They don't offer any of the props that are usually needed to score a major payday on a same game parlay. For example, you can only bet Aaron Judge over/under 0.5 hits — you can't bet him to get 2+ hits at a big price.
Longshot pricing: Because Caesars doesn't offer alternate lines on many props, this is not the sportsbook for a user looking to make a big plus money type parlay.
How would you rate this article?
This site contains commercial content. We may be compensated for the links provided on this page. The content on this page is for informational purposes only. Action Network makes no representation or warranty as to the accuracy of the information given or the outcome of any game or event.