NBA Sharp Betting Picks
How to Read NBA Odds
Just getting started in NBA betting and reading NBA odds? Here's what you're looking at on this page:
The favorite will always be listed with a minus sign in front. The underdog, the team less likely to win, will always have a plus sign. This applies to both the point spread and the moneyline.
Reading Point Spreads
There are two main components to a point spread -- the line itself, and the juice.
The line is simply a margin of victory projection. If the Los Angeles Lakers are -6 against the Denver Nuggets, the Lakers need to win by at least seven points to cover the spread and cash your bet. If Denver loses by five or fewer, or wins, your bet wins.

Spreads will vary game to game depending on the quality of teams, game location, rest/travel for each team, injury news (particularly in the NBA), and action by bettors. The Lakers might be -6 at home against the Nuggets with LeBron James and Anthony Davis healthy, and +8 in Denver without those two players.
The juice is how much you're paying the sportsbook for that bet, and will be listed next to the actual line.
The juice is listed in American odds, which are all centered around winning $100. If the juice is -110, you have to risk $110 to win $100, or $11 to win $10. If you risk $100, you'll win about $91.91.
You can use our Odds Calculator to calculate any bet amount or conversion.
Reading NBA Moneylines
An NBA moneyline requires you to just pick the winner of the game -- but the odds will be adjusted for team quality and the other factors we talked about above.
If the Lakers are -6, their moneyline would be about -250. You have to risk $250 to win $100, and L.A. just needs to win the game. The Nuggets would be about +200 in that scenario, depending on the book. You'd win $200 if you risk $100, but Denver needs to pull off the outright upset.
Reading NBA Totals
NBA totals, more often referred to as over/unders, require bettors to pick whether or not the total points in the game will go over the amount listed.
The Lakers vs. Nuggets total is 228.5. If the teams combine for 229 points or more and you bet the over, you win. If they combine for 228 or fewer and you bet the under, you win.
Each bet comes at a cost, of course. Like with point spreads, you have to pay the sportsbook a certain fee to place the bet. Most often, both sides of the total will be -110, meaning you must risk $11 for every $10 you want to win.
There is no edge to be had blindly betting overs or unders in the long run. Since 2010, there have been 11904 overs, 12088 unders and 634 pushes in the NBA. So 49.6% have gone over the total, which is not enough to make up for the juice you have to pay the sportsbook.
How to Use the NBA Odds Page
We automatically surface the best NBA odds for every game so you'll always get the best price. Here are a few things to know.
1) The best price in the market will be highlighted in green. The key differentiator is that we factor in the odds and the juice to determine the best line. If it's more advantageous to bet the Lakers at -4.5 (-115) than -5.5 (-105), the green highlight will tell you. We use thousands of historical NBA games and lines to determine which is the optimal line, because one point in basketball is drastically different from one point in football.

2) You can customize which books you see by signing up for an Action Network account, going to settings in the top right corner under your profile and clicking "Manage Books." We have more than 40 sportsbooks listed from all over the world.

3) Toggle spread, moneyline and total, or view all at once. If you're just focused on point spreads for a given time, you can filter out everything else.

4) Toggle between full game odds, first half, second half, and each quarter. Some of those lines may not be available at every book.

5) The "Open" refers to the first line posted in the market. Bettors can influence that line with their action, which is why the current lines will often be different than the opener.

6) If you're in a legal betting state, you will see odds from your state specifically. Some books vary lines slightly depending on location.

In addition to line shopping, make sure you take advantage of welcome offers as well. We recommend you claim the BetMGM Sportsbook Bonus for new bettors for immediate value.
More NBA Betting Options
Some bettors want to go beyond just point spreads, moneylines, and totals for single games. Here are other ways to bet the NBA, and how to find the best odds for them.
Futures
There are dozens of futures markets available -- which team will win the NBA championship, who will win MVP, Rookie of the Year, Sixth Man of the Year, each division, and more.
Use our NBA Futures comparison tool to find the best price on each.
NBA Props
The NBA is a player-driven league, so it's no surprise to see that player props are among the most popular wagering option.
You can use our Props Tool at Action Labs to find the best price on player props for free. The most popular props involve over/unders -- will Steph Curry score over or under 33.5 points, will Draymond Green get over or under 7.5 rebounds, etc. But sportsbooks are constantly adding new offerings.
With an Action Labs subscription, you'll get access to our industry-leading statistical projections to beat the prop market. We grade each bet on a scale of 1-10, with 10 being the biggest edges.
DFS
Don't have legal sports betting in your state? NBA DFS (daily fantasy sports) at DraftKings or FanDuel might be a good option.
At FantasyLabs, we've got you covered with daily DFS breakdowns, Player Models, correlations, news and so much more. Try
Other NBA Betting Tips
Feel comfortable reading NBA odds, but need some help betting the games? We've got tools, analysis and so much more to help. Here are some of our offerings.
Public Betting Percentages
Want to see which teams are getting action to help inform your betting decisions? Our public betting and money percentages will help you do just that.

Learn more about why fading the public can be a profitable move in the NBA.
PRO Projections
Our NBA PRO Projections compare our model to what's posted by sportsbooks, and grades each bet with an edge -- A+ is a no-brainer, while we recommend a B or better to consider a wager based solely on the projections.

What makes these projections so powerful is that they're at the player level -- if Luke Doncic is ruled out for the Mavericks, our model will adjust. Player news like that in the NBA can shift lines by more than five points, and many team-level models will be wildly inaccurate following news of that magnitude.
PRO Report
Our NBA PRO Report digests five different signals and highlights them when there's an edge. Big money, sharp action, projection edges, expert picks and betting systems make up our signals.
NBA Picks

Don't want to do much yourself? Our team of NBA experts is always hard at work to find you winners.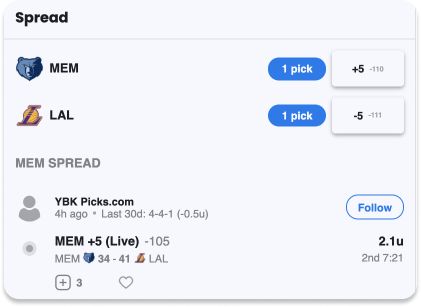 Download The Action Network app to follow specific bettors, or head to our NBA picks page to see what they've already bet.