PointsBet
Sportsbook Review
Bonuses & Promotions

Mobile App & Website

Registering & Cashiering

Betting Options

Comparison
PointsBet's app and site stand out as some of the best in the U.S. industry, from their sleek design to site navigation. They also offer great promotions and daily boosters, including some of the best odds in the market for the popular spread and over/under bets. If you're going to select only a few books from your state, PointsBet is one of our recommended options.
PointsBet Sportsbook Offers
Win $200 if Team USA Wins a Gold Medal
Claim Now
Make a $20+ bet on the Olympics
Win $200 if USA wins gold in any event
New users in CO, NJ, IN, IA, MI
Deposit $250, Get $250 FREE
Claim Now
Deposit match of up to $250
Place bet & it syncs to Action app
Bet $20, Win $200 if the Tigers Get a Hit
Claim Now
Bet $20 on the Tigers as 1st bet
Win $200 if they get a hit
New users in MI, NJ, IN, IA, CO
Key Takeaways
| | |
| --- | --- |
| PointsBet Sportsbook Promo Code | The best PointsBet promo code to use is ACTION67, which gives Action users an instant deposit match up to $250. You can also click here, and the promo code will auto-populate on the sign-up page and give you the best current offer. |
| PointsBet Sportsbook Promo Details | If you're an Action Network user, you'll receive up to $250 in free bets instantly after funding your account. PointsBet offers what's called a tiered deposit match. If you deposit $50, you'll get $100 in free bets. If you deposit $150, you'll get an additional $150. And if you deposit $250, you can an extra $250 instantly hit your account. |
| Where You Can Use the PointsBet Sportsbook App | PointsBet is a fully legal, regulated online sportsbook and you can play in the following states: Colorado, Illinois, Indiana, Iowa, Michigan and New Jersey. |
| Sports You Can Bet on With PointsBet | NBA, NFL, MLB, NHL, MLS, UFC, WNBA, tennis, NASCAR, golf, college basketball, college football and more. |
| Charges to Expect From PointsBet | You will not be charged for withdrawing or depositing at PointsBet, but all sportsbooks charge "juice" or "vig" on each bet, which is 10% on standard bets. PointsBet does often offer lower juice, though. For instance, for NFL and NBA spreads, they charge just a 5% fee, which means you'd have to bet $105 to win $100. That is the lowest vig you'll find at any sportsbook in the world. |
PointsBet Review Summary
Bonuses & Promotions

The sign-up offer at PointsBet — get $250 instantly after depositing — is in line with the rest of the industry. But where PointsBet stands out is on event-specific promotions throughout the year. They regularly do "crowd boosters," where a spread will move a point every 100-200 bets taken by the book, which quickly turn into easy wins.

Mobile App & Website

PointsBet has one of the best sleekest apps and websites among all U.S. books, and they do a great job of displaying the most popular markets and best daily promotions for bettors. The experience is better on the app than on the web, which can get a little busy with all of the different markets.

Registering & Cashiering

We haven't had any issues signing up, depositing or withdrawing funds from PointsBet. They offer fewer payment options than other books, although users can still use credit cards, online banking, PayPal, and a variety of other methods depending on the state. PointsBet is a trusted, regulated sportsbook, so you don't have to worry about your money.

Betting Options

You certainly won't be disappointed with PointsBet's betting options: If they're allowed to list odds an event, you can bet they will. They offer odds on all major markets, but also have extensive secondary markets like props, unique futures and more. They also allow users to request bets -- their "Name a Bet" function -- so if you want to wager on a market that doesn't exist, just shoot them a message and they'll work with you on it. What more could you ask for?

PointsBet vs Other Sportsbooks

PointsBet is a new name to the sports betting world, but they've quickly made noise thanks to their sleek app, awesome promotions and competitive odds. They are aggressive in acquiring customers, which means bettors get to reap the rewards if they pay attention.
Pointsbet Sportsbook: Mobile App Review
Bonuses & Promotions
Sports betting can be challenging given the juice (or vig) taken on every bet. That's why it's so important to take advantage of +EV bets, promotions and sign-up offers. PointsBet is an industry leader in that regard: They regularly offer great weekly or daily promotions, and they often run promotions where you can bet popular sides and totals at reduced or no juice.
PointsBet has an awesome new customer offer (get up to $250 instantly after depositing into your account), and it frequently offers its users reduced-juice bets and +EV daily offers. Example: For specific NBA games, the sportsbook will give bettors bonus bets for every 3-pointer their team makes.
Mobile App & Website
PointsBet launched January 2019 in New Jersey following the 2018 Supreme Court ruling that struck down the federal sports betting ban in the U.S. The sportsbook launched in Indiana, Illinois, and Colorado in 2020, and it also added Michigan and Iowa to its offerings in early 2021. A somewhat new brand in America, PointsBet also has a sportsbook in Australia. All in all, PointsBet's app and site stand out as among the best in the industry. Daily odds boosts, promotions and the most popular betting markets are smartly organized on the homepage, making things user-friendly for new and seasoned bettors.
Web Experience
The desktop experience at PointsBet is very similar to the app, and it's quite easy to navigate to sports, find promotions and more.
PointsBet's current navigation's biggest drawback is that it can be difficult to find secondary markets within sports. For example, if you navigate to the "basketball" section looking for various NBA futures markets, those are not listed on that main page. Instead, you have to go to "All comps" on the top right, where you can then use dropdown navigation to find those smaller markets and futures. Things are smartly organized once there, but those markets can be difficult to find when you first start using PointsBet.
The desktop site can also get a little cluttered with pictures and promotions, but overall it's a solid experience for users.
THE GOOD
Positive App Feedback from Action & Users
High tech.

PointsBet's app is about as sleek as they come in the betting world, and it's fast and a breeze to use. You'll have no problems finding the sport you want to bet on, and the bet slip function and navigation make things seamless and quick.

Promotions and odds boosts.

There's perhaps no sportsbook more generous to new users with promotions and daily odds boosts. Whether you want a typical deposit offer or something tied around a specific game, you'll be able to score some easy cash up front when you sign up.

Bet slip. PointsBet's bet slip is right on the bottom nav, so it's easy to find. It is well organized, too, with upcoming bets, ones in progress and recently settled bets.
THE BAD
Negative App Feedback from Action & Users
Navigation to smaller markets.

It's really easy to find the big markets like spread, totals, and moneylines, but it can sometimes be a little difficult to get to futures or player props.

Attention on parlays.

Sportsbooks often want you to spend a lot of money on parlay bets because they're more advantageous math-wise to the operator.

Lower limits.

We've found that PointsBet can sometimes have lower limits on some markets. It shouldn't be a big deal to most bettors, but high-rollers might have to spread out their action across multiple books.
Registering & Cashiering
PointsBet's registration process is extremely simple. Note that signing up, depositing and withdrawing can vary depending on the state you live in. When the U.S. Supreme Court overturned PASPA in 2018, it gave states the right to legalize and regulate sports betting within each state, which means rules and regulations can vary.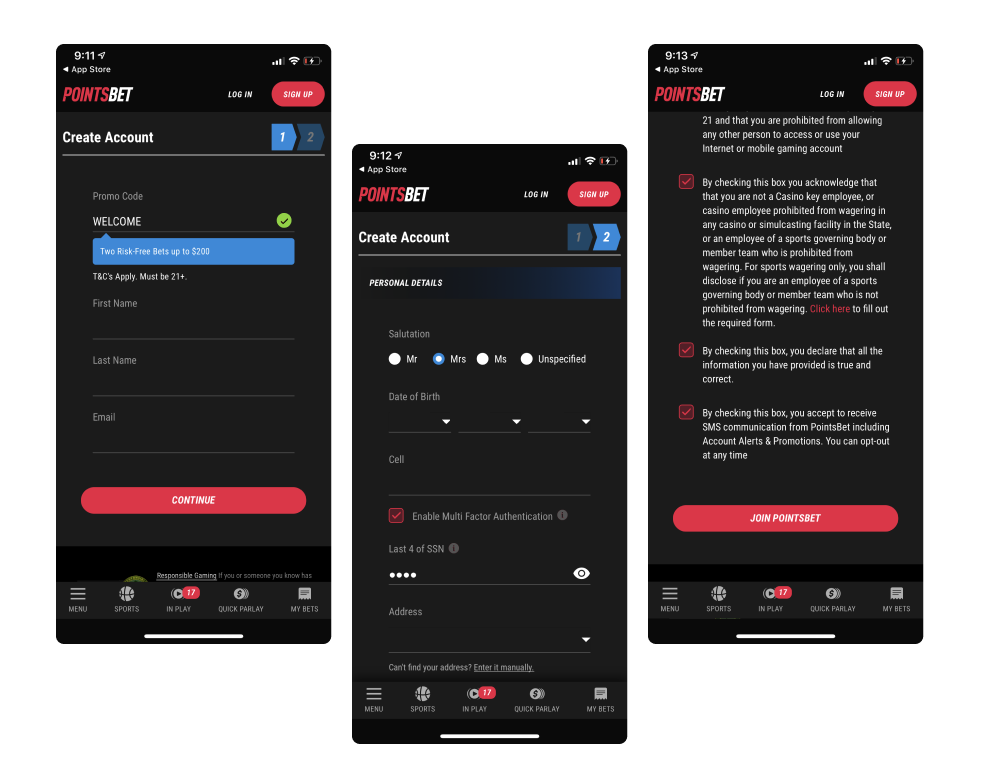 Creating an Account Requires
When you create an account, PointsBet will need your:
First and last name

Date of birth

Email

Address

Cell phone number

Last four digits of SSN
On the whole, PointsBet is a book you can trust with your money when signing up and depositing. We haven't heard of or experienced any issues, and payments are usually accepted and sent out in a very timely manner — within a couple of days but often even more quickly.
Payout Speed
One of the best things about betting with a legal online book in the U.S. is that you never have to worry about your money or being defrauded. Sportsbooks, like PointsBet, are required to set up a liability fund that operates separately from their expenses. Further, they are regulated by an independent entity in each state that gives books strict rules about protecting users' money.
One disadvantage of PointsBet, depending on where you're betting from, is that they offer fewer deposit and withdrawal options than competitors. If you're in New Jersey, the options are about the same as most books.
| | |
| --- | --- |
| Bank account | Credit card |
| PayPal | eCheck |
| Debit card | |
But in Indiana, bettors cannot use credit cards to deposit or withdraw at PointsBet. The options there include ACH, online banking, Paynearme and Paypal.
Spending Controls
Most legal sportsbooks have self-imposed limiting controls in place, and PointsBet is no different. These are effective ways to stop yourself from betting too much if it's becoming a problem or to be proactive about setting healthy limits for yourself. We recommend configuring whatever setup helps you maintain responsible limits and educating yourself. The controls PointsBet offers include:
| | |
| --- | --- |
| Pre-commitment limits | Set a limit on how much you can deposit 1, 7 or 30 days. |
| Self-exclusion | Stop yourself from betting during a certain time period or permanently. |
| Cool-off period | Stop yourself from accessing the site or app for a certain time period. |
In addition to the PointsBet-provided resources, The Action Network has developed bankroll management educational materials to help ensure bettors have fun and establish sustainable behavior.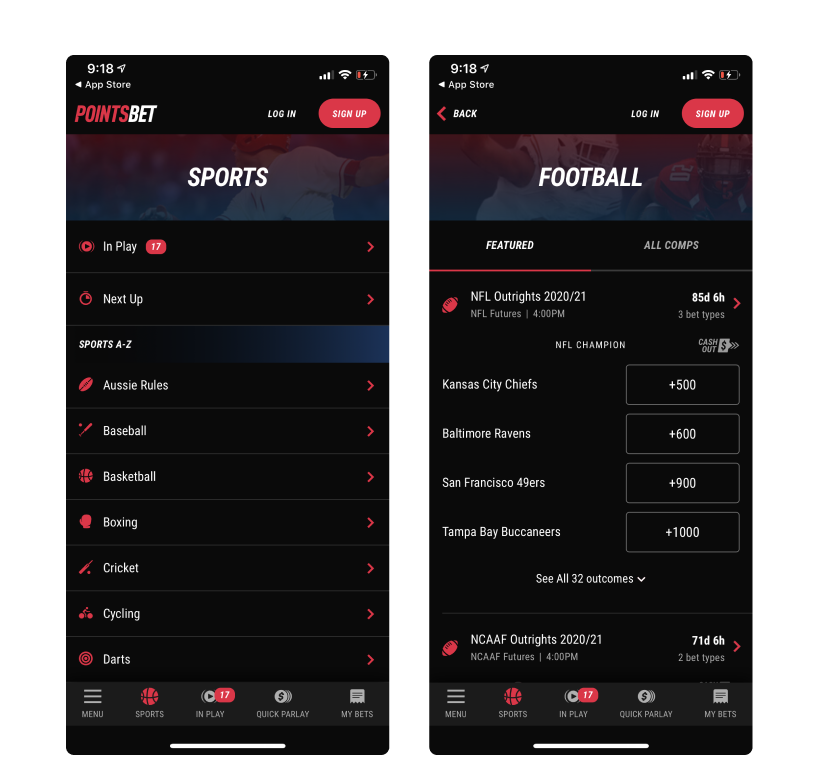 PointsBet vs Other Sportsbooks
While sign-up offers, promos and user experience are crucial factors in selecting a sportsbook, the most sophisticated bettors are often worried about the price. We can compare books in this regard a couple of ways:
Juice: Also referred to as the "vig," this is the tax a sportsbook charges for a bet. The standard odds for a spread bet is -110, which means you have to pay $110 to win $10. That extra $10 is the tax.

Hold: Like the juice, a hold is defined as the percentage a sportsbook keeps for every dollar wagered. It's a better metric to measure for moneylines, for example.
Most online U.S. books — in states where betting is entirely online and not regulated by the state lottery, at least — have standard juice on your typical bets. Take, for example, the juice on spread bets for the NFL. There's no significant difference between sportsbooks: It is common to get -110 on both sides for both the spread and the over/under.
But PointsBet is unique in that they'll often offer reduced-juice odds on big markets. Before the COVID-19 layoff, for example, they provided all NBA spreads at +100 — meaning they took no money on either side of the bet. You could wager $100 to win $100 instead of $110 to win $100 like all other sportsbooks in the industry.
BetSync
BetSync is a feature exclusive to The Action Network that allows you to link your sportsbook directly to your Action account. Once your sportsbook is linked to your Action account, the bets made on your sportsbook will automatically sync to your Action profile. This feature eliminates the process of entering your picks through your sportsbook and then inputting them in the Action app or website for tracking purposes.
This proprietary feature is live with just three sportsbooks globally, and PointsBet is one of them. It's a massive bonus to using PointsBet, as you don't have to do any work to track your bets and interact with the fantastic features of the Action app, including live bet win probability.
PointsBet
A unique product you'll find at no other sportsbook, PointsBetting allows bettors to reap the benefits of being right about a game.
Let's say you bet on the Warriors and Lakers to go over 220 points. With the PointsBetting product, you can get odds on every additional topic over that number. If it finishes at 230, you win 10 times your bet.
PointsBet Additional Information and Benefits
Reduced Juice on NFL and NBA Bets
If you're looking to use your bonus bets on NFL and NBA wagers, you're in luck: PointsBet has reduced the juice EVERY NFL/NBA game this season from -110 to -105. You even get reduced juice on bets you make with your bonus funds.
Booster Odds
Every day, PointsBet offers better odds on select games. While other books are offering +100 on a bet, they'll "boost" it up to +150, giving you the best odds by far in the industry.
Early Cash-Out
A little worried about how that fourth quarter will go? If you want to lock in your winnings or cut your losses, PointsBet will allow you to cash in a bet before the game ends.
Name a Bet
PointsBet offers lines on just about every sport and game you can think of, along with game and player props. But if you happen to find something they're not offering, just let them know, and they'll set odds for you to bet!
Loyalty Programs and Rewards
Bettors will gain rewards on all bets made. Further, PointsBet gives bonus bets to users: For example, make 10 NBA bets, and you'll get a $25 bonus bet for free.
Parlay Refunds
Every bettor knows just how frustrating it can be to win the first three legs of your parlay but miss on the last one to go home empty. PointsBet takes some of the risk away: If you lose just one leg in a four-plus parlay, they'll refund you up to $50.
PointsBet Customer Service
PointsBet's customer service team is available 24/7 via email (service@pointsbet.com) or live chat on their website.
PointsBet Frequently Asked Questions
Where Is PointsBet Sportsbook Legal?
What's the best promo code to use for PointsBet?
What payment methods can I use to deposit?
Can I use PayPal to deposit and withdraw at PointsBet?
How fast can I withdraw my money?
What is the minimum deposit at Pointsbet?
How exactly does PointsBet's deposit match work?
What bonus offers does PointsBet have for new customers?
What is the minimum bet amount for PointsBetting?
Does PointsBet charge a fee?
What devices can I use to bet on at PointsBet?
Do I have to go into a casino to create an account or deposit at PointsBet?
Do I have to be in a legal state to bet at PointsBet?
Do I have to be in a legal state to withdraw funds at PointsBet?
Do I have to be a resident of a state with legal online sports betting to bet at PointsBet?
How old do you have to be to bet at PointsBet?
Why does PointsBet need my social security number?
Does PointsBet offer live betting?
Does PointsBet allow bets on college sports?
Does PointsBet help users limit their risk?
What's the difference between PointsBet and Bovada?