PointsBet Promo Code
PointsBet Sportsbook Sign-Up Code July 2022
Bonuses & Promotions

Mobile App & Website

Registering & Cashiering

Betting Options

Comparison
PointsBet is a rapidly growing sportsbook brand with generous deposit offers and innovative betting options like PointsBetting and Bet Multipliers. The PointsBet app feels high end and market coverage is extensive. They have a presence in 10 states, including New York, Pennsylvania, New Jersey, and Illinois.
Sign up and use PointsBet promo code ACTION2K1 and you'll get up to $2,200 in risk-free bets — the most lucrative sign-up offer available and exclusive to The Action Network.
No promotions available. Try selecting a different location.
The Best PointsBet Promo Code for this Week & Key Takeaways
| | |
| --- | --- |
| PointsBet Promo Code | |
| PointsBet Sign-Up Bonus Offer | |
| PointsBet Bonus Requirements | New users only. Must be in a legal betting state and 21 years old. Get up to $1,600 back if you lose your first Pointsbetting wager and up to $600 back if you lose your first Fixed-Odds wager. |
| PointsBet Available Legal States | CO, IL, IN, IA, MI, NJ, NY, PA, VA, WV |
| Last Verified On | July 7, 2022 |
PointsBet Sportsbook Mobile App Key Takeaways:
Available Sports: NBA, NFL, MLB, NHL, MLS, UFC, WNBA, Tennis, NASCAR, Golf, College Football, College Basketball
Odds Pricing: PointsBet pricing is higher, with an average sportsbook edge of 5.18 across all major sports. Jump ahead to see the complete comparison.
App Experience Pros: Unique betting markets, dark mode aesthetic, high-upside refer-a-friend program
Mobile Sportsbook Cons: Less data-dense than competitors in each mobile screen view and inefficient clicks needed to initiate parlay bets
PointsBet Promo Code & Bonuses
PointsBet is an industry leader with offers: they regularly offer great weekly or daily bonuses. They often run creative promotions where you can bet popular sides and totals at reduced or no juice.
PointsBet Sign Up & Deposit Code
PointsBet has an excellent new customer offer: use the sign-up code ACTION2K1 and get up to $2,200 in risk-free bets after depositing. The T&C specifics:
Get up to $1,600 back on your first "Points Betting" wager

Get up to

$600 back on your first traditional fixed odds bet
PB also frequently offers its users reduced-juice bets and +EV daily offers. Here's an example offer: For specific NBA games, the sportsbook will give bettors bonus bets for every 3-pointer their team makes.
How to Sign Up for PointsBet & Claim the Bonus
PointsBet's registration process is straightforward. Here's how to get started:
Step 1. Click here to visit PointsBet and select your state. Click "Sign Up" in the red box located on the top right corner of the home page.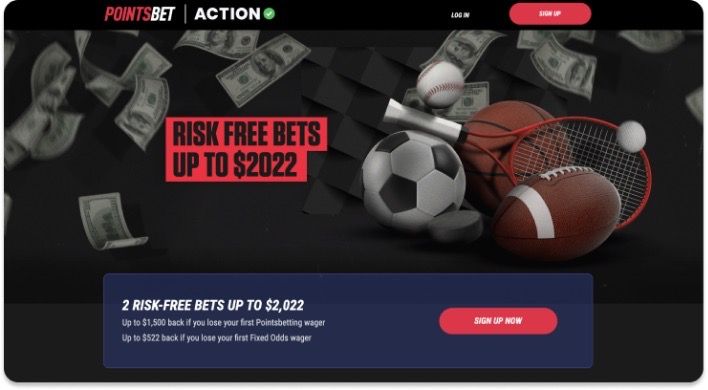 PointsBet is only available for users in Colorado, Illinois, Indiana, Iowa, Michigan, New Jersey, New York, Pennsylvania, Virginia, and West Virginia.
Step 2. Enter your location and personal details:
Enter Code (use Action's "ACTION2K1" code)

Name

Email

Date of Birth
Last Four Digits of your SSN
Mobile Number
Home Address
Create a Secure Password
Agree to the Terms and Conditions and Privacy Policy (must be 21+ years old)
Step 3. Once you click "Join PointsBet," your account is registered, and you are ready to make your first deposit and bet! The app will show you a grid of featured games on the home screen to choose from, or you can navigate to specific leagues to find something to bet on.
Step 4. Clicking on a bet cell will open the bet slip Quick Bet option, where users can enter their wager amount and place their bet instantly. For those looking to add more than one bet to their slip, utilize the "Start Parlay" feature to add more games. Depending on your preference, you can bet on each matchup individually or together as a parlay.
Step 5. After placing your bet, sit back and wait for the results. If your bet wins, you'll receive credits for the "Payout" total to your account. Your account will not change if your bet loses.
On the whole, PointsBet is a book you can trust with your money when signing up and depositing. We haven't heard of or experienced any issues, and payments are usually accepted and sent out in a very timely manner — within a couple of days but often even more quickly.
Maximize Your PointsBet Bonus Value
Here are a few resources for maximizing return on your free bets:
Learn the Terminology. What do free bet credits, free money, and risk-free bets even mean? We've broken down the best bonus types, common "gotchas" like rollover clauses and credit expirations. See our Sportsbook Bonus Type Glossary.
Place Bets Strategically. Should you bet underdogs or futures when you use a bonus bet? Walk through the math of bet types to understand how and where to uncover the upside. Bet smart with "Bonus Maximization" Strategy Advice.
Use Our Tools. Try our popular betting odds calculator or our easy-to-use parlay calculator to be confident in the accuracy of your calculations.
Additionally, if you want support to manage how and how much you bet responsibly, please review our sports betting mistakes to avoid.
PointsBet Mobile App Screenshots

Home Screen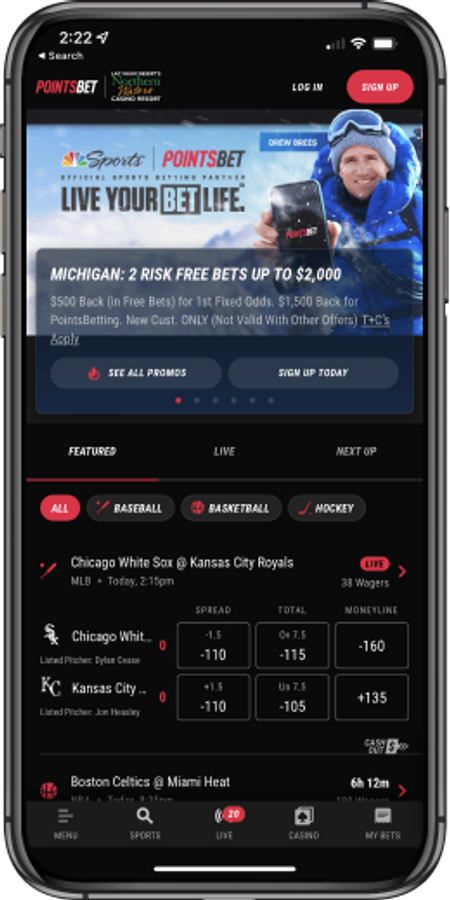 Sidebar Menu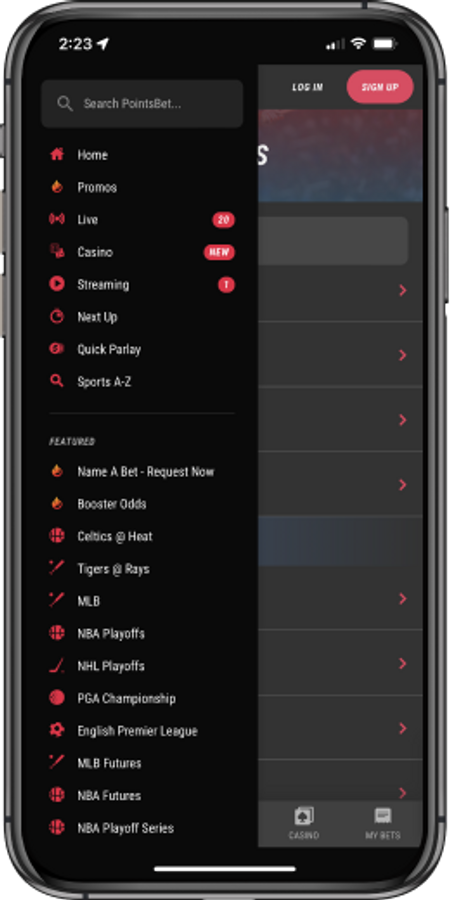 Live Betting Interface

Same Game Parlay Menu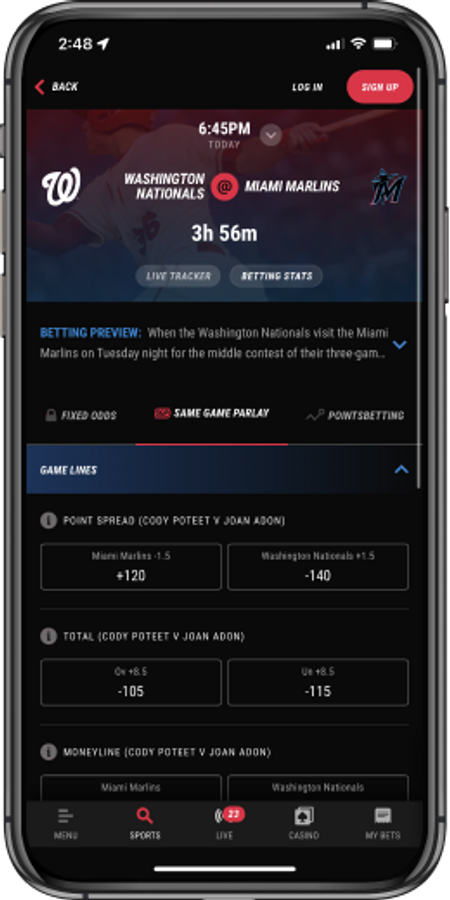 MLB Homepage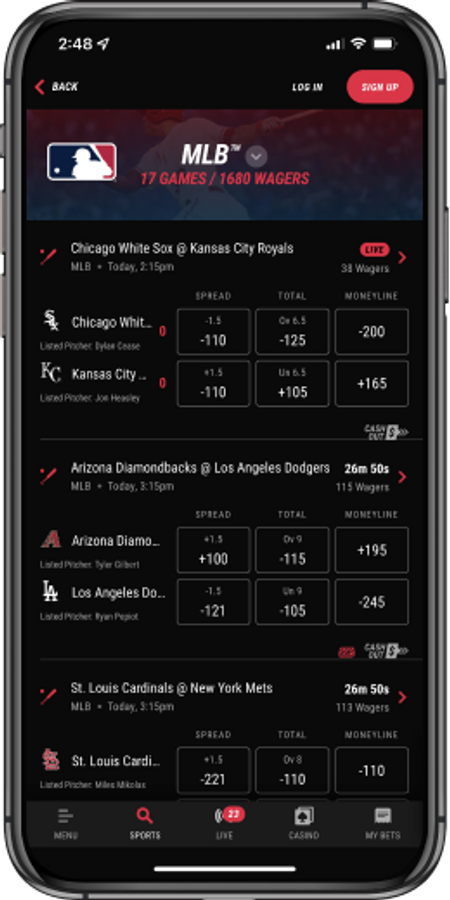 Search and Sport Selection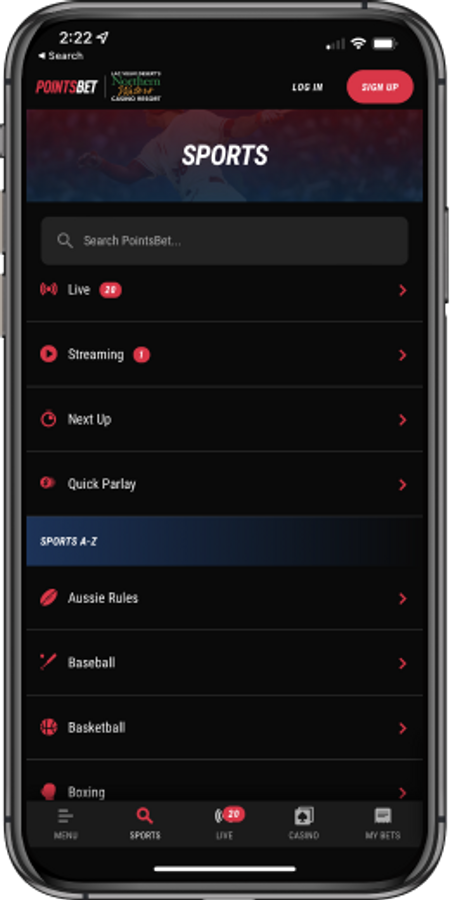 PointsBet Mobile App & Website
All in all, PB's app and site stand out as a robust mobile sportsbook option within the industry. Daily odds boosts, promotions, and the most popular betting markets are smartly organized on the homepage, making things user-friendly for new and seasoned bettors.
PointsBet Mobile App Review
Meet the Action Network Sportsbook Review Team for PointsBet
Action Network thoroughly evaluated the PointsBet sportsbook through in-house testing, data analysis, and input from experienced handicappers. Their scope of review entailed both the desktop and mobile app platforms with a specific focus on key categories such as usability, market coverage, and pricing/value offerings.
The Vegas Refund is an experienced bettor with 5.2K total bets in the Action App and 82.1K app followers (June 2022). Favorable pick records include NFL and NCAAF.
Steve Petrella
Steve Petrella is a lead Action Editor with an affinity for NHL and College Football Betting. He is also the author of much of the educational content on Action Network.
PointsBet has been one of the fastest-growing sportsbooks in the United States since 2019. Their app provides a compelling overall user experience, which we anticipate will help it continue to grow as new states begin to legalize online sports betting in the future.
How Does PointsBet Mobile App Compare to Other Sportsbooks?
We took a look at some key categories that make or break an excellent sportsbook app:
Logging in to the PointsBet Mobile App: Average
How easy is it to sign in to PointsBet?
A quick sign-in to a sportsbook is the difference between getting a last-minute wager placed--so apps need to have a streamlined process to authenticate you. PointsBet does offer a Face ID login option, so users can get into the app quickly.
PointsBet does remember user email addresses, or users can enable a pin login to speed things up. It is worth noting that the iPhone Autofill feature was inconsistent throughout our tests, increasing the amount of time it took us to get into PointsBet.
One feature that we saw as overkill was that each time we logged into the app, we would receive an email notification to alert us of a new login. Thankfully, the alert overload can easily toggle off within the account settings.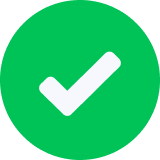 Logging in Takeaway: PointsBet offers a Face ID log in option, keeping it up to speed with major sportsbook apps such as Caesars, bet365, and theScore.
Navigation: Good
How straightforward is finding and browsing betting markets?
PointsBet navigation is straightforward and relatively easy to use, but a few quirks hold it back from being a best-in-class experience. We evaluated navigation in two buckets: organization and in-app search.
Organization
The home screen of the PointsBet app is simple enough, with a top carousel menu that showcases each major sport, featured events, live competitions, and events that are happening next for a given day.
PointsBet has a navigation menu (accessed at the bottom of the page) that enables users to scan featured events or click on a specific league. While this menu is helpful, it does dedicate a significant amount of space to in-state game personalization. When opening the app in Illinois, the featured games included the Cubs, White Sox, and Blackhawks. It is likely not an appetite to bet locally for many serious sports bettors, but rather to find the best game odds regardless of hometown affiliation. This mobile space seemed underutilized for the real estate placement.
In-game navigation is seamless once you find the content that interests you. We liked the sleek design and fast load times within PointsBet compared to most other sportsbooks. One of our only complaints regarding in-game navigation is that you cannot click on a team logo to view the contest details. Users have to specifically click on the matchup header for each game to access the details—a minor inconvenience, but one that regularly caught our attention. In addition, we prefer non-stacked player props. PointsBet requires users to expand a long list of prop bets for each contest and then scroll deep to review lines. We find a horizontal scroll feature easier to utilize and consume information.
Another oddity that we noted is that the PointsBet app does not have any type of "Home" button to take users back to the main screen. While this is not essential for a good app, we felt like a missing element to the navigation experience without an easy-to-use home button that allowed us to start fresh as we perused lines.
In-app Search:
PointsBet's search function is somewhat limited in the results it provides. Searching for "Rangers" returned only the upcoming games for the Texas Rangers and the Queens Park Rangers (Scottish Premier League). The search results do not link to anything other than the upcoming games, so users aren't able to find futures bets or anything else related to the team through that particular pathway.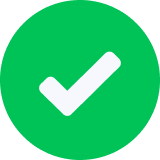 Navigation Takeaway: Navigation is primarily solid, but some noticeable quirks in PointsBet functionality and in-app search hold it back. DraftKings excels here.
Speed: Excellent
How quickly does the PointsBet mobile app update and respond to input?
PointsBet is a best-in-class sportsbook app for speed and input responsiveness. We never experienced any noticeable lag when navigating between tabs or pages within PointsBet. Seamless movement throughout the app enhances the user experience.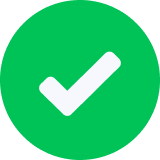 Speed Takeaway: PointsBet feels and performs like a high-tech app. Its speed and response time is second to none, and we never experienced any crashes throughout our review.
Game Data Density: Needs Improvement
How many games can you view odds for at once?
When you're looking for quick betting action, data density is everything. App design choices like font size and white space that impact layout will determine how much information a bettor has access to at any given moment without having to scroll. We tested using an iPhone 12 Pro to determine game density rankings in the mobile view on iOS. Here's what we found:
FanDuel -

4.5 Games

Tied BetMGM & DraftKings -

4 Games
Tied PointsBet & Caesars - 3 Games
PointsBet falls at the bottom of the pack regarding game data density.
Game Data Display Comparison on Mobile
| | | | | |
| --- | --- | --- | --- | --- |
| | | | | |
| 3 Games | 4.5 Games | 4 Games | ~4 Games | 3 Games |
| | | | | |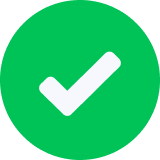 Density Takeaway: FanDuel, DraftKings, and BetMGM are better options than PointsBet regarding game data density.
Bet Slip Experience: Average
How intuitive and seamless is the bet slip experience?
Bet slips are a defining feature in a sportsbook because they facilitate the main objective of a sports betting app--placing bets. PointsBet's bet slip is a mixed bag as it is easy to find and use, but some of the app's actual betting functionality can aggravate bettors. Here are a few key points that we noted when examining the PointsBet bet slip:
The bet slip is easy to find and quick to load from the bottom navigation bar.

Deleting bets from the bet slip can be tricky using the symbol of the small, left-aligned trash can.

The bet slip does not automatically generate parlay options when multiple bets are added. Users must select the "Start a Parlay" option to generate combined odds.

You have to enter a specific Same Game Parlay section within the game details to utilize this functionality instead of simply adding it to the bet slip to be parlayed. FanDuel stands out as a sportsbook that allows users to create the same game parlays within the bet slip directly.

A half-screen bet slip will appear for users to make a "Quick Bet" when clicking on a bet. However, if you click out of that Quick Bet slip, your selection will not be saved as you look through other lines. This was frustrating when browsing odds in our testing.

Our biggest complaint with PointsBet is that you can only place one bet at a time rather than submitting several at once via the bet slip. We did discover a workaround, though, where users can select the "Start Parlay" option and then bet each wager individually from the bet slip later on, but this was not by default or intuitive.
Like many other sportsbooks, PointsBet also has a "My Bets" feature. This is where users can track their upcoming, pending, and settled bets. Here are our notes for PointsBet:
My Bets is well organized with upcoming bets, bets in progress, and settled bets for users to track their wagers.

The filter option is great for users to see how all of their bets fared over time. However, the date range is not very customizable.

Users can also track Cash Outs from the My Bets section of the app, where they withdrew their money from a contest before it concluded.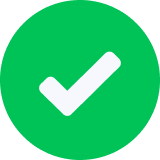 BetslipTakeaway: While the bet slip is simple and easy to use, difficulties in placing multiple bets at once and saving selections to the bet slip leave PointsBet trailing behind competitors like Caesars and FoxBet.
Mobile App Review & Comparison Summary
Sportsbook Selection Criteria
PointsBet Standing
Best In Category
Ease of Logging in
Average
Caesars,

bet365,

theScore
Navigation
Good
DraftKings,

FanDuel
Speed
Excellent
PointsBet, FanDuel, DraftKings
Game Density
Needs Improvement
FanDuel,

BetMGM, DraftKings
Bet slip
Average
Caesars,

FoxBET
Jump ahead to see how PointsBet stacks up against other big brand sportsbooks pricing-wise.
Customer Feedback on PointsBet Mobile App
In addition to our experts' analysis, we have distilled what is available in the Apple App Store and Google Play to provide a broader sample size for this PointsBet assessment. Here are the advantages and challenges that the users have shared about their experiences using PointsBet:

PointsBet Mobile App Reviews in the Apple App Store

#59 in Sports - 4.7/5 Stars - 18.3K Reviews (June 2022) - Download at the Apple App Store
| | |
| --- | --- |
| iOS User Positives | iOS User Negatives |
| Fantastic futures. App users expressed how unusual the breadth of futures PointsBet offered is — coverage they'd struggled to find elsewhere. This is your book if you're a fan of betting futures odds. | Exclusion from promos. Users were frustrated that after using the app for a while, they no longer qualified for promotions designated for "recreational" players (implying they were more involved bettors). The lines here are subjective, but we hope a more significant % of the audience can continue to access attractive offers. |
| Sleek & stable. When lining PointsBet up against majors like BetMGM or FOX Bet, users praised the speed and lack of crashing issues they'd encountered while using PB. | Log in is inconvenient. PointsBet doesn't save login info, Face ID, or pin, so users need to log in after 10 minutes of no activity manually. For live bettors, this was a sore point in their experience. |
PointsBet Mobile App Reviews in Google Play/Android Store
4.6/5 Stars - 4,519 Reviews (June 2022) - Download at the Google Play
| | |
| --- | --- |
| Android User Positives | Android User Negatives |
| Fantastic referral program. Users praised PB for generous referral bonuses and consistently acknowledged and kept bettors playing with their friends. | Promotional payouts follow up. Users cited needing to follow up with Customer Service to see payouts on promotions, something they wished would be more seamless and convenient. |
| Easy to navigate. A common theme is the PointsBet app is praised for is that it is easy to find what you're looking for, even as a new user. | Inconsistencies with opt-in to promos. A common theme was that users struggled to have their promotional "opt-ins" acknowledged by PB, and CS representatives had trouble accessing reliable records on the issue. |
Pointsbet Sportsbook Reviews on Reddit
The court of public opinion can offer valuable insight when selecting a sportsbook. Here is what Reddit users had to say about the Pointsbet Sportsbook:
| | |
| --- | --- |
| Reddit User Positives | Reddit User Negatives |
| Sleek App Interface: The app is revered by this community as one of the best. The dark background and sharp reds are visually pleasing. | Lack of Customer Service: Many comments were made about slow customer service and when users were contacted, they did not get the answers they were looking for |
| Pointsbetting Option: The ability to win a multiplied amount from your bet appeals to redditors. | Not Enough Promos: Once you sign up and use our Welcome Offer (ACTION2K1), users say that promos are not offered as often as other books. |
| Name a Bet: Pointsbet allows you to suggest a bet if they don't offer it. Users say that this allows them to have a voice in the bets that are offered. | Incorrect Lines: Various redditors report being limited or even banned after betting large amounts on mispriced odds. |
PointsBet Web Experience Review
The desktop experience at PointsBet is very similar to the app, and it's pretty easy to navigate to sports, find promotions, and more.
PointsBet's current navigation's biggest drawback is that it can be difficult to find secondary markets within sports. For example, if you navigate to the "basketball" section looking for various NBA futures markets, those are not listed on that main page. Instead, you have to go to "All comps" on the top right, where you can then use dropdown navigation to find those smaller markets and futures. Things are smartly organized once there, but those markets can be challenging to locate when you first start using their website.
The desktop site can also get a little cluttered with pictures and promotions, but overall it's a positive experience.
Funding & Withdrawals at PointsBet
Depositing and withdrawing funds with PointsBet is not unlike most other sportsbooks. There are some restrictions based on where users are located, but there are unlikely to be any issues with bankrolling your account for the most part.
Deposit Options
One disadvantage of PointsBet, depending on where you're betting from, is that they offer fewer deposit and withdrawal options than competitors. In New Jersey, the possibilities are about the same as most books. Current deposit options include:
Online Banking

PointsBet Mastercard

PayPal

ACH/Check

Credit/Debit Card

PayNearMe
But in Indiana, bettors cannot use credit cards to deposit. The options there include ACH, online banking, PayNearMe, and PayPal.
Withdrawal Options & Payout Speed
One of the best things about betting with a legal online book and casino in the U.S. is you never need to worry about your money or being defrauded. Sportsbooks and online casinos must set up a liability fund that operates separately from their expenses. Further, an independent entity in each state regulates them, giving books strict rules about protecting users' money. PointsBet offers the following withdrawal options:
Online Banking

PayPal

ACH/eCheck

Cash Options at Physical Locations (NJ, IL, IA only)
Users can expect a typical payout time of one to five days, depending on the withdrawal method.
PointsBet vs. Other Sportsbooks in Pricing





While deposit offers, promos, and user experience are crucial factors in selecting a sportsbook, the most sophisticated bettors are often worried about the price. We can compare books in this regard in a couple of ways:
Juice: Also referred to as the "vig," this is the tax a sportsbook charges for a bet. The standard odds for a spread bet is -110, which means you have to pay $110 to win $10. That extra $10 is the tax.
Hold: Like the juice, a hold is defined as the percentage a sportsbook keeps for every dollar wagered. It's a better metric to measure for moneylines, for example.
In states where betting is entirely online and not regulated by the state lottery, most online U.S. books have standard juice on your typical bets. Take, for example, the juice on spread bets for the NFL. There's no significant difference between sportsbooks: Getting -110 on both sides is common for the spread and the over/under.
By Sport Pricing Comparison: PointsBet vs. FanDuel vs. DraftKings vs. Caesars vs. BetMGM
As part of being a savvy sports bettor, line shopping across books is a valuable process to engage in. Our expert handicappers have made some of these comparisons based on in-depth data analysis for you to help illustrate the value of line shopping, and the best sportsbook for different bet types and sports, on average.
Sportsbook Pricing Analysis parameters:
Data collected from 1/1/2021-4/1/2022

Used closing odds (the odds 30 minutes before game-time) in calculations

Each data point is the average book-edge for the month

Each # is represented as a percent of the book's edge

The book with the lowest average book edge is considered to have the best price.

Best Pricing: Sportsbook Edge Averages by Sport (All Markets)
| | | | | | |
| --- | --- | --- | --- | --- | --- |
| | | | | | |
| NFL | 4.57 | 4.58 | 4.55 | 4.43 | 4.85 |
| NBA | 5.76 | 4.55 | 4.56 | 5.47 | 4.74 |
| MLB | 4.83 | 4.48 | 4.58 | 3.86 | 4.72 |
| NCAAF | 5.19 | 4.75 | 4.60 | 4.56 | 4.88 |
| NCAAB | 5.29 | 4.68 | 4.54 | 4.54 | 4.70 |
| Total | 5.18 | 4.66 | 4.62 | 4.71 | 4.74 |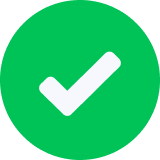 PointsBet vs. Others Sportsbook Pricing Summary:
PointsBet has the highest average price across all sports compared to other major sportsbooks
Caesars

had the best pricing for NFL, MLB, NCAAF, and NCAAB
BetMGMexcelled with NBA pricing, whereas Caesars was the most expensive
FanDuel excelled with NBA pricing, whereas Caesars was the most expensive
DraftKings showcases the best overall average pricing despite not outperforming other sportsbooks in any single sport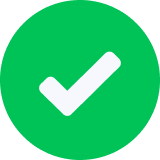 Pricing Summary for Specific Markets:
PointsBet Moneylines. PointsBet has the highest average moneyline pricing (5.00) compared to other sportsbooks. Caesars dominates moneyline pricing overall (4.03) as well as across most individual sports: NFL (4.06), MLB (2.87), NCAAF (4.14), and NCAAB (4.00).
PointsBet Spreads. PointsBet offers the best NFL spread pricing (4.16) compared to other sportsbooks. This is significant as NFL spread betting is one of the most prolific markets across the entire industry. DraftKings (4.69) had the best average pricing across all sports, while Caesars excelled in MLB (4.06) and NCAAF (4.67).
PointsBet Totals. PointsBet, once again, has the highest average pricing (5.40) in the totals market as well. BetMGM features the best overall pricing (4.81), while Caesars took the top spot for MLB (4.67) and NCAAF (4.69).
How much does "Sportsbook Pricing" matter?
These pricing differences are most apparent when the moneylines get bigger. For example:
Even though PointsBet has a slightly worse price on the Chargers, it has a much better price on the Rams, and overall there's less vig on this market than at FanDuel. Over hundreds of bets that start to add up.
To learn more about the benefits of line shopping your odds, here's an overview from Action Network's Matt Mitchell. He's a seasoned bettor and oversees the flagship Action Network Podcast.
Betting Options & Sports Market Coverage
PointsBet does not always feature the most niche sporting contests or betting markets, but it is consistent in its coverage of the popular markets in which bettors are most interested. In addition to some of the most standard sports contests, you can find a bevy of player props available for football, matchups for golf, finishing position markets for NASCAR, etc. Originally founded in Australia, PointsBet continues to increase its popularity across the United States, making them a sportsbook worth considering for new and veteran bettors alike.
Sports Markets Offered
PointsBet has not been known to open any markets or be one of the first to post their lines for an event in their short time here in the United States. They typically post their odds following the lead of other more prominent players such as FanDuel or DraftKings and, in some cases, other offshore market leaders. This is not much of a concern for most bettors, mainly because PointsBet is always competitive with other sportsbooks once they release their odds for events. Here are the advertised sports markets that PointsBet covers throughout the year:
Football (NFL, NCAA, USFL, CFL)
Basketball (NBA, NCAA, WNBA, European, Asian, Australian, and South American Leagues)
Baseball (MLB, NCAA, Japanese League)
Hockey (NHL)
Soccer (European Leagues, Champions League, Europa League, MLS, World Cup, South American Leagues, Asian Leagues, Australian Leagues)
Golf (PGA)
Tennis (ATP, WTA)
Fighting (Boxing, UFC, Bellator)
Motorsports (NASCAR, IndyCar, Moto GP)
Rugby (Aussie Rules, Rugby Union, European Leagues, Australian Leagues)
Darts (Premier League Darts, PDC)
Cricket (IPL, ICC)
Cycling (Cycling Events)
Bettors have the opportunity to place bets ahead of any sports contest, but for many games, they are also able to enjoy live, in-play betting as well.
PointsBet Bet Types Available
PointsBet offers various betting options, from traditional spreads and moneylines to more unique and proprietary bet types. Here is a complete list of available bet types that users can expect to find when using the PointsBet sportsbooks:
PointsBet App Screenshot
Bet Type & Example

Point Spreads: Spread betting is a bet on the margin of victory (the # of points won) in a game.

Milwaukee Bucks -3 over the Chicago Bulls in a Point Spread at PointsBet

Moneyline: Moneyline betting is when you pick the outright winner of a game or event.

Milwaukee Bucks are the favorite at -140 over the underdog Chicago Bulls at +120

Totals: Totals, also known as an over/under, are bets on the number of points both teams will combine to score in a game.

Pick either "Over" or "Under" 222.5 total points to be scored in the upcoming Bucks vs. Bulls game

Half Bets: Half-bets or Quarter bets let a bettor treat the first and second half as separate matches. Depending on the sport, you can also bet quarters as individual wagers.

1st Quarter spread options for Milwaukee Bucks vs. Chicago Bulls

Prop Bets: Short for a proposition, Prop bets wager that is not directly tied to the final score or outcome.

Player props for individual players to score "Over" or "Under" a certain amount of points for the Bucks vs. Bulls contest

Futures bets: Futures bets are a bet on an event that will be decided in the future (e.g., end-of-season results).

PointsBet futures odds for the NBA Finals winner
These are just some of the standard bet-type options available on PointsBet. In addition to these traditional bets, PointsBet also offers a few featured betting options unique to their sportsbook.
PointsBet Featured Bet Types
PointsBetting
PointsBet markets itself as one of the most innovative sportsbooks in the industry. To that end, they've created an entirely proprietary bet type known fittingly as PointsBetting. PointsBetting is a high-risk, high-reward betting option. PointsBet summary of the feature is simply: The more you're right about a bet, the more you win. The more you're wrong about a bet, the more you lose. Here's how it works:
Unlike traditional sports bets, your profits (or losses) are based on how many points you win or lose your bet by. If your bet won by two points, you would win twice the amount of money wagered. Conversely, if your bet lost by two points, you'd lose twice the amount wagered. PointsBetting can be confusing at first, so here is a look at it in action with a real contest.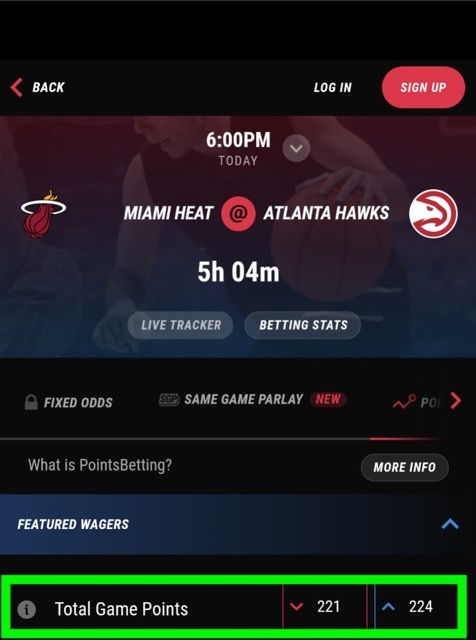 For this Miami Heat vs. Atlanta Hawks game, we decided to PointsBet the Total Game Points. Like a regular totals bet, the user must select whether the game will score over or under a designated amount. In this case, PointsBet set the under for 221 points and the over for 224 points. We will take Under 221 points with a $10 wager for this example. This means that both teams have to combine to score 220 points or less for this bet to win. We'll play this out in a winning and losing scenario.
Winning at PointsBetting
The combined final score of the Heat vs. Hawks game comes out to 219 total points. Since we bet under 221 points, we would win this wager. We won the bet by two points in this scenario since the total score was two points below the set line. As a result, our winnings would be doubled (winnings are multiplied by every additional point right in your favor). So $10 x 2 = $20 in profit. The same multiplying principle holds if the score had been even more dramatically in our favor. For example, if the total points scored was 211, the result would be $10 x 10 = $100 in profit. Being on the right side of a PointsBet wager is a quick way to make significant money.
Losing at PointsBetting
While you can win a lot of money quickly through PointsBet, the opposite is true. Using the same game as an example, let's say that the contest finished with a combined total score of 226. This would mean that we lost our wager by five points. In other words, our losses would be five times our total bet, or $10 x 5 = $50 in losses. So, as quickly as you can win big money with PointsBetting, you can lose it quickly.
PointsBetting requires a fairly significant account reserve to cover potential losses. One thing that PointsBet does allow users to do, depending on the bet type, is set limits on the number of points they are willing to risk. This can limit the damage taken, but minimize your overall payout potential.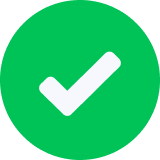 Takeaway: PointsBetting is not for the faint of heart. Big wins can quickly turn into significant losses. While this is a unique spin on sports betting, we recommend that beginners and casual bettors stick to more traditional bet types to avoid going through their bankroll quickly.
Bet Multipliers
Bet Multipliers are another unique feature that PointsBet offers in many of its contests. Multipliers can also be a little confusing for beginners or casual bettors. Here's an example of bet multipliers using the same Heat vs. Hawks matchup discussed above.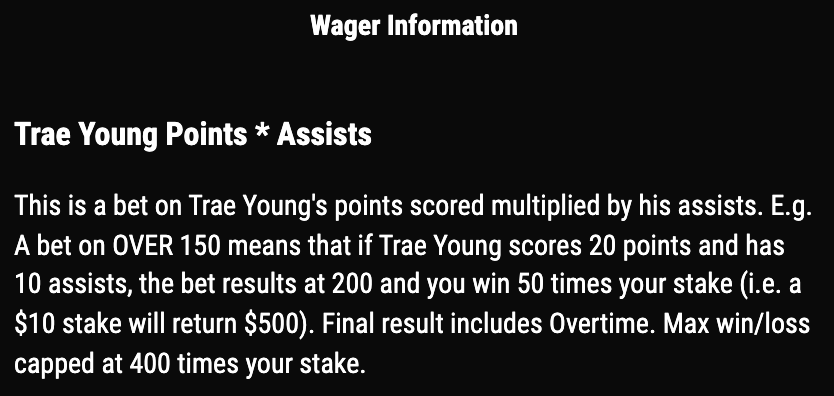 In this multiplier option, we are wagering on Trae Young's total points scored multiplied by his total number of assists in the game is either above 285 or below 247. Let's say that we bet Under 247. A potential winning stat line for this bet could be 20 points x 10 assists = 200. Conversely, a losing stat line could look like 30 points x 9 assists = 270. For those betting Over 285, Trae Young will need to have a great game to win!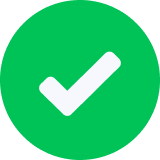 Takeaway: Multipliers are an exciting take on in-game action for those looking for something different from traditional bet types. Overall, our team felt like the odds were not usually favorable enough to be a consistent bet type to consider.
PointsBet BetSync Bet Tracking in the Action Network App
PointsBet Sportsbook and Action Network have teamed up to offer BetSync, allowing you to link your PointsBet Sportsbook account directly to your Action login. Once your sportsbook is connected, the bets made at the sportsbook will automatically sync to your Action profile. PointsBet network Action Network BetSync eliminates the process of manually entering your picks.
Benefits: Bets automatically track, live win probability on your tracked bets is visible in the app, and you can now join the Action Leaderboard.
Learn more: BetSync PointsBet Education
MLB Game Odds: San Francisco Giants vs. San Diego Padres
Below is a selection of odds for the upcoming MLB game: Updated July 7, 2022 - Odds Provided by PointsBet - Subject to Change
| | | | |
| --- | --- | --- | --- |
| Team | Spread | Moneyline | Total |
| | (+1.5) -206 | +115 | Over 6.5 (-115) |
| | (-1.5) +170 | -136 | Under 6.5 (-105) |
PointsBet Futures Odds
Here are the MLB World Series futures odds offered by PointsBet Sportsbook: Updated July 7, 2022 - Odds Provided by PointsBet - Subject to Change
| | |
| --- | --- |
| 2021/2022 MLB Team | PointsBet Futures Odds |
| New York Yankees | +400 |
| Los Angeles Dodgers | +450 |
| Houston Astros | +550 |
| New York Mets | +700 |
| Atlanta Braves | +900 |
| Toronto Blue Jays | +1200 |
| San Diego Padres | +1400 |
New Markets: PointsBet NY & Canada
PointsBet Ontario Update
PointsBet was launched in Ontario on April 4, 2022. Ontario will be the first Canadian province with legalized online sports betting.
PointsBet announced a new partnership with the major sports reporting and analysis companies Daily Faceoff and The Nation Network. PointsBet hopes to become the go-to choice for hockey in Canada sports betting through these partnerships. Furthermore, PB announced that they had hired Nic Sulsky as Chief Commercial Officer for their Canadian operations. Lastly, Curling Canada has signed a partnership with PointsBet to grant them exclusive marketing rights for sports betting and online casino games across all of Curling Canada's broadcast and digital properties.
On Jan. 10, PointsBet announced a partnership with the NHL Alumni Association to be Canada's exclusive sports betting partner. The deal also includes status as an official partner in the U.S.
PointsBet Ontario Expected Launch Date: April 4, 2022

PointsBet New York is Live!
The Australian-based sportsbook is live in New York as of Jan. 27, 2022. Furthermore, PointsBet has existing partnerships with the NFL, NHLAA, Curling Canada, NASCAR, and the PGA Tour, so users can expect to have a variety of sports to bet on in The Empire State. Additionally, PointsBet is also a partner of Genius Sports, allowing them to provide official NFL data and content for their users. Expect Points Betting to be a hit in New York online sports betting.
Launch Date in New York: Jan. 27, 2022
Additional Information and Benefits About PointsBet
Spending Controls
Most legal sportsbooks have self-imposed limiting controls, and PointsBet is no different. These are effective ways to stop yourself from betting too much if it's becoming a problem or being proactive about setting healthy limits for yourself. We recommend configuring whatever setup helps you maintain responsible boundaries and educate yourself. The controls offered include:
Pre-commitment limits: Set a limit on how much you can deposit in 1, 7, or 30 days.
Self-exclusion: Stop yourself from betting during a specific period or permanently.
Cool-off period: Stop yourself from accessing the site or app for a specific time.
In addition to the PointsBet-provided resources, The Action Network has developed bankroll management educational materials to help ensure bettors have fun and establish sustainable behavior.
Reduced Juice on NFL and NBA Bets
If you're looking to use your bonus bets on NFL and NBA wagers, you're in luck: PointsBet has reduced the juice for EVERY NFL/NBA game this season from -110 to -105. You even get reduced juice on bets you make with your bonus funds.
Booster Odds.

Every day, PointsBet offers better odds on select games. While other books are offering +100 on a bet, they'll "boost" it up to +151.28, giving you one of the best odds in the industry.

Early Cash-Out.

A little worried about how that fourth quarter will go? If you want to lock in your winnings or cut your losses, PointsBet will allow you to cash in a bet before the game ends.

Name a Bet.

PointsBet offers lines on just about every sport and game you can think of and game and player props. But if you happen to find something they're not offering, just let them know, and they'll set odds for you to bet!

Loyalty Programs and Rewards.

Bettors will gain rewards on all bets made. Further, PointsBet give bonus bets to users: For example, make 10 NBA bets, and you'll get a $25 bonus bet for free.

Parlay Refunds.

Every bettor knows just how frustrating it can be to win the first three legs of your parlay but miss on the last one to go home empty. PointsBet takes some of the risk away: If you lose just one leg in a four-plus parlay, they'll refund you up to $50.
Customer Service
PointsBet's customer service team is available 24/7 via email (service@pointsbet.com) or live chat on their website.
PointsBet Sportsbook FAQs
Where Is PointsBet Sportsbook legal?
PointsBet initially launched in New Jersey and is now live and offering online betting in the following states:
They've quickly expanded since 2018, and we expect them to continue to launch into new states as more legalize online sports betting.
What's the best promo code to use for PointsBet?
Use the sign-up code ACTION2K1. Click this link, create an account, use the code and make a deposit. As a new user, you'll receive two risk-free bets up to $2,200. This comes from up to $1,600 back on your first "Points Betting" wager and up to $600 back on your first normal bet.
How fast can I withdraw my money?
This is one of the bigger benefits to using a legal U.S. sportsbook like PointsBet: You'll be able to both deposit and withdraw funds very quickly. Withdrawals can take up to around 24 hours, but oftentimes it's much faster if you use online banking.
What is the minimum deposit at PointsBet?
If you deposit via credit card like Visa or Mastercard, the minimum deposit is $5. Note, however, that the deposit match is directly tied to how much money you first put into your account.
How exactly does PointsBet's deposit match work?
If you're an Action Network user, you'll receive two risk-free bets up to $2,200. This breaks down to up to $1,500 back on your first "Points Betting" wager and up to $521 back on your first normal bet. Not bad, right?
What is the minimum bet amount for Points Betting?
The minimum stake is $0.50.
Does PointsBet charge a fee?
There is no fee for creating an account or depositing or withdrawing funds. However, like all sportsbooks, PointsBet does charge a tax — also called the "vig" or "juice" — which is the price of making the bet. For most bets, the vig is 10%, which means you'd have to bet $110 to win $100. PointsBet does often offer lower juice, though. For instance, for NFL and NBA spreads, they charge just a 5% fee, which means you'd have to bet $105 to win $100. That is the lowest vig you'll find at any sportsbook in the world.
BetSync is a proprietary technology created by The Action Network that works with sportsbook platforms like PointsBet. All PointsBet users currently have access to BetSync, which allows users to sync their bets directly from PointsBet onto the Action app. From there, the Action app will track your bets, give you live win probability on those bets, highlight your long-term ROI and much more.
How old do you have to be to bet at PointsBet?
You must be at least 21 years old to open an account and bet at PointsBet.
Why does PointsBet need my social security number?
Because PointsBet is a legal book regulated by state governments, they have to verify the identification of new users. That's the only way your information will be used, and you can be confident your identity is safe.
Does PointsBet offer live betting?
Yes, users can live bet most markets both on their website or in their app.
Users can cancel a bet within 15 minutes of placing it by calling 833-338-PBET. Cancellations are at the discretion of PointsBet.
PointsBet was originally founded in Australia, where it still operates as a sportsbook. They announced their IPO on the Australian Securities Exchange in June 2019. Since then, they've launched in Colorado, Illinois, Indiana, Iowa, Michigan, New Jersey, New York, Pennsylvania, Virginia and West Virginia.
Yes, PointsBet is legit. They are a legal U.S. sportsbook and are fully regulated by state governments. They have to report earnings, pay taxes and protect user information like any other U.S. business.
Claim Bonus Offers from Other Sportsbooks