Bonuses & Promotions

Mobile App & Website

Registering & Cashiering

Betting Options

Comparison
Parx is a trusted brand in the Pennsylvania betting space, and we expect they'll expand into other states in the coming years as well. Their sportsbook app isn't as sleek as those of the bigger brands like DraftKings or FanDuel, but given the number of different betting markets they list, they're a worthy book to add to your portfolio. They consistently offer solid new user sign-up offers, and we've consistently heard that bettors like the simplicity of the book, as well as fast deposits and payouts.
Parx Sportsbook Offers
$500 Risk-Free First Bet
Claim Now
If 1st bet loses, refunded $500
Simplified bet tracking with BetSync
Key Takeaways
| | |
| --- | --- |
| Parx Sportsbook Promo Code | To get a risk-free bet with a 20% boost up to $500, sign up here and use the promo code "20BOOST." |
| Parx Sportsbook Promo Details | Up to a $500 risk-free bet PLUS a 20% profit boost if your first bet wins. Note that the risk-free bet completely depends on how much you deposit, and it's available for just your first bet. That means if you deposit $10 and make a bet with that amount, that will be your risk-free bet. To get the maximum amount of $500, make sure to deposit and bet with that amount. Whatever winnings you make from that risk-free bet, you'll need to roll it over one time. |
| Where You Can Use the Parx Sportsbook App | Parx is a fully legal, regulated online sportsbook and you can play in: Pennsylvania. |
| Sports You Can Bet on With Parx | NFL, NBA, MLB, NHL, soccer, tennis, boxing, UFC/MMA, NASCAR, golf, college football, college basketball and more. |
| Charges to Expect From Parx | There is no fee to create an account or to withdraw or deposit money. All sportsbooks charge "juice" or "vig" on each bet, which is 10% on standard bets. |
Parx Review Summary
Bonuses & Promotions

Parx's regular sign-up offer is pretty standard across the industry: up to a $500 risk-free bet. They require bettors to roll it over just once, although those funds then have to be used within 10 days. That's fairly quick, although it's not very difficult to hit especially during football season. They also offer an extra 20% profit boost on top of the risk-free bet. They also consistently offer event-based promos throughout the year. An example is winning $100 on a $25 bet if the local Philadelphia Eagles score a touchdown. Those offers have to be rolled over as well, but the time limit doesn't exist. Like other books, they also list regular odds boosts and offers to existing users to continually give value to their customers.

Mobile App & Website

Parx's site and app are simplistic, which some users like, but they are not as sleek as other books. They try to fit too much onto each screen, which can sometimes make it tough to see all of the markets for a particular game. It does the job and works just fine, but you likely won't be wowed by the product.

Registering & Cashiering

We haven't experienced issues depositing or withdrawing funds at Parx, and because they're a legal book in Pennsylvania, you don't have to worry about the safety of your account or money. They're a legal, regulated sportsbook, so you can rest assured your credit card or bank account information is completely safe. Parx gives a variety of deposit and withdrawal options, and we've heard that payouts are easy and made quickly.

Betting Options

Parx uses the same odds provider as a bunch of other U.S. books, so their odds can be fairly uniform against the market. Where they stand out, though, is by offering more sports and markets than their competitors, especially more niche ones like darts, rugby and more.

Parx vs Other Sportsbooks

Since Parx uses Kambi, their odds are very similar to those of other major U.S. sportsbooks. They certainly have competitive odds, although their holds for some markets like futures can be a little high. Where they stand out in the market is with simplicity, good customer service and a nice variety of betting markets.
Parx Sportsbook: Mobile App Review
Bonuses & Promotions
Betting on sports is difficult, especially when you consider the "juice" or "vig" — the tax a sportsbook takes on each bet. That's why taking advantage of sign-up offers, odds boosts and +EV (positive expected value) situations are critical to building a bankroll. Most large books in the U.S. offer these things — they have to be competitive for users — and Parx is no exception.
If you sign up with The Action Network at Parx, you'll get a very solid sign-up offer: Up to a $500 risk-free bet PLUS a 20% profit boost if your first bet wins. A lot of books will give you either/or — Parx is giving you both.
Note that the risk-free bet completely depends on how much you deposit, and it's available for just your first bet. That means if you deposit $10 and make a bet with that amount, that will be your risk-free bet. To get the maximum amount of $500, make sure to deposit and bet with that amount.
Make sure to pay attention to the fine print, which we'll lay out here so you don't have to dig for it: Whatever winnings you make from that risk-free bet, you'll need to roll it over one time. A lot of books, especially offshore ones, require much more heavy play-throughs, so this is a solid offer. A "rollover" just means you have to bet the amount of your winnings one time before you can withdraw them to cash.
One more fine-print detail: You have 10 days to roll over those winnings before they expire. That's likely not a major problem during the fall when there are a ton of sports like the NFL, NBA, college football, etc. going on — but make sure you don't just sit on it for a couple of weeks.
Mobile App & Website
Parx launched its online sportsbook in Pennsylvania back in the summer of 2019. Parx's app is very easy to use, especially when trying to locate and place a bet quickly. And even better: Parx is a BetSync book, meaning any bet you place will be automatically synced to your Action Network account. All in all, Parx's website and the app are reliable, albeit fairly simplistic and old-school.
Web Experience
When visiting the site for the first time, most users will land on Parx's casino homepage; to find the sportsbook, you have to click the drop-down menu on the top left of the screen and click "Sportsbook." That's not the best user experience, although it's a reasonably intuitive experience once you find the book.
The navigation is set up well, with the sports all listed on the screen's left side and the bet slip experience on the right. It's easy to quickly find the sport you want to bet, although it can be a little challenging for bettors at that point.
For many sports, the bet type doesn't fit neatly into the bet cell — the thing you click to add a bet — so it can be challenging to find what bet you want to make. Once you click the chance into your bet slip, the process is user-friendly and smooth, but the page is just a little too cramped when navigating a bunch of games on a slate.
Once you click into a game to find secondary markets, player props, etc., the markets are more neatly laid out, which is a positive. And that's important given how many different sports and markets they offer — more than other books that also use Kambi (their odds provider).
To summarize: Parx's website and the app won't blow you away, and it's got some display issues — but most importantly, it's reliable and gets the job done. Given their other strengths, they're worth adding as a book if you're in Pennsylvania.
THE GOOD
Positive App Feedback from Action & Users
Simplicity. Whereas a lot of books can confuse you with a ton of boosted odds and specific promos right on the front page, Parx keeps things simple. Once you get to the sportsbook, they make sure to highlight the most popular betting markets.
Good customer service. We've consistently heard from Parx users that the customer service is very helpful. Most of the other major U.S. books make you send in an email or fill out a form — Parx has those options, too, but you can also live chat to take care of problems that arise immediately.
Reliable and fast payouts. We've also heard that the deposit and withdrawal process are easy, which is not something to be overlooked. When selecting a book, you want to make sure you can easily get your money in and out when you want to.
THE BAD
Negative App Feedback from Action & Users
Site-wide navigation and display.

The Parx site and app aren't as sleek as those of other books, and while some users like the simplicity, it can often be difficult to read odds or find certain markets.

Focus on casino. When you first navigate to the site or app, you'll be confronted with a lot of advertisements for Parx's online casino. You have to navigate to the sportsbook from there.
Slow loading times. As mentioned above, the tech is a little behind some of the bigger books. We've noticed that it takes a bit longer to load the app and navigate through it. It's reliable, but that can be challenging when you're trying to quickly log on to grab a line that's about to move.
Registering & Cashiering
Sportsbooks and states can vary in their deposit and withdrawal rules, whether it's due to a book's policy or regulation within each state that has legalized online betting.
Parx is definitely among the best in terms of getting money on and off the site/app, and of the users we've gotten feedback from, they've consistently said that payouts were easy and safe. Further, we've heard that Parx has good customer service, so you can be confident any problems will be resolved in a timely fashion.
Creating an Account Requires
Creating an account at Parx is painless. You're required to enter some basic info, but nothing more than what other sportsbooks ask for. If Parx can't verify your identity using these details, they may ask you to submit other proof of identity, like a photo of your license or passport. We haven't heard many problems with Parx in this regard.
| | |
| --- | --- |
| First name | Email |
| Last name | Address |
| Date of birth | Last four digits of SSN |

Payout Speed
Perhaps the best thing about betting at a legal, regulated sportsbook in the U.S. vs. an offshore sportsbook is not worrying about deposits or payouts. You know you'll get any money owed returned, and your bankroll funds are secured because sportsbooks like Parx are required to set up a liability fund that operates separately from their expenses. U.S. books are regulated by gaming bodies — typically either a casino commission or the state's lottery board — who make sure consumers are protected.
The easiest and quickest way to withdraw money from your Parx account is via online bank transfer, but you can also have a check mailed to you or get cash at the casino cage if you'd prefer. Parx has a wide variety of deposit and withdrawal options, including:
| | |
| --- | --- |
| Bank account | Credit card |
| Prepaid Parx card (Play+) | Casino cage |
| Debit card | eCheck |
Notably, however, you cannot use your Paypal account at Parx currently.
Spending Controls
Legal sportsbooks in the U.S. are hyper-aware of responsible gambling concerns and give users a ton of options to safely bet. We recommend configuring whatever setup helps you maintain responsible limits, and educating yourself. The controls Parx offers include:
Deposit limits: You can set up a limit on how much money you're allowed to put into your account over a certain period of time.
Wager limits: You can make sure that your bets don't exceed a certain size, as well as limit yourself to a total wager amount across a certain period of time.
Time limit: You can set a cap on the number of hours you want to be on the sportsbook site or app.
Self-exclusion and time out: You can lock yourself out of your account for a certain period of time.
In addition to the Parx-provided resources, The Action Network has developed bankroll management educational materials to help ensure bettors have fun and establish sustainable behavior.
Betting Options
Parx uses Kambi, an odds provider for a bunch of U.S. sportsbooks. That means Parx is usually not going to open up markets (as in being the first sportsbook to list odds for an event), and their odds are going to be fairly in line with the overall U.S. betting market for major sports.
Where Parx does stand out, however, is in the wide range of sports and markets available for bettors. You can always bet on the NFL, NBA, and other major sports, but they also consistently list odds for more niche markets like darts, handball, rugby, snooker and more.
Bet types available
You won't have any trouble finding different types of bets at Parx — in fact, you probably won't even be able to get through them all. They offer just about anything you can think of that's legal to bet on in the U.S., including but not limited to:
| | |
| --- | --- |
| Spreads | Moneylines |
| First half | Second half |
| Totals | Run and puck lines |
| Player props | Futures |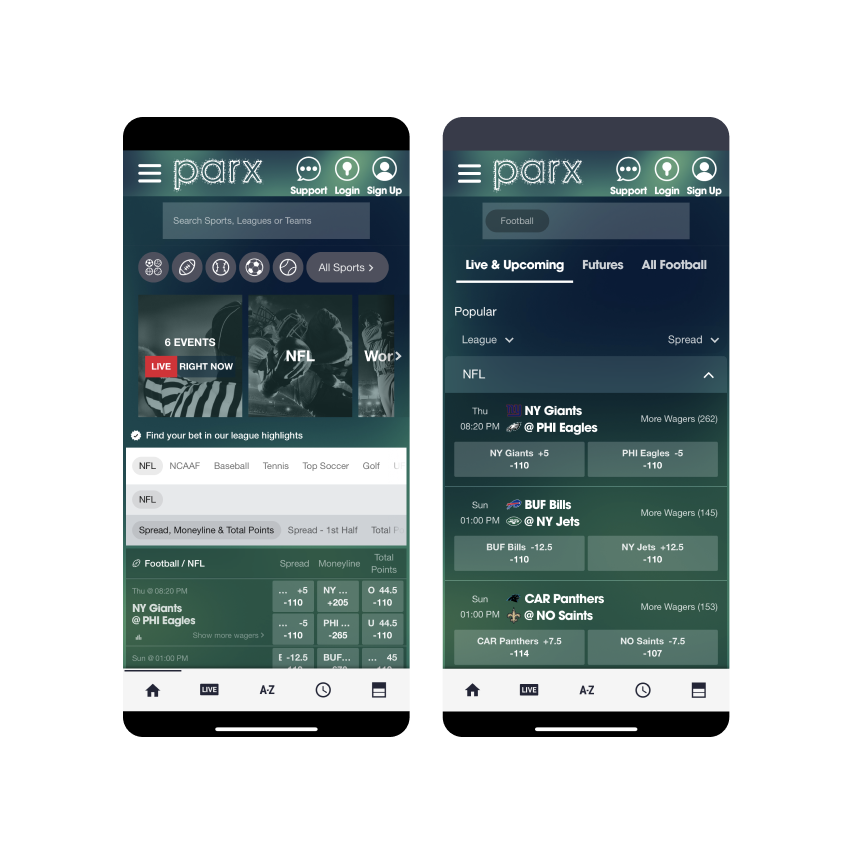 Sports Markets Offered
If it's legal to bet on in Pennsylvania, you can bet Parx will be posting a line for it. For example, Parx was one of the first sportsbooks in the country to post a line on the much-anticipated golf match between Tiger Woods, Peyton Manning, Phil Mickelson and Tom Brady in the summer of 2020.
Parx stands out even among other Kambi sportsbooks in the variety of sports and markets they offer consistently. They're fairly standard across the major sports, and if you're looking for more niche markets — whether it's prop betting or sports like darts and snooker — Parx is worth adding as a book to your betting portfolio. Parx offers betting on just about any sport you can think of, including more niche markets like darts or rugby. Live betting is also becoming more popular in the U.S., and you can often find in-game opportunities for most sports.
| | | |
| --- | --- | --- |
| NFL | NBA | MLB |
| NASCAR | Soccer | UFC/MMA |
| Cricket | Cycling | Darts |
| Golf | College football | College basketball |
| Boxing | Tennis | Hockey |
| Handball | Rugby | Table tennis |
Parx vs Other Sportsbooks
While sign-up offers, promos, and user experience are crucial factors in selecting a sportsbook, the most sophisticated bettors are often worried about the price. We can compare books in this regard a couple of ways:
Juice: Also referred to as the "vig," this is the tax a sportsbook charges for a bet. The standard odds for a spread bet is -110, which means you have to pay $110 to win $10. That extra $10 is the tax.

Hold: Like the juice, a hold is defined as the percentage of a sportsbook for every dollar wagered. It's a better metric to measure for moneylines, for example.
Most online U.S. books — in states where betting is entirely online and not regulated by the state lottery, at least — have standard juice on your typical bets. Take, for example, the juice on spread bets for the NFL. There's no significant difference between sportsbooks: It is common to get -110 on both sides for both the spread and the over/under.
In terms of hold on moneylines, here's how Parx has compared with other U.S. books in the past. They are definitely on the higher end of major sportsbooks, and while the difference might seem minimal, that extra juice can add up for volume bettors over time.
Parx is comparable to the other U.S. online sportsbooks in the juice for the most popular bets, notably spread and totals, and it's on the higher end for moneyline wagers, outright bets, etc. Parx's new customer bonus — a $500 risk-free bet plus a 20% profit boost — is very competitive with other online sportsbooks in Pennsylvania. Parx gets dinged a little bit for occasionally having too much juice in its lines, but if you're betting in Pennsylvania, you should have Parx in your betting portfolio.
Parx Customer Service
Parx offers email and live chat support from 10 a.m. ET to midnight daily. You can also call them at 833-472-7972 or email them at pasupport@parxcasino.com.
Parx Sportsbook Frequently Asked Questions
What's the best Parx promo code to use?
How does the promo bonus work?
What's the max on the first-time bonus at Parx?
Do you have to roll over your winnings on the bonus?
How do I get free bets at Parx?
Does Parx offer sports betting?
Which states does Parx offer sports betting in?
Do you have to open an account in Parx Casino?
Do you have to be at Parx Casino to bet?
What sports can I bet on at Parx sportsbook?
Can you bet on college sports at Parx?
Do you have to live in Pennsylvania to bet at Parx?
Do you have to be in Pennsylvania to deposit or withdraw funds?
How old do you have to be to bet on sports?
What information does Parx need from me to open up a betting account?
Why does Parx need my social security number?
What's the difference between Parx and Bovada?
Who regulates Parx and other PA sportsbooks?
Is sports betting legal in Pennsylvania?
What types of bets can I make at Parx?
What types of devices can I use to bet on at Parx?
What are my options to withdraw and deposit money?
Can I use PayPal to withdraw and deposit at Parx?
Does Parx have an online casino?